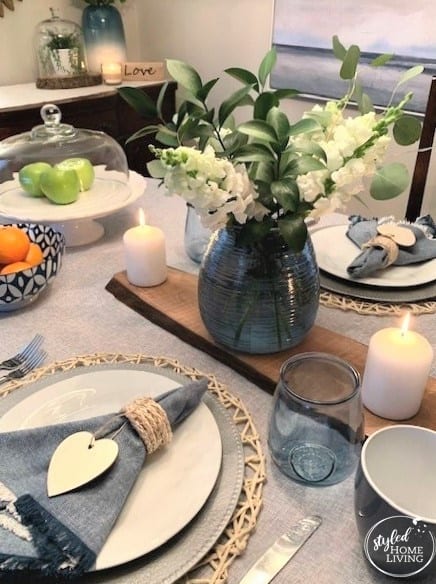 Why not? Christmas is no longer just red and green. Why can't we use any colour for Valentine's? This is your home, so do what every works with your decor.
Here is an example of a Valentine table setting without a hint of pink or red. I have the solution for a casual dining experience. This blends in with my decor so much I have had it up for a few weeks now.
Inspiration
I wanted to create a casual experience that is perfect of a breakfast with your kids, a friend, your partner, a parent or even just for yourself. This year, treat Valentine's Day as a day of SELF-LOV after all we've been through this year.
We always need a place to start. I used these wooden hearts (bought on Amazon) for my inspiration.
I wanted the decor to blend with my artwork and my everyday dishes and accessories but still feel special.
I felt the hearts were symbolic without being too 'cutesy'. I hung them from my chandelier and then also attached them to my rope napkin rings (also a DIY from last summer).
Notice how the woven charger plates, the napkin rings and the hearts are all in the same colour palette and not a touch of pink or red anywhere?
This hearts are great since they are very inexpensive and you can paint them, write little messages on them, use them as gift tags, write names for a table setting etc. The possibilities are endless. The kids will have a blast creating some wonderful DIY projects.
Keeping with the casual and natural feel, I used a slice of wood which I sanded and stained as a 'runner' for the table. I use it all the time since it's great to put chunky pillar candles on without worrying about the wax dripping. I just think it adds more texture and interest too. Anything that is personal and unique to you should be appreciated.
Notice how I used casual fresh white snapdragons, fresh greenery and fresh eucalyptus as the centerpiece! The blue glass vase also keep the setting very relaxed. I like using coloured glass vases since they add some colour and they hide the stems a bit.
Style The Whole Room
Don't' forget to style all surface areas of the dining room for more impact.
The fresh eucalyptus in water will last about 3 weeks and a bunch only costs $6 at Loblaws. The base ties in with dishes on the table and the artwork too.
You will see me using the same accessories over and over throughout my photos. That's o.k. It just goes to show that you don't have to keep buying new things to create completely different looks.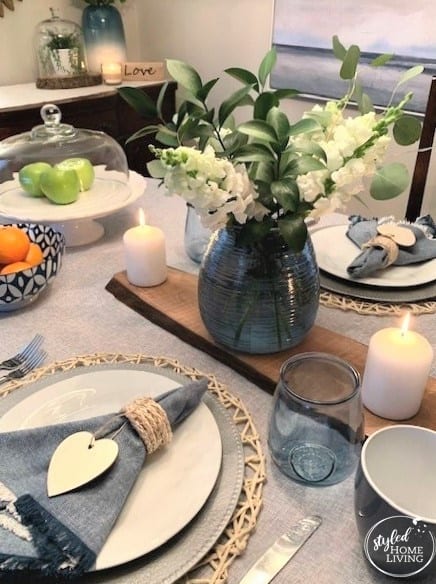 SHOP YOUR HOME!