A Blank Canvas is Ideal for Staging
I was immediately excited when I walked into this main living space since it was a great size, the walls were a nice warm neutral colour, they had nice furniture, there were lots of large windows and the floors were stunning.
Accessories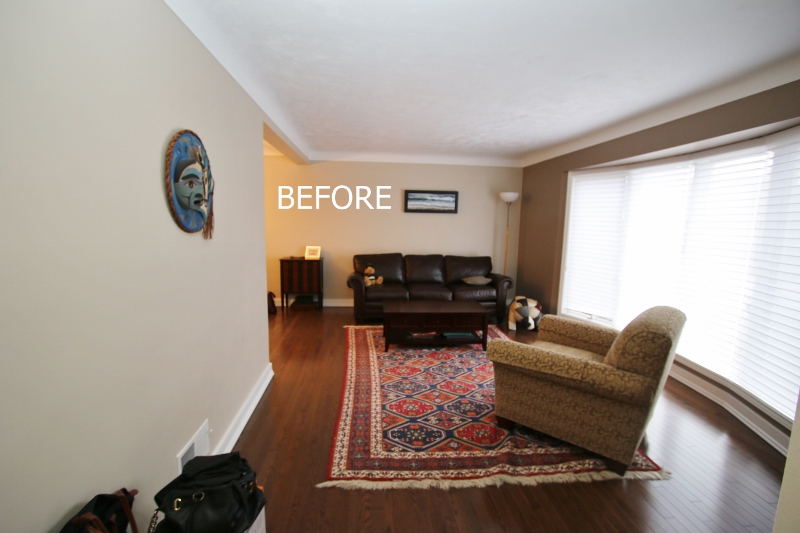 The homeowners had already started to pack so that is why there are boxes on the floor etc.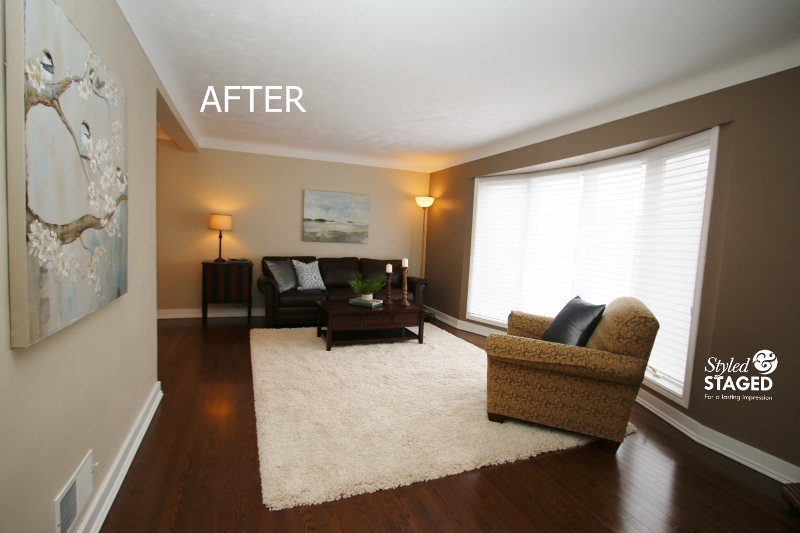 I was thrilled when the homeowners agreed to buy a new larger ivory area rug.  It was a game changer for me since I could then bring in the more current colours that young buyers are looking for.  The larger area rug also helps expand the space and it also reflects the light to brighten the room.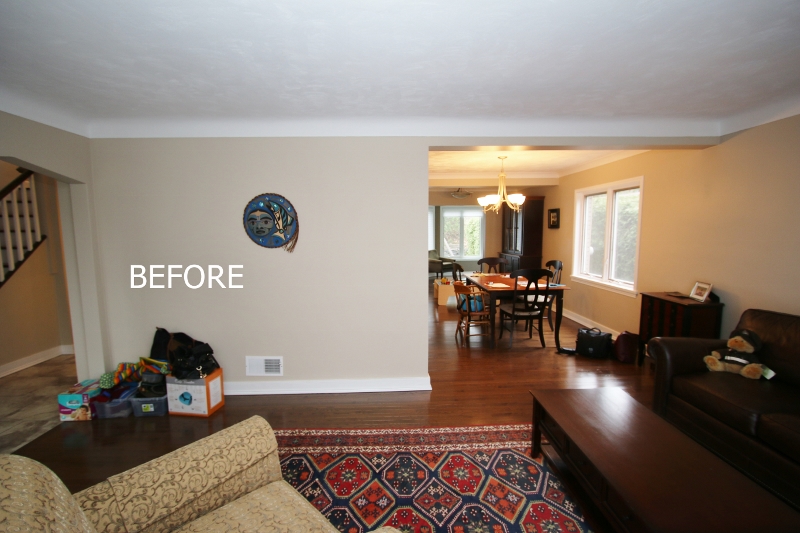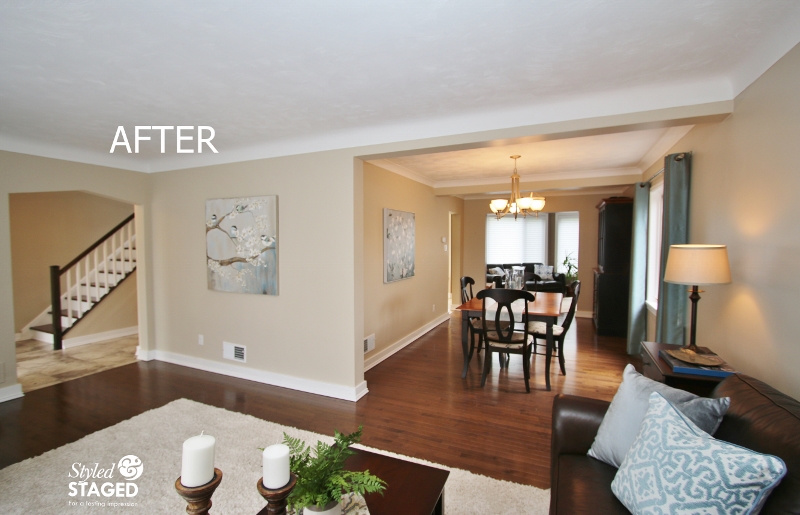 Bringing in larger pieces of art help define the room.  We didn't have a whole lot of furniture, so I needed to make the room interesting in other ways.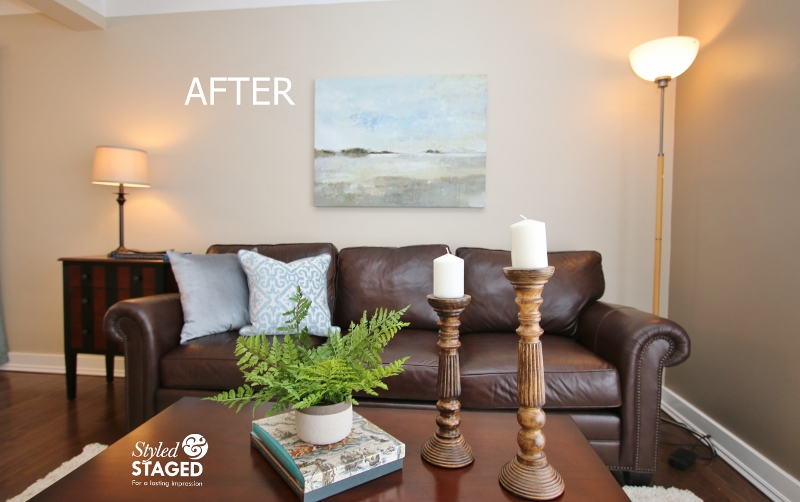 Adding different textures through accent cushions and accessories on the coffee table make the house feel more like a home.  The key is to keep the accessories neutral enough to appeal to the masses. I also balanced the sofa with lamps for a bit of symmetry.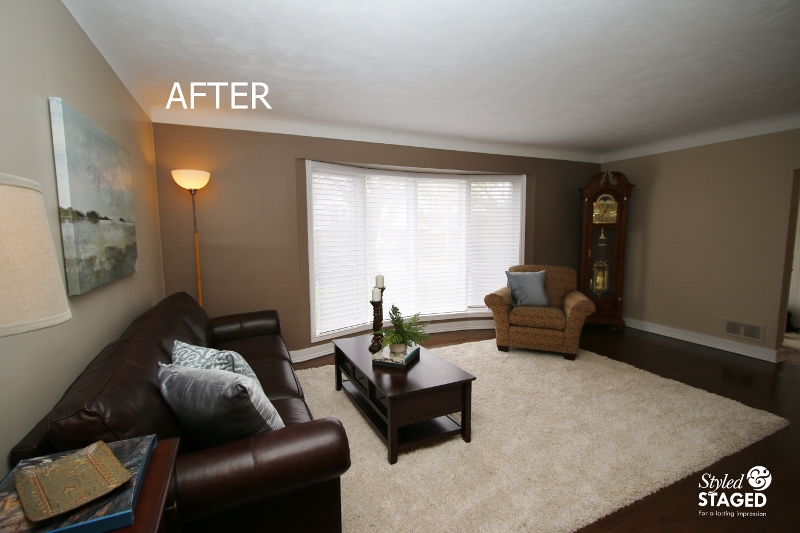 Buyers can easily see how large the room is if they wanted to add more furniture.
Create A Unique Space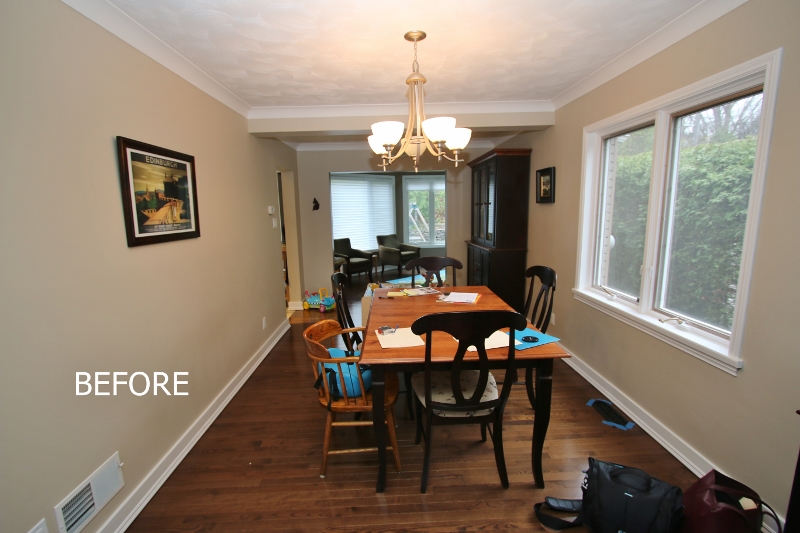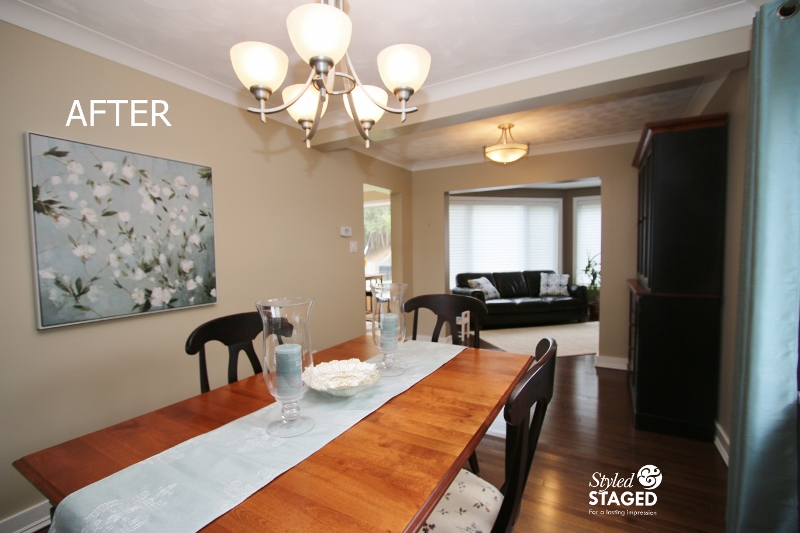 Again, this room just needed a few large accessories to give it impact.  For me, the biggest difference was adding the drapes.  It helped define this space as a separate room. The living and the family room both had the matching filtered blinds so having the drapes in this room made it different.  It was also another way to bring texture and colour to the room.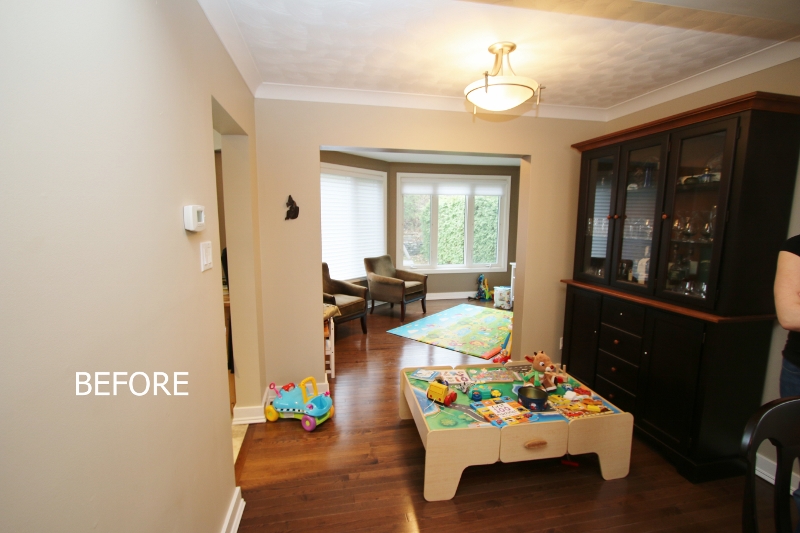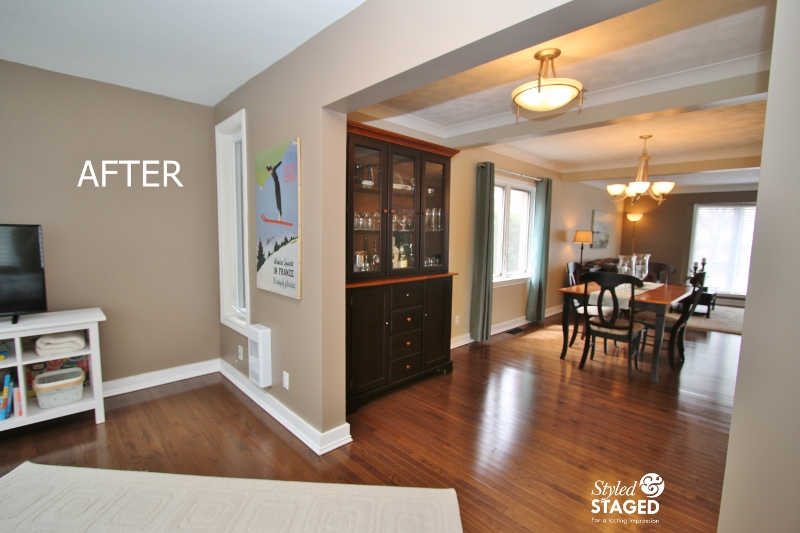 Living in a Staged house can be hard when you have young children. The goal is to make it looks it's best so it sells quicker and you can resume your 'normal' living.  Removing the toys made a huge difference and it elevated the look of sophistication in this house.  Look how beautiful the floors are.  You always want to showcase the beauty in your home.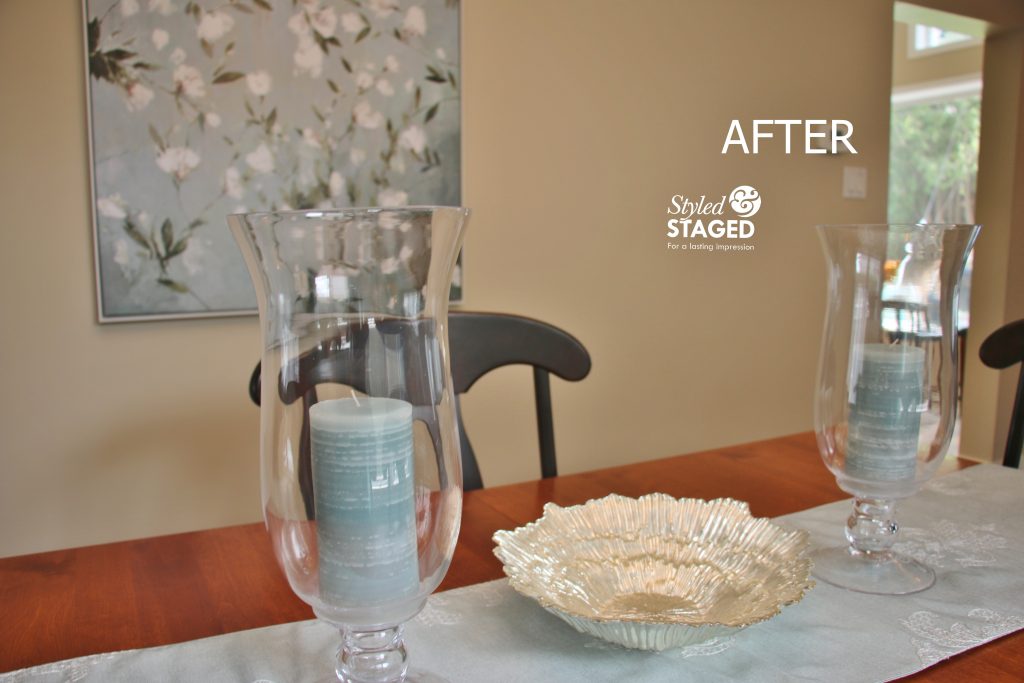 You want buyers to look forward to enjoying each room of the house.
Time to Borrow from Family and Friends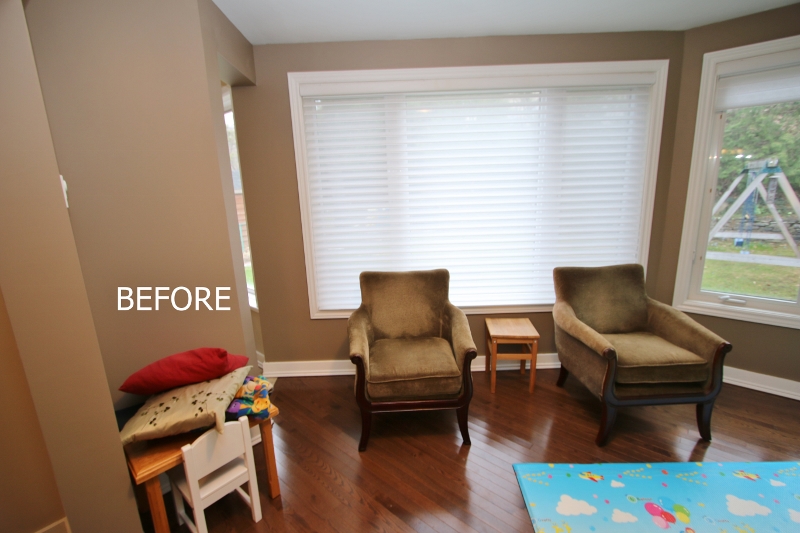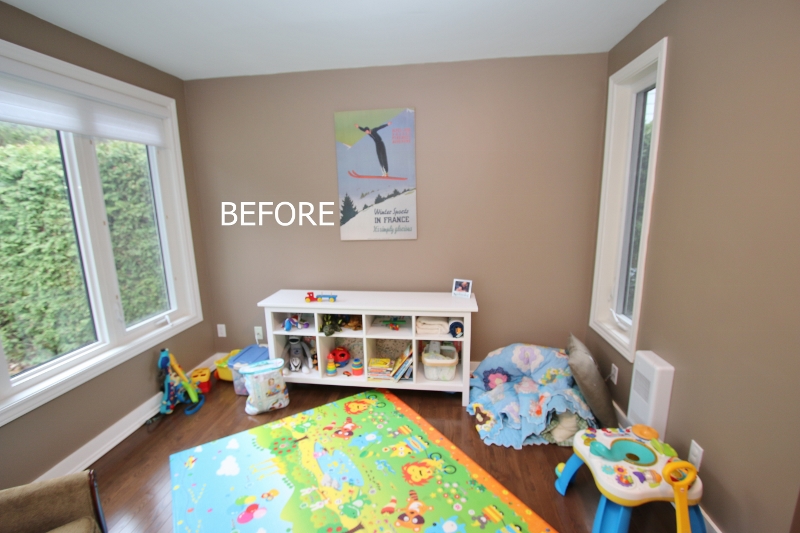 This main floor family room was mainly a toy area but I felt that it was important to show this room as a main floor TV room.  Even though there is a nicely finished TV room downstairs with a fireplace, young buyers are going to want to see that there is a place for a TV on the main floor. Show buyers how they can live in the house.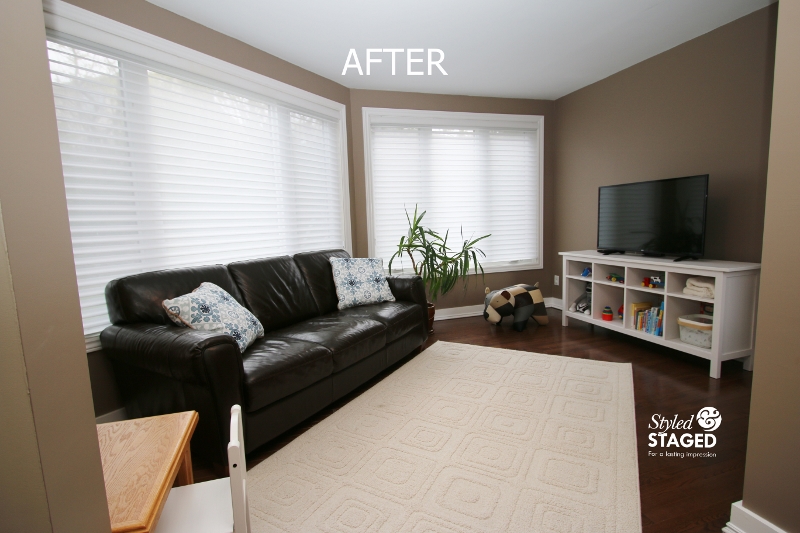 We were very lucky that their friends were kind enough to lend them their sofa.  It is very understandable if sellers don't want to buy furniture if they don't know what they are moving to. I always tell sellers to beg and borrow from family and friends if possible.  The whole purpose of Staging is to keep your costs down, for the most profit.  They did however buy another TV for this room since they did want that for their new house.  The same blue accent colours were carried through in this room from the other adjoining spaces.  This makes the whole house flow and feel larger.  Adding the area rug also made the room feel cozier and more spacious.
It was so much fun working with these homeowners since they gave me complete freedom and they were willing to do whatever I asked of them.