Blue and Green Christmas Table Setting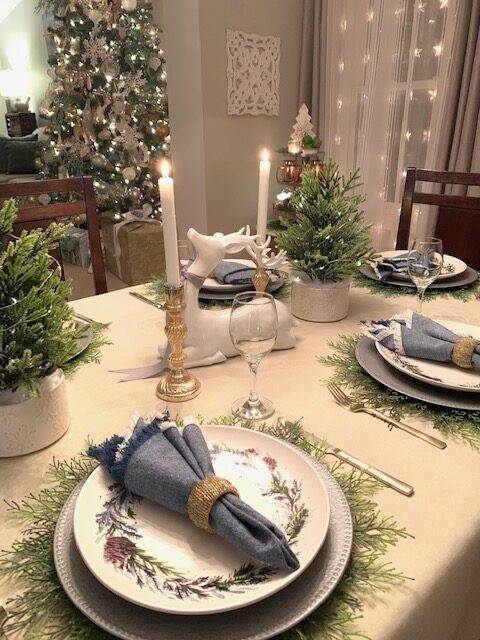 Who says Christmas has to be all red and green?
My decor colours are all shades of creams, blues, greens and gray so I decided to add some glue and green elements into my holiday decor. Normally I just have gold and silver. This year I wanted it to be a little more relaxed.
No matter how much I tried to keep it simple and minimalistic, I just kept adding more and more layers. I guess that's just my style. I really did try thought lol.
The best part of this table setting is that the centrepiece is large enough that the table still looks festive even when the dishes are not on the table. I can also remove different elements depending what else goes on the table and it will still look cohesive.
My Holiday Table Setting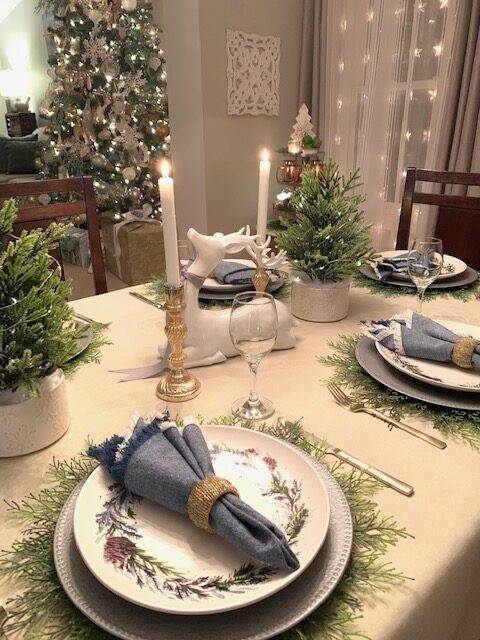 I find setting a table extremely personal and exciting. Adding different layers and textures but still limiting the number of colours to keep it classy no matter what the occasion.
Inspiration
I fell in love with these casual dinner plates from Loblaws! I never buy the whole set of dishes since I like to mix and match the different plates, bowls and cups etc. Sometimes I find it's too much, especially if there is a busy pattern on them. I was drawn to the green and the gray/blue on the plates since you don't see it that often and the pinecones made them more casual.
Once I choose the colour scheme the rest falls into place easily. In this case the plates made it easy for me. I am not fond of my dark table top so I added a cream linen table cloth since it makes a clean background for everything that goes on the table. It just gives a softer look.
I'm obsessed with my evergreen placemats since they are very realistic and they add just the right amount of nature to the table. I bought them at Pier 1 years ago and I'm glad I bought them when I did! I use them every year.
I couldn't find the right charger plates so I spray painted these old ones with a hammered matalic paint. They are perfect. Festive but not too formal.
The napkins brought out the blue in plates and the blue glass vase etc. on my buffet as well as the artwork.
The gold and silver beaded napkin rings tie in the candlesticks and the gray of the ribbon on the deer.
I added a string of twinkle lights (Amazon) on each tree (HomeSense) that have a tiny little battery so they are light and can hide easily. In my opinion you can't have enough twinkle lights at Christmas. They just make everything look more magical.
Since the base of the trees looked like brown soil, I added a layer of white faux fur (Dollarama) so they looked clean and fresh.
This year, I splurged and bought 2 white faux fur runners (one for the buffet and one for the piano) on Amazon. Once again, I love the texture and softness without adding more colour.
I would love your feedback on this table setting. What would you do different? Post photos of your table so we can all be inspired then.
Merry Christmas!