Different Ways to Use One Bowl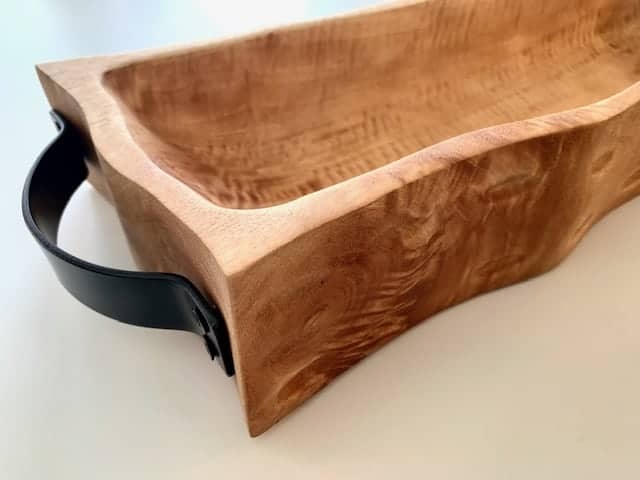 Every home décor store you walk into these days has a huge range of stunning wood bowls, platters and trays.  They are very much on trend but they will always be in style.  I still have some bowls similar to this from my mother.  <3
The other day I was trying to find a perfect hostess gift since we were invited to a pasta dinner night.  When I saw this bowl in the kitchen section I assumed it was for a loaf of bread, veggies, cheese and crackers or fruit etc.
Hostess Gift:
What would you use this bowl for?
I loved the black metal handles, the movement of the grain in the wood, it's natural colour and the organic feel to it.  I am NOT Martha Stewart in kitchen and not known for my cooking, so my mind immediately goes wild and thinks of all the different ways to use it in home decor.  The fact that it has a flat bottom makes it much more versatile.
Before I wrapped it up to take as my gift, I thought it would be fun to see what other possibilities it could be used for. The options are endless but here a just a few of my immediate reactions.
Holiday Centrepiece:
Because we're in the Christmas season, I thought this would make a great base for a casual centrepiece.
Since the bottom is flat, a candle can safely fit inside and not tip over.  I like to use candles wrapped in birch bark for a natural look. You can use battery operated candles if you feel more comfortable as well.
Add some real or faux greenery with red berries and pinecones for a rustic centrepiece.
Adding your favourite tree ornaments is another way to tie all your colours and theme through the house.  It's nice to add a bit of sparkle to the natural wood.  If you filled the bowl up with ornaments and added some battery operated twinkle lights, you would take it to a whole new level :).  Just make sure the battery pack is hidden with either the ornaments or greenery.
Foyer:
Imagine how convenient this would be on a console table in your foyer?  It's perfect to hold your keys, mail, sunglasses etc.  Keeping everything contained looks so much tidier as you enter the front door.  No more losing your keys!  That alone starts your day in a better mood!
Spa:
If you're lucky enough to have a large vanity in your bathroom, this is ideal to hold your rolled facecloths.  If you don't like the cactus, you could always add some bath balms, special soaps or lotions.  This would definitely create a 'spa' feeling.
Special Pieces:
A dish like this is ideal even on your dresser for your jewelry, coins or anything else that you want contained.  If you know me, you know how important these rocks are to me.  Yes, they are just rocks, but they were collected on a special family holiday and I painted the words on them that were symbolic to that trip.  It doesn't take much to impress me lol.  I also love my wooden beads. Anytime you put something on a tray or a dish like this, the items immediately have more importance to them.
All Year Long:
I always like buying things that are multi-purpose and can be used all year long.  I already showed how this can be a centrepiece for Christmas, but just adding some decorative ceramic balls is also very affective for the rest of the year.  In Staging's I always say, 'less is more'. Keep it simple!
You could put some sand and seashells from your summer holiday or anything else that makes your home personal.
Just imagine how amazing this would look with natural raffia grass and hand painted eggs for Easter.
It would also look very homey with wax ironed maple leaves and pinecones for Thanksgiving.
The possibilities are endless!!!!!
Different Usages:
I just want to remind you to shop in your own home and look at all your glass vases, baskets, ceramic bowls etc. and see how you can use them in a different way.  Get things out of the cupboards so they're not just collecting dust and start enjoying the things you already have.