Each Room Was Transformed
Furniture Placement and Defining Rooms
The first thing I look at when I walk into a house for a Staging consultation is the furniture placement. I immediately try to figure out how the masses would arrange THEIR furniture. We often use rooms for our own functionality which is fine, but when selling your house, it can be a different story.
The second thing I look at is, what furniture do I have to work with and how can I still make it as functional as possible for the family while selling their house while looking it's best.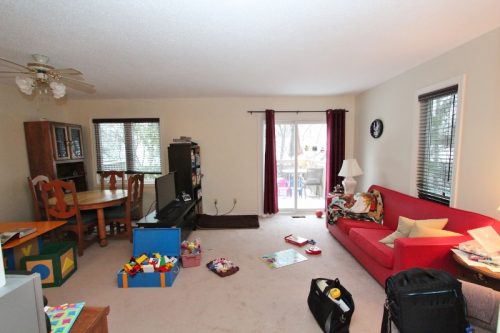 This large square room needed to serve many functions for this busy family with young children. Not all buyers will necessarily have children so I wanted to set up the room in two zones – living and dining. This room was actually a real challenge to figure out the best layout with the furniture that they had. I didn't want to block the patio door going out to the deck and I didn't want to completely block off the entrance of the room with the back of the sofa. There really wasn't any other way that their sofa, TV and dining table would fit.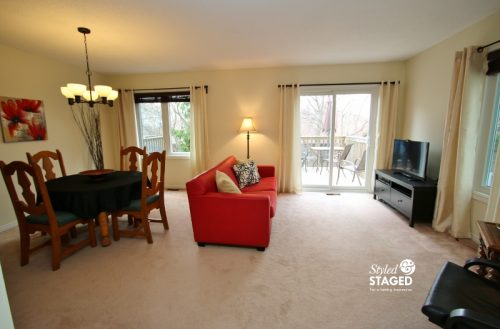 A simple way to give the room more elegance and balance was to have the same drapery treatment on all three windows. Switching the fan for a chandelier also helped define the left side of the room as the dining room.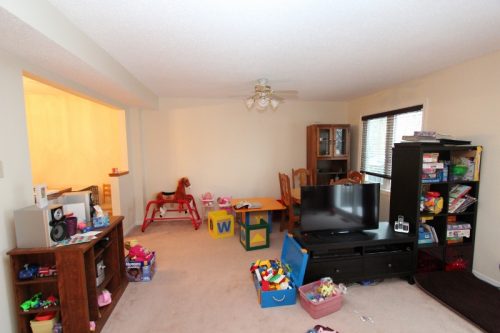 Removing the toys and extra pieces of furniture for Staging purposes really helped to create a more formal living area.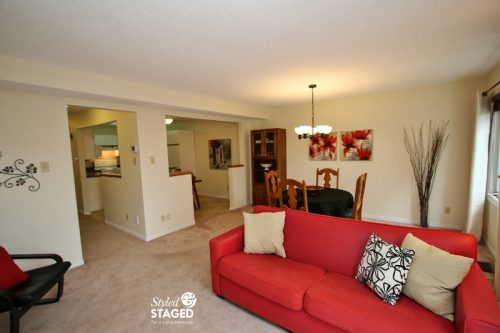 Bringing in artwork and accessories helped carry the same colour pallet throughout the main floor. The colour inspiration was from their red leather sofa. Since the target market is buyers in their 20's, I tried to keep the accessories young and current. We also replaced their recliner with a modern black leather chair. Moving the hutch in the dining room helped break up the long wall and created divider between the kitchen and the dining room.
Little Updates to Make the Most of Your Kitchen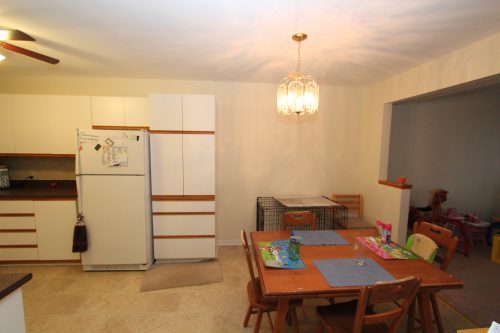 You should never have large dog crates in your MLS photos. Some buyers won't even go see a house if they feel that pets live there because they are worried that the pets have damaged the house. This might be completely false but you don't want to turn away any potential buyers.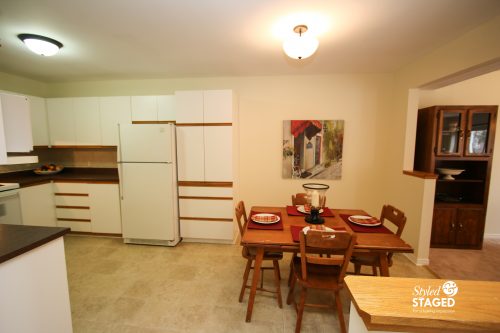 Replacing the fan and the dated brass light fixture really helped update the room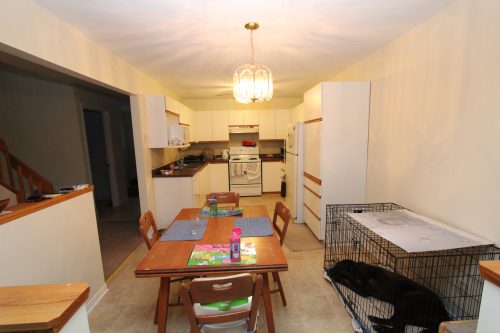 Eat-in kitchens add huge value so make sure you can make that area look as large as possible.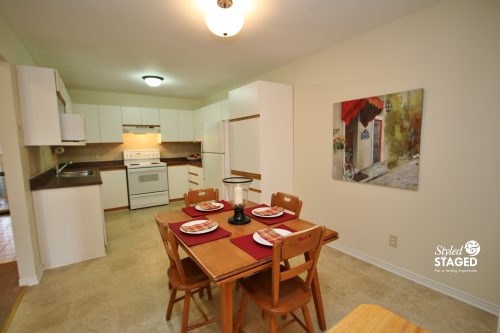 Bringing in artwork that complemented the living room made it easy to accessorize the table for a polished look. This kitchen is now inviting and spacious.
Simple Bedroom Transformations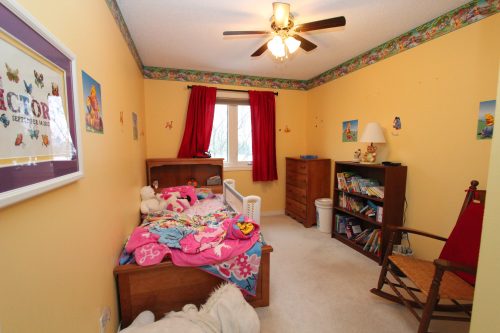 This cheery little girl's room just needed to be toned down for the photos. Whenever you have lots of patterns it makes it look too busy. I want buyers to be looking at the room size and not get distracted.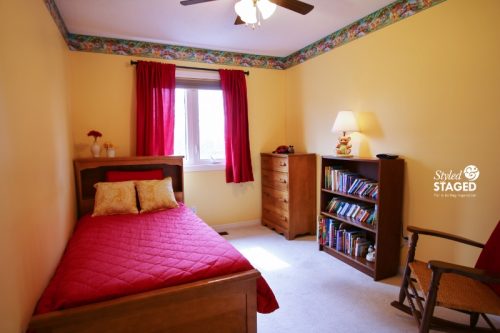 Solid linens always simplify rooms in photos and makes the room look larger.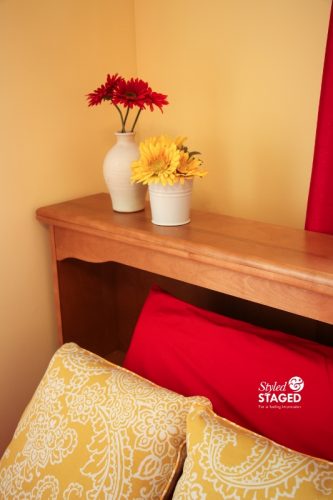 Little details like accent cushions and flowers keep the room looking fresh and fun.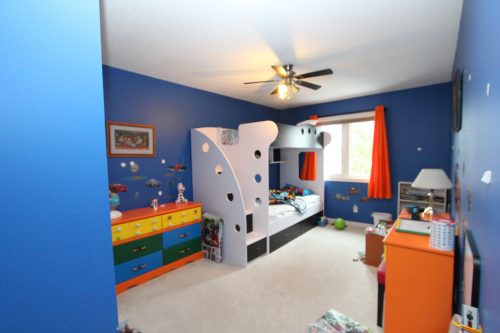 Everyone loves to put decals on their kid's walls since they are colourful, inexpensive and add lots of personality. I always hate asking homeowners to remove them but they look too busy and they are distracting in photos. If you put them on parchment paper, you can take them to your new home.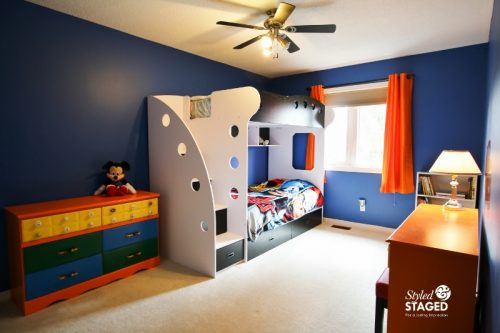 I loved how this room turned out. It just goes to show that you don't necessarily have to paint all the bedrooms in neutral colours.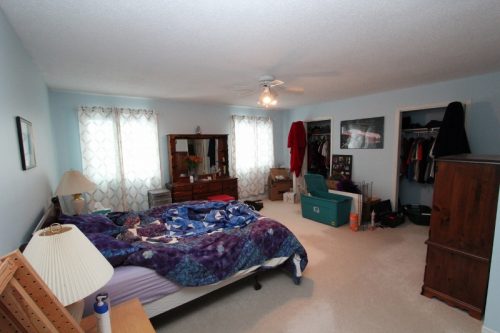 The master bedroom should look and feel like a retreat at the end of the day. I could immediately see the potential of this huge room.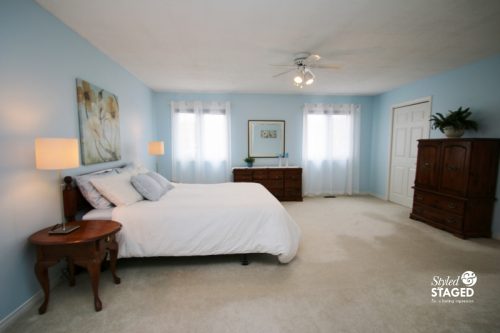 Rearranging some furniture and bringing in fresh white linens and drapes completely transformed the room.
Transform Your Current Furniture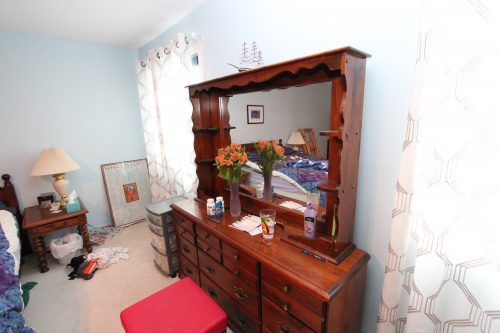 I see similar dressers in so many homes but the top mirror and shelves are dated and they are overpowering. It's a shame since this furniture is good quality and it's real solid wood.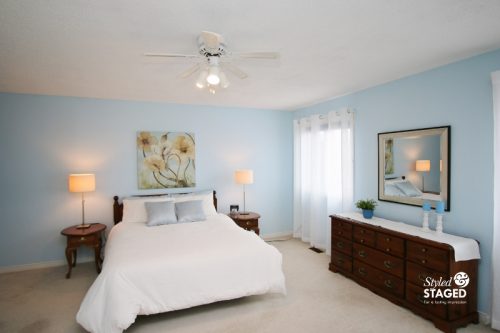 Simply removing the attached mirror and hanging a new mirror on the wall instantly updated the dresser and made it look brand new. Brining in modern artwork and lamps help keep the room looking more current and appeal to young buyers. Since there were screw holes from the attached mirror I added a white runner and accessories. The white runner also brightened the dark wood. Hopefully homeowners learn some little tricks like this so they can apply them in their new homes 🙂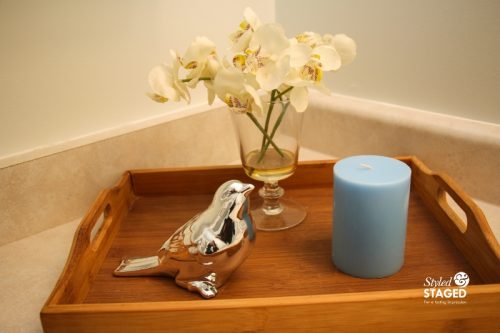 Adding a tray with complementary accessories on the en-suite vanity help carry the same colours from the master bedroom.
Stage the Room so it Appeals to Potential Buyers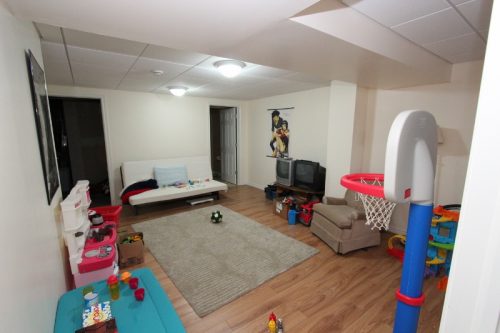 Every square foot is valuable real estate – especially finished basements that have so much living potential. This basement not only has a family room, but it also has a full bath plus a bedroom and a separate entrance.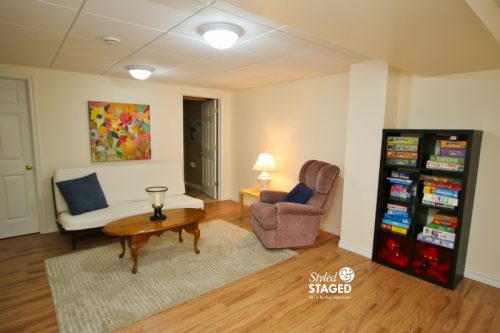 Since this downstairs has the potential of being a rental property or a granny suite, I felt it was important to show it as a family room and not a toy room. If buyers had kids, they could easily see it as a play area.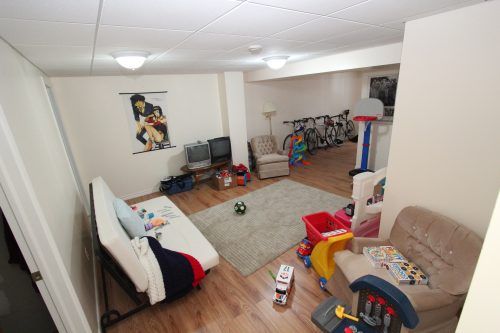 Switching the TV and the chairs made it more welcoming as you walked down the stairs. Putting all the bikes in the garage showed that there actually is enough storage for everything. Now you can see and appreciate the nice floors and open concept.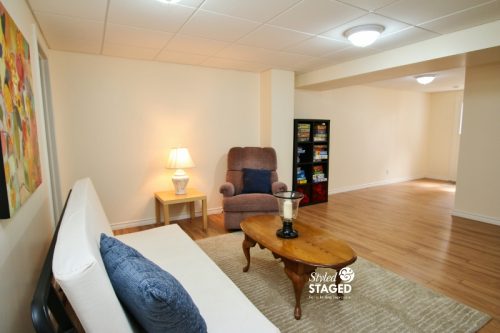 The black shelving unit in the far side was previously in the living room as the room divider. I always try to reuse homeowner's furniture in different ways to keep costs down and reduce storing items.