How Big Should My Rug Be?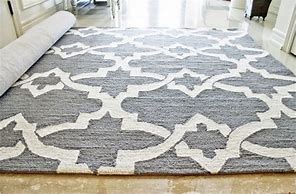 I am asked this question almost daily.  Most of the time, people will have area rugs that are too small!  They are worried that if it's larger, it will make the room appear smaller.  In fact, the opposite is true.  The larger the rug, the larger the room looks since it expands the space visually.
Style of Rug: Things to consider when choosing your rug
I will give the desired sizes later in this post, but I also want to discuss the style of the rugs since that is just as important.
This rug has a border and a centre medallion.  It might look lovely in the store, but you need to consider how it will be placed in your room.  Will the coffee table be centered on the medallion?  If not, the room will look off balanced.  This style is great for a space that has nothing on it (a foyer, hallway etc.).  It might be fine in a dining room as long as the table is centred on the rug.
These overall patterned rugs are ideal for living rooms since it doesn't matter where he furniture sits on them.  They have a subtle pattern for interest, but since the colours are neutral, they won't dominate the room.  They make a lovely backdrop for your other pops of colour.  It's easier to change your accessories for the seasons than it is to change your rug.
You may love the boarder around this rug, but remember, it will most likely be under furniutre.  Depending on it's size, it would be great for a rug beside a bed, or even under the bed so you see the edge.
When you have a pattern with some bolder sections, you also need to consider what will be seen and what will be hidden under furniture.  Make sure the parts that you love will be visible.
Some rugs also have a distinct direction in the pattern so you want to make sure that also works for your room.
Everyone loves the soft feel of a shag rug.  They add texture and are forgiving for marks, however, I don't suggest them when you have pets that shed a lot if vacuuming is a concern for you.
Sisal rugs are very durable but not ideal for pets with claws.  They work very well under dining tables since they are quite flat so chairs don't get stuck like in a thick pile carpet.
When I'm staging a house, I usually always try to incorporate a solid or tone-on-tone ivory rug since it definitely makes the room look larger.  They are not the most ideal for every day living in a busy household, but if you get a good quality one it will be fine.
Standard Rug Sizes:
Standard Rug Sizes. The most common sizes are:
2′ x 3′
2′ x 4′
3′ x 5′
4′ x 6′
5′ x 8′
6′ x 9′
Also widely used are the following:
7′ x 10′
8′ x 10′
9′ x 12′
10′ x 13′
10′ x 14′
12′ x 15′
Other common sizes are:
12′ x 18′
13′ x 20′
14′ x 21′
Rugs for the Living Room:
I would rather see no rug, than a tiny little mat under a coffee table. The purpose of the rug (other than the obvious comfort) is to define the space and make it feel anchored.  They also absorb sound. With so many open concept rooms it's nice to have the furniture grounded so it's not just 'floating' in the room.  At least have the front legs of all the chairs and sofas on the rug.  If you can, it's even nicer to have more of the furniture sitting on it. It's also much safer to have the front legs sitting on the rug so when you stand up, the rug doesn't slide from under you.
Rugs For a Dining Room:
The best size of rug to use under a dining table extends a minimum of 24 inches beyond each edge of the table. This allows someone to sit down or get up from a dining chair while the chair's back legs remain on the rug.
Rugs For a Bedroom:
Yes, you can layer an area rug on top of your broadloom carpet!  It's a greaty way to add more texture, hide a stain, give more interest and a pop of colour.
I hope you find these guidelines helpful.