How to Make Unique Features Work for You When Selling Your House
.
The main permanent feature to this home was the multi-coloured tile stair case and chair rail going all the way upstairs.  The homeowner loved colour and painted all the walls in the same colours as the tiles.
Since the tiles were here to stay, I wanted to tone down the wall colours throughout the main area but still use the tiles as my inspiration colours for accents.
Paint Goes a Long Way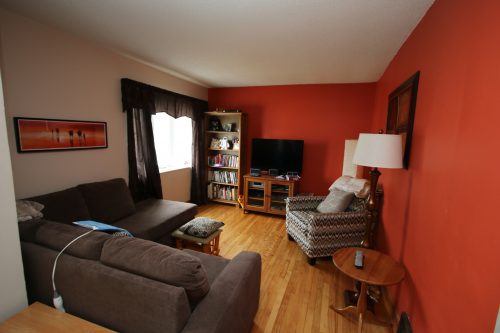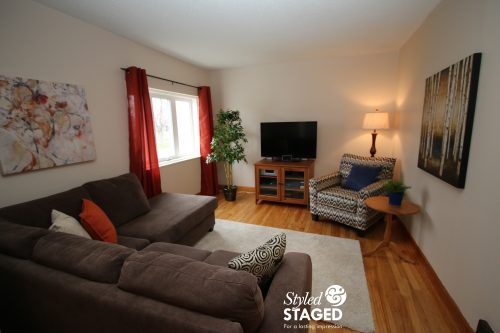 I still used all the colours from the tiles but in a more subtle way.  Instead of orange walls, we went with contemporary orange drapes, artwork and cushions. The room felt larger and more neutral for the masses.  Adding the area rug also softened the room. The tree replaced the bookcase.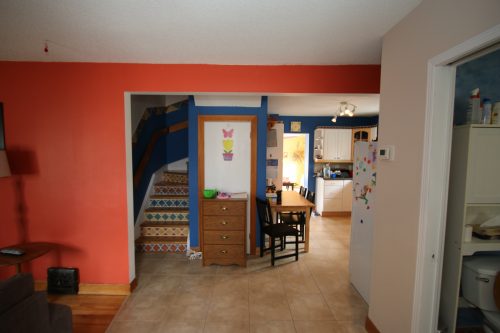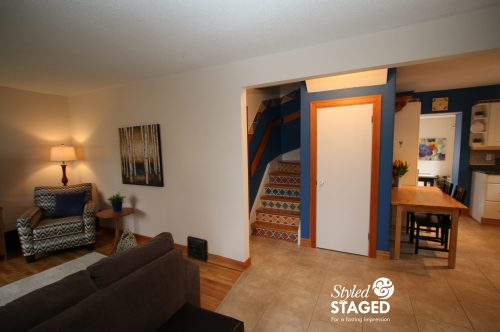 We still kept the blue walls in the kitchen since most of the room had white cabinets.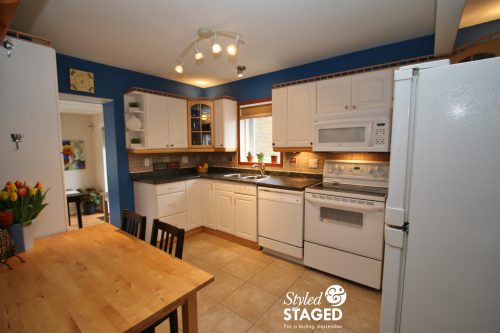 Dark Master Bedroom Don't Sell as Well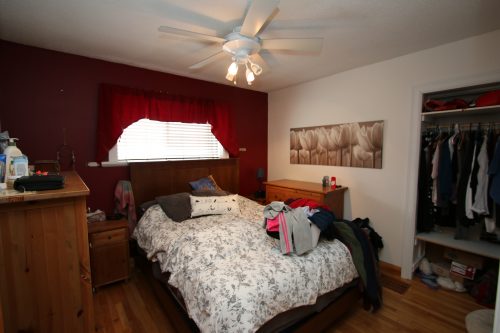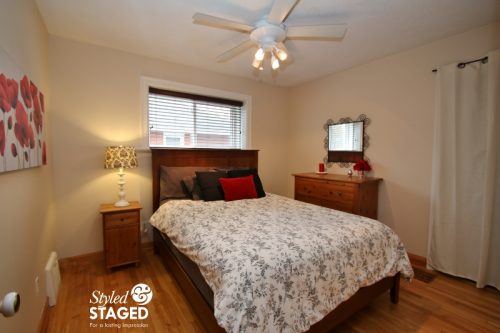 Not only was this room painted in a lighter colour we also removed one large dresser, extra night table and heavy valance.  Since they didn't have closet doors we hung drape panels to make it tidier.  To give the homeowner back some of the colour they loved, I brought in red accents through artwork, candles, flowers and accent cushions.
Give the Space a Purpose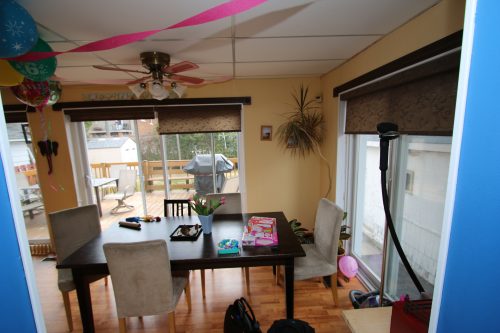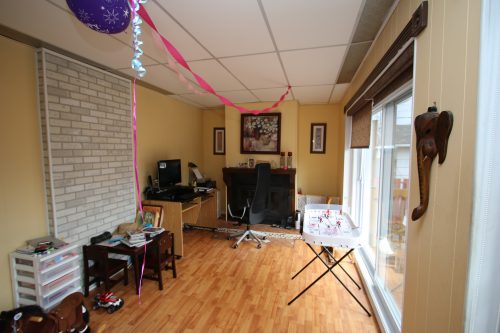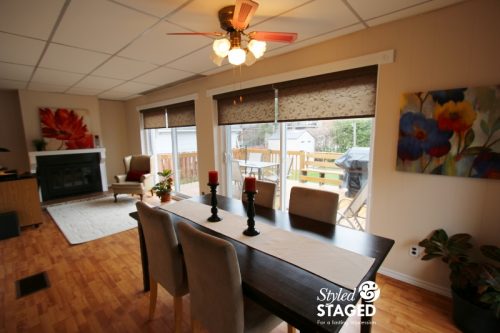 This addition was a multi-purpose room and didn't flow with the rest of the house.  It was repainted the same colour as the living room and then we brought in artwork and accessories to show that it's a functional dining room and sitting area by the fireplace.  The area rug helps break up the two spaces.
Fun Kid Rooms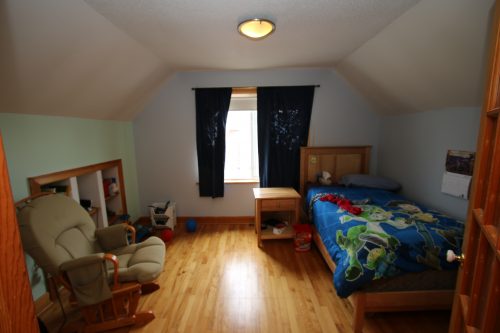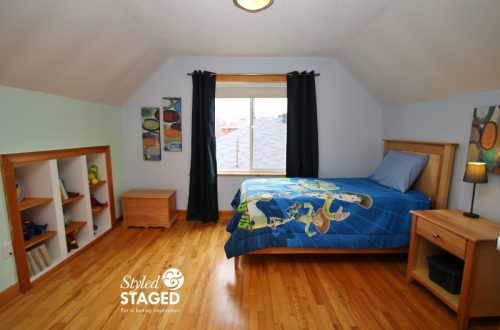 Rearranging the furniture was the first thing we did. New long drapes also make the room feel taller.  Bringing in artwork with all the colours from the room tied it all together.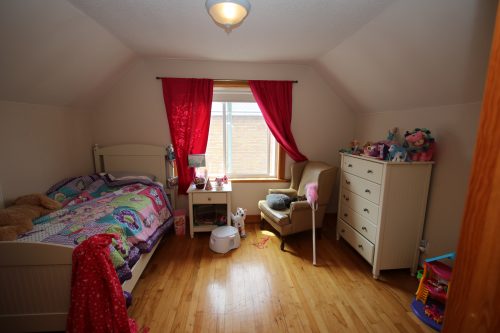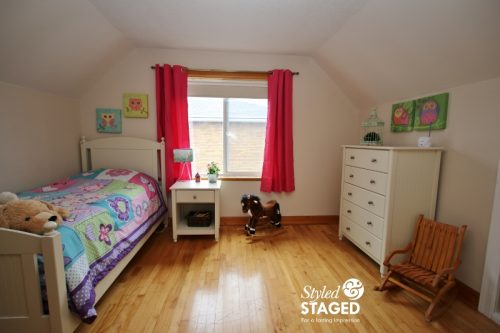 I like having some toys in kid's rooms but just not too many.  Brining in youthful artwork that matched the linens dispersed colour throughout the room and showcased the architectural detail.
Sell Every Square Foot of Your House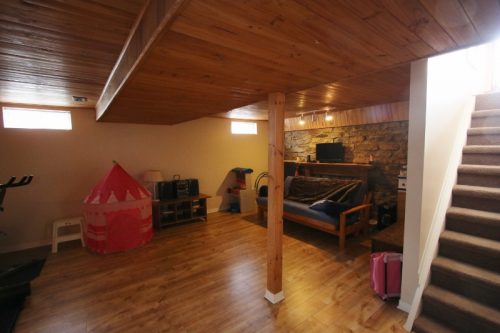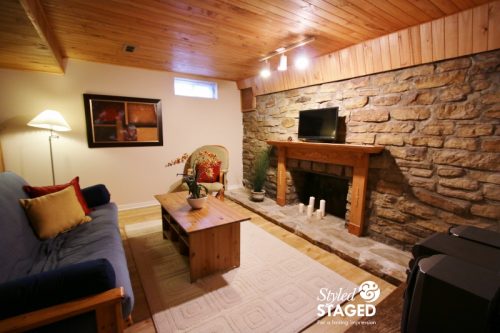 The homeowners used this space as a play area for the kids but I wanted to show the full potential to buyers.  I wasn't even aware that there was a faux fireplace there until I rearranged the furniture.  I put oversized candles in the hearth to show that you can still create ambiance with the candles.  The chair was from one of the kid's room to create a conversation area and the other decorative accessories finished off the look.  Putting the ivory area rug down, broke up all the pine ceiling and floor.