My Biggest Staging Project – Bedrooms
This was a dream project for me. I was called in by a client who had this investment property that she was just in middle of renovating and she wanted me to stage it. Keep in mind this was a completely empty house and all under construction.
The client was not asking for reno advice since most of those decisions had been made. My job was to bring her vision to life so there was a lot of pressure since I had only met her for a few minutes. I needed to make sure I chose the right furniture pieces and all the perfect accessories to bring in. It can also be a challenge when you have limited rental furniture selections that are available at that time.
Master Bedroom:
Rooms ALWAYS look bigger with furniture in them.
It was really hard to imagine that this would fit a queen size bed, 2 night tables and a dresser.  I must have measures at least 5 times 🙂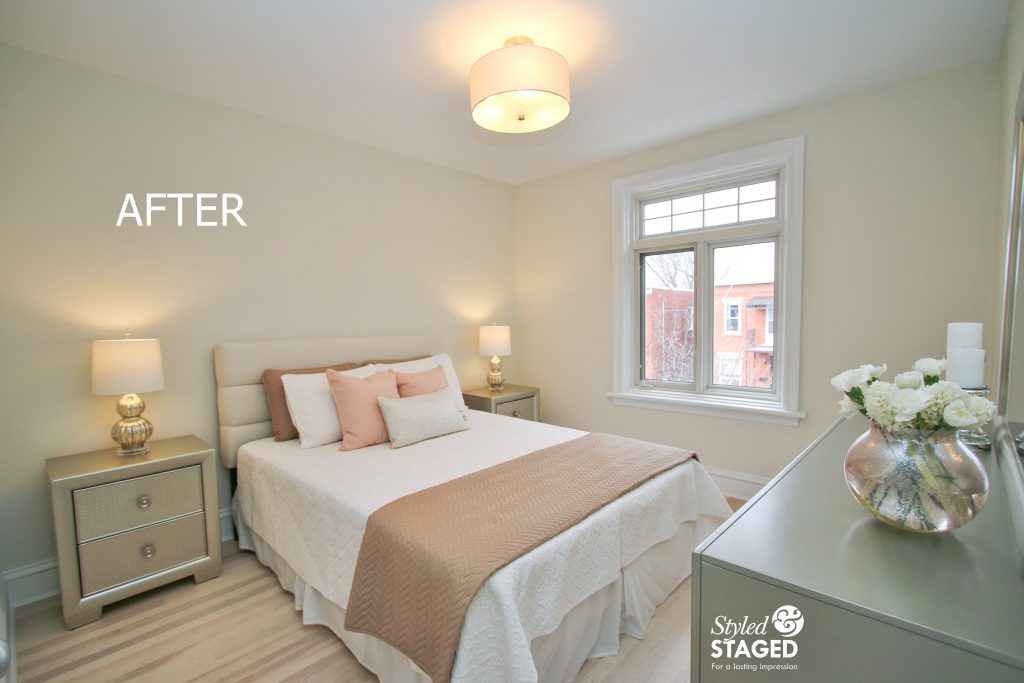 I chose very light coloured furniture to blend in with the light walls and floor so it wouldn't feel closed in.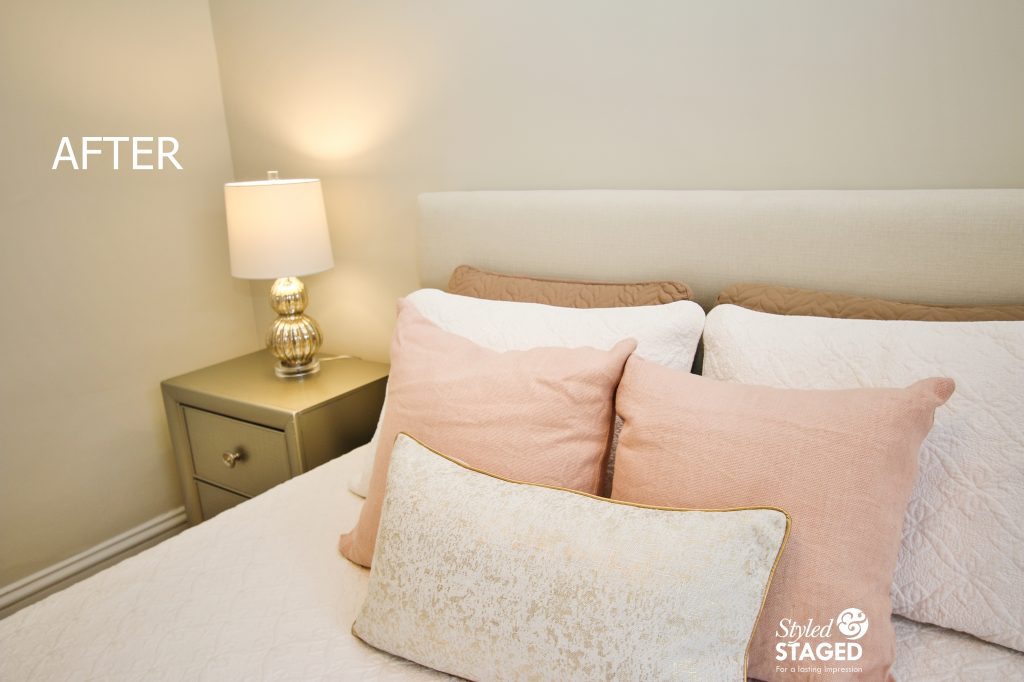 I didn't need any artwork since we used this elegant cream fabric headboard.  All the layers of tans, whites, blush ad gold made the room feel very chic.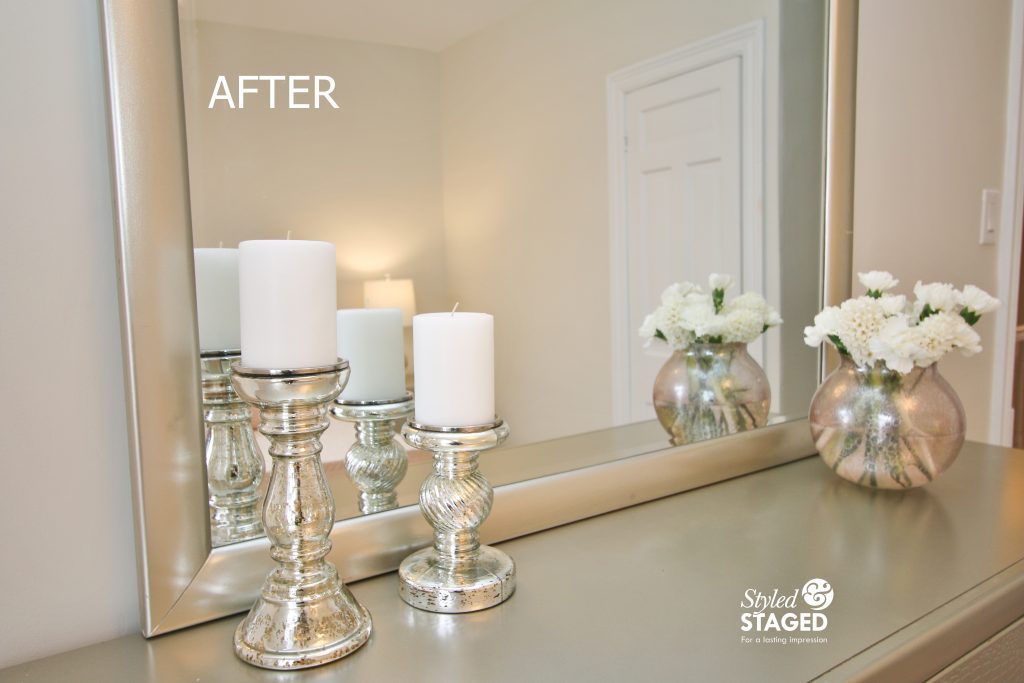 I was thankful that the mirror on the dresser was screwed to the back so I didn't have to drill into the plaster walls. Hints of blush, fresh flowers and candles all add romance to the master bedroom. Adding a bit of sparkle also elevated the look.
Guest Room:
In every profession, accidents happen.  I was all prepared to stage this room as a teen room, but the delivery company brought the wrong headboard.  Fortunately, I always arrive over prepared with more linens and accessories than I need, so I was able to switch the plan within a few minutes but I was feeling the pressure since I knew we didn't have time to get the other headboard.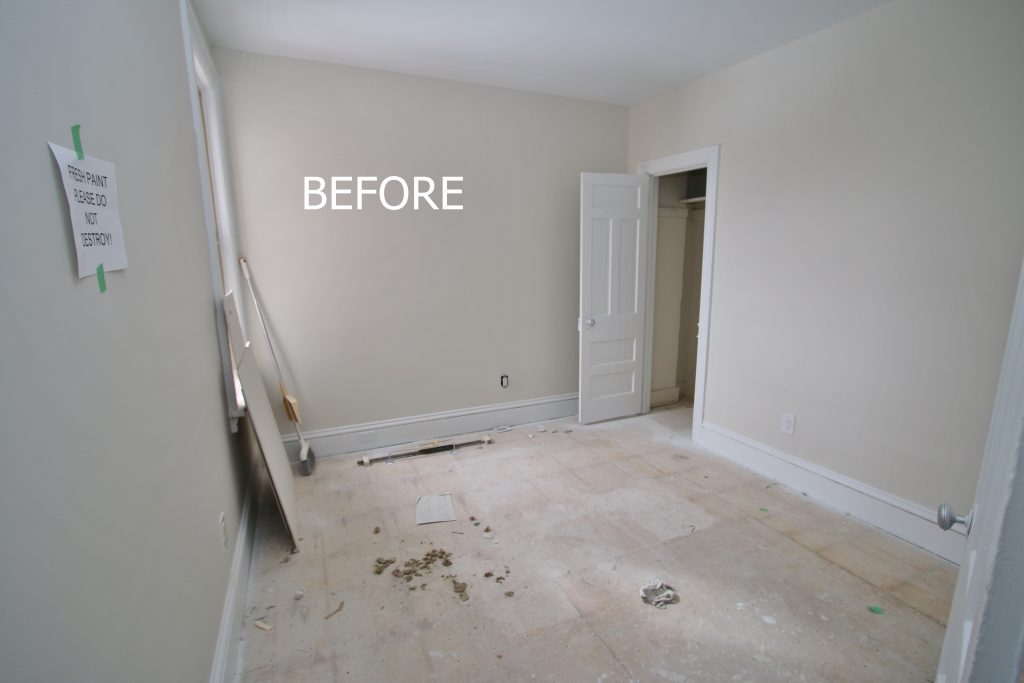 Instead of a teen room, we now have a guest room.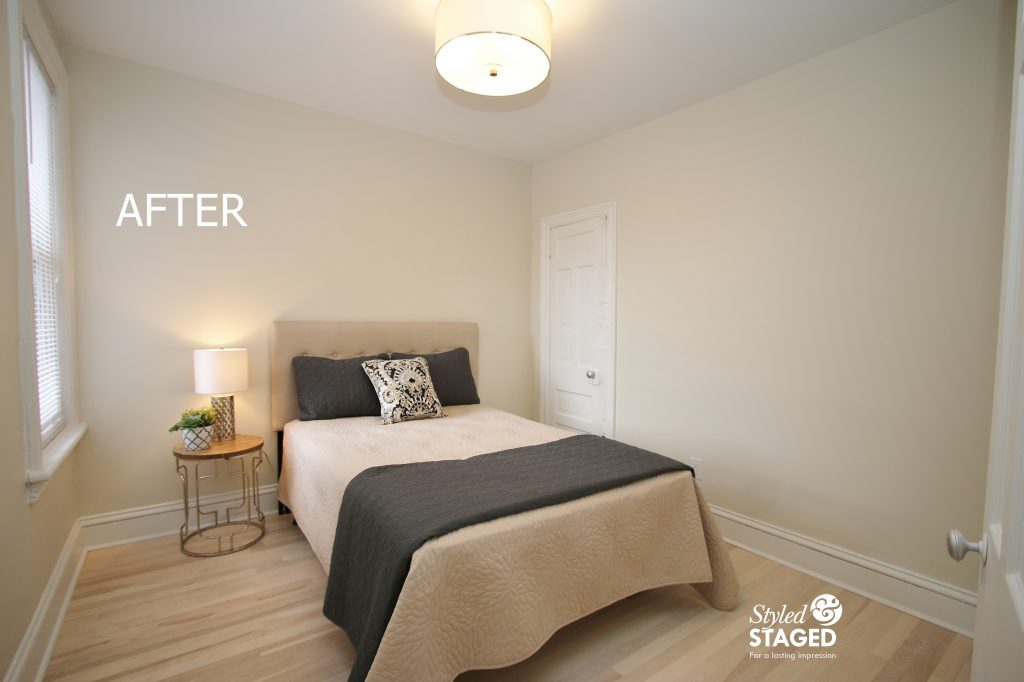 Fortunately, the client love the look. I just had to get over the fact that it wasn't my first vision for the room.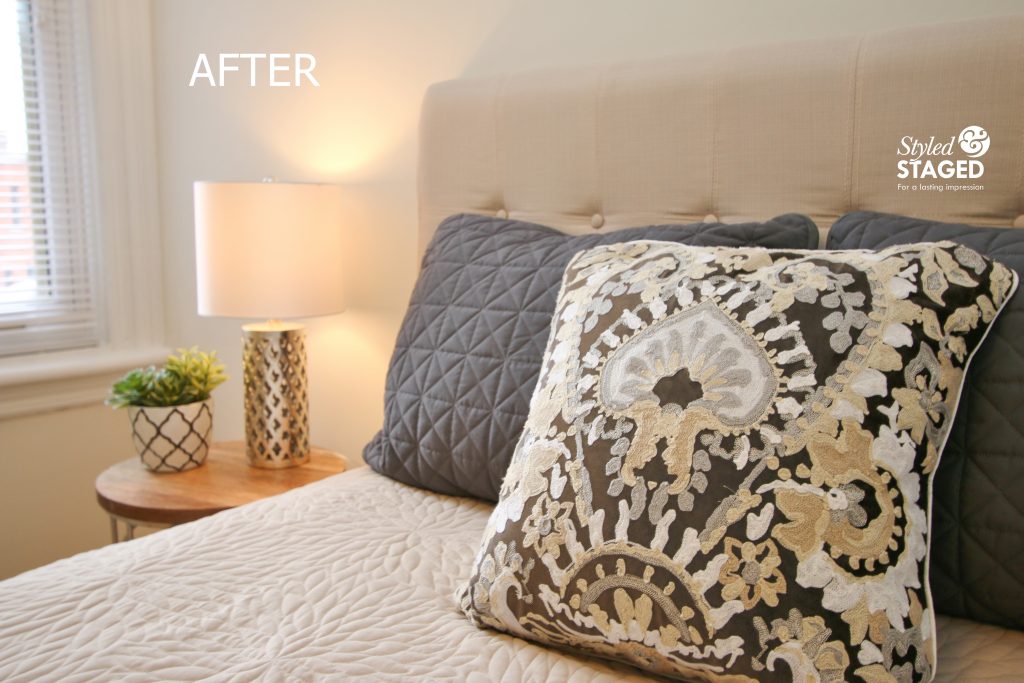 I was originally going to use this cushion in the living room, but since it pulled all the colours together I decided to use it here instead.  You have to be flexible and think quick on your feet in this job.
Child's Room: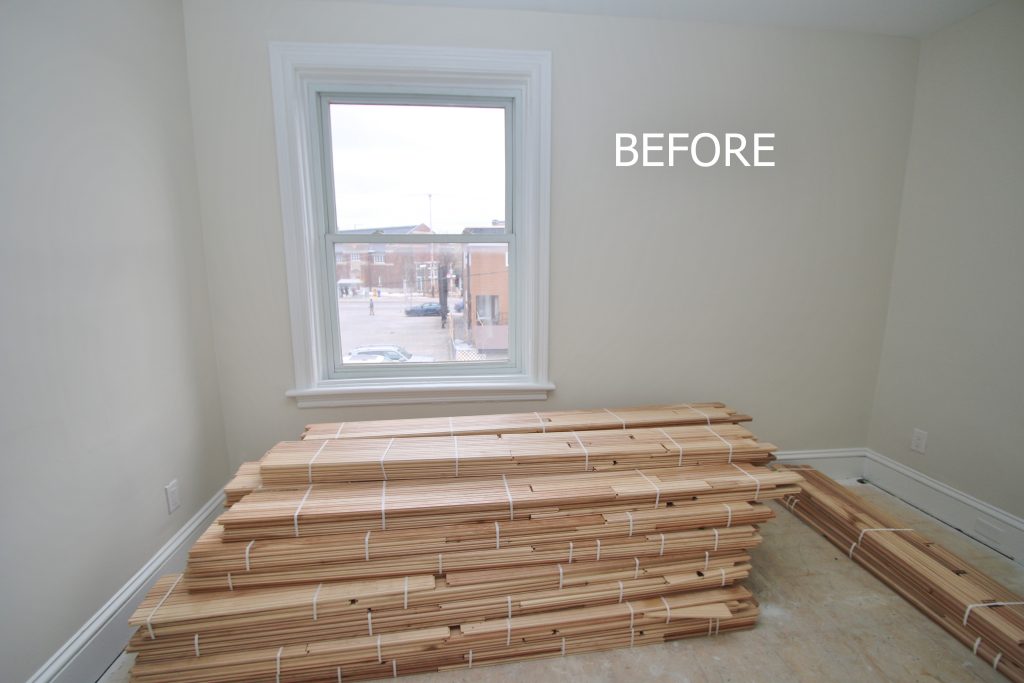 I couldn't even get into this room on the first visit so it was hard to get the scale of the room and where I wanted to put furniture.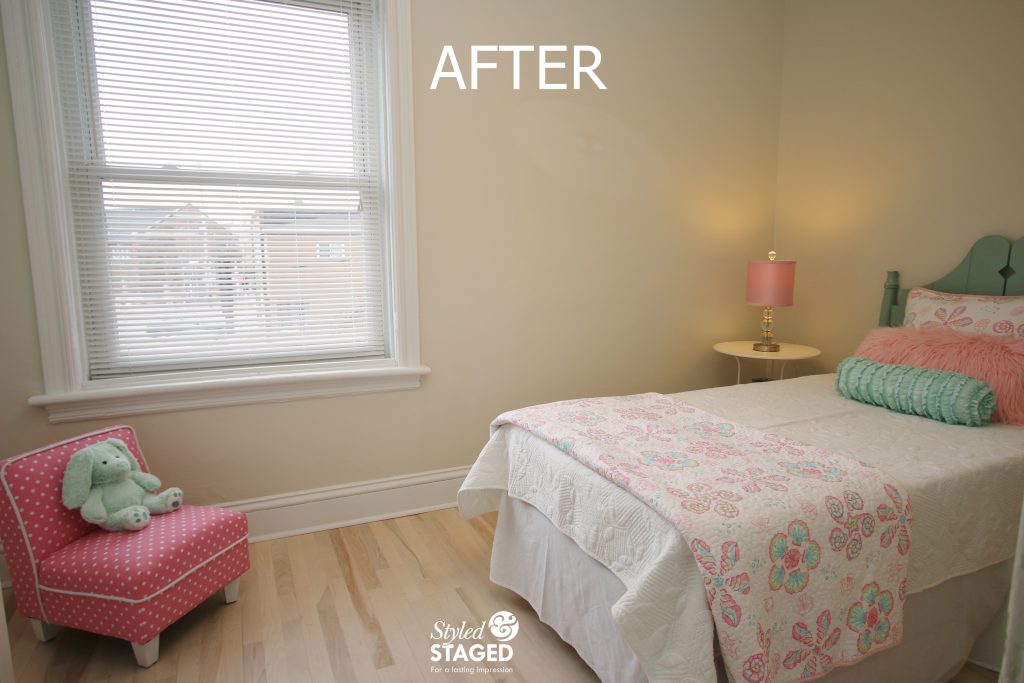 I was so excited to use my new mint coloured headboard and pink polka dot chair.  This room had more colour than any other room in the house, but since it's a child's room, I felt it was necessary.
I didn't add any drapes in the house since the window casings are beautiful, but I did put blinds on the bedroom windows for privacy.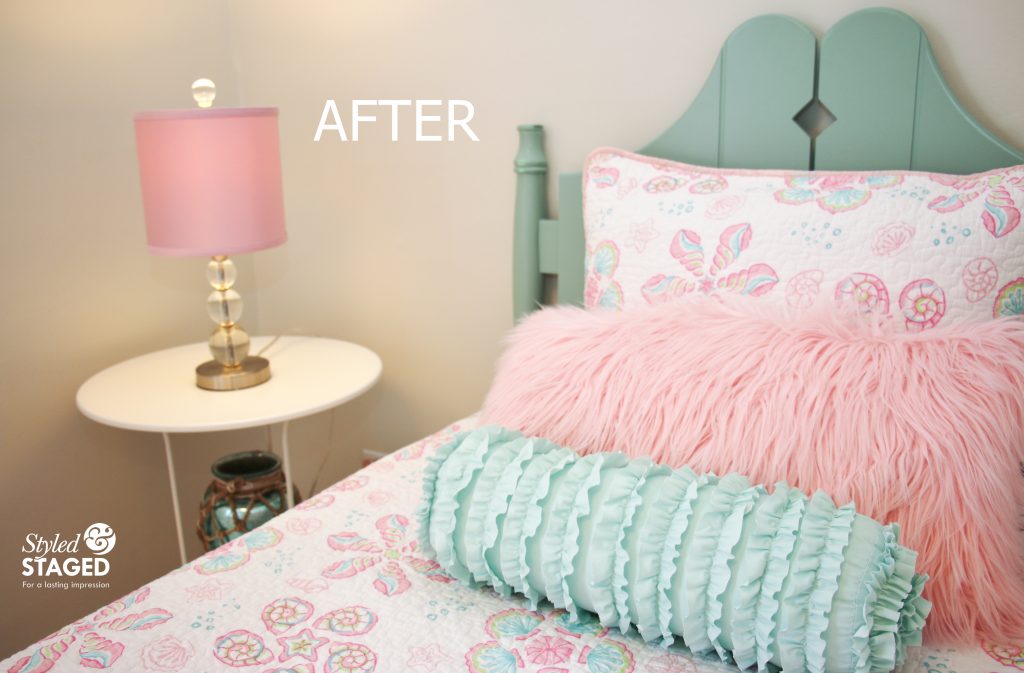 It's just as important to pay attention to the details of smaller spaces.  Each room deserves to be showcased in it's best light.
Make sure you see the main floor transformations as well.