Proof That Staging Does Work
The Process:
I've decided to write this blog about the process that goes along with Staging since most people have NO idea how much is involved.  Every house is a bit different, but I want to share the process of this particular staging.  Since it was an empty house, more work was necessary.
I received a call from a homeowner who said she had a 'crisis'.  She had a newly renovated vacant property on the market for 3 months but it wasn't selling.  She was given my name from someone and she asked me to stage her house.  I agreed.
The listing with the previous Realtor had expired so I referred her to an amazing Realtor that I work with all the time.   As a team, we wanted to set this up for success.
Step 1: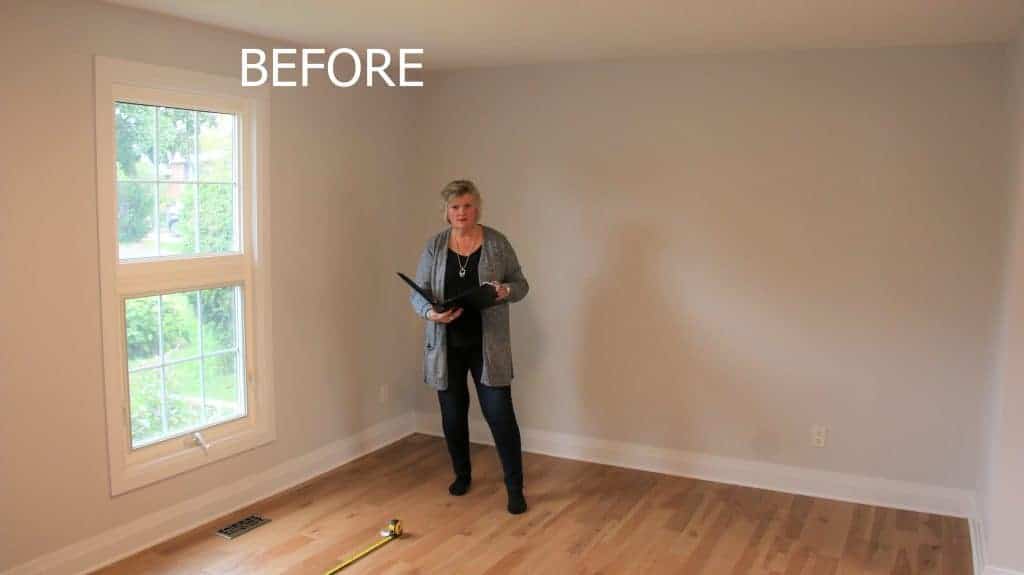 First, I spent many hours by myself in the house to create a furniture floor plan and colour scheme.
When I walked into the house for the first time, I absolutely loved it.  The homeowners had done an amazing job with the renovations. The floors were beautiful and the walls were all painted in a very current soothing colours.  There wasn't anything I didn't like about it, which made my job much easier.
I needed to have an exact list of what furniture I needed to rent and what inventory of Styled & Staged that I needed to bring in.
The living room was a bit of a challenging shape, so it's no wonder buyers had a hard time visualizing where to put their furniture in an empty room.  I measured every possibility over and over coming up with different scenarios.  Just because I knew what I wanted, I needed to be prepared for a back-up plan in case the rental company didn't have what I needed.  It's always about deadlines and budgets!!!
Step 2:
I took one of the homeowners to the rental store with me so he could understand how long things take.  Everyone wants their house listed immediately. I also wanted to make sure he was happy with what we chose since he was paying for it.  This visit always lasts about 2-3 hours since they have to look through their inventory, check deliveries, make phone calls etc.
I spent a few days gathering all of my decorative inventory (rugs, art, cushions, accessories etc.) that pulled the entire house together.  This is where all the planning and organizing takes place.  I also needed to shop for some of the pieces that I didn't have.  This is probably the most time consuming part of the whole staging process.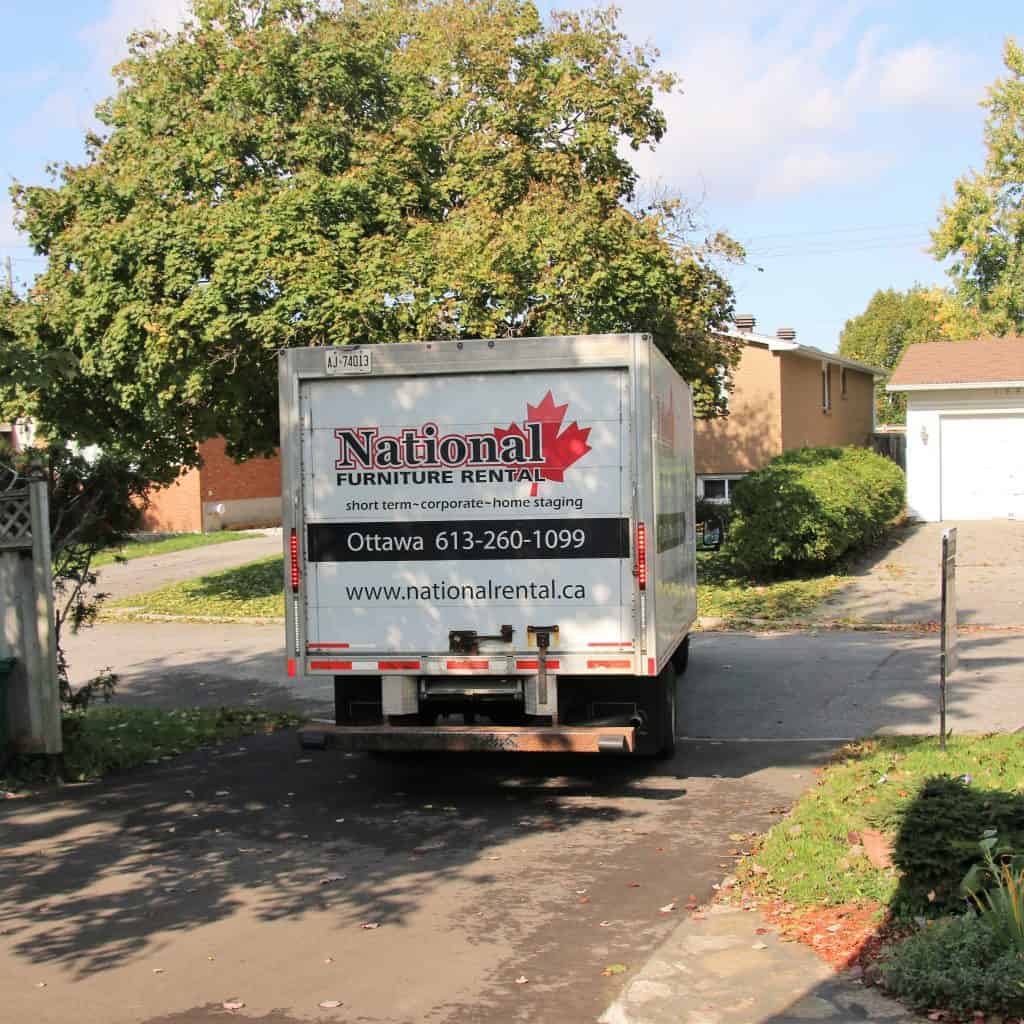 Step 3 – Fill the House:
Once the delivery truck arrived, things happen quickly.  My colleague Joanne and I were there waiting for the furniutre to be placed and then we worked our magic around it.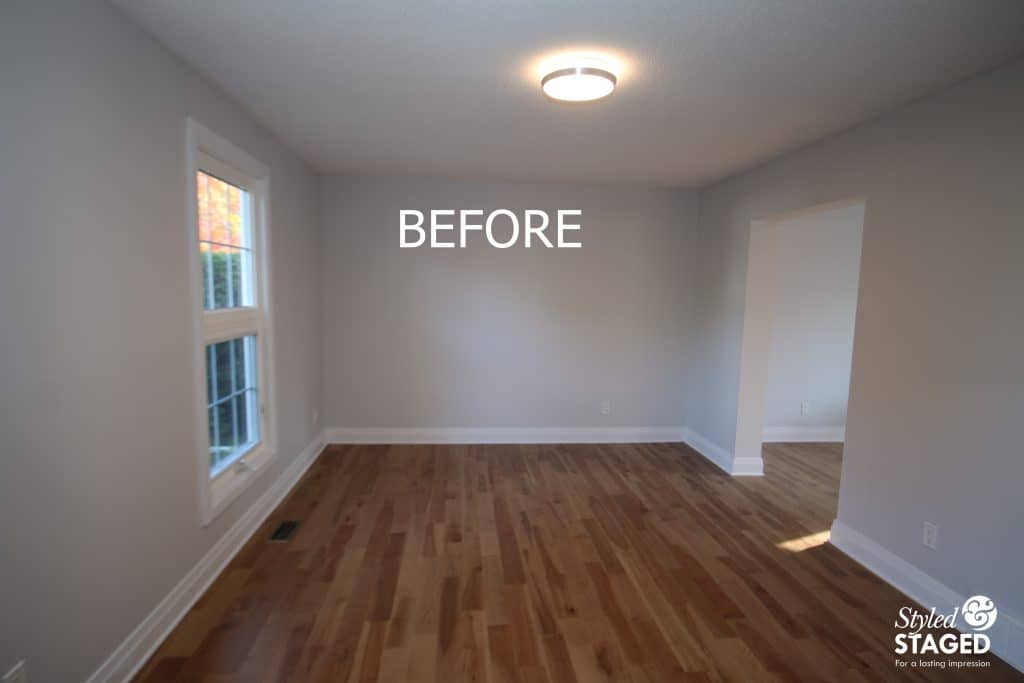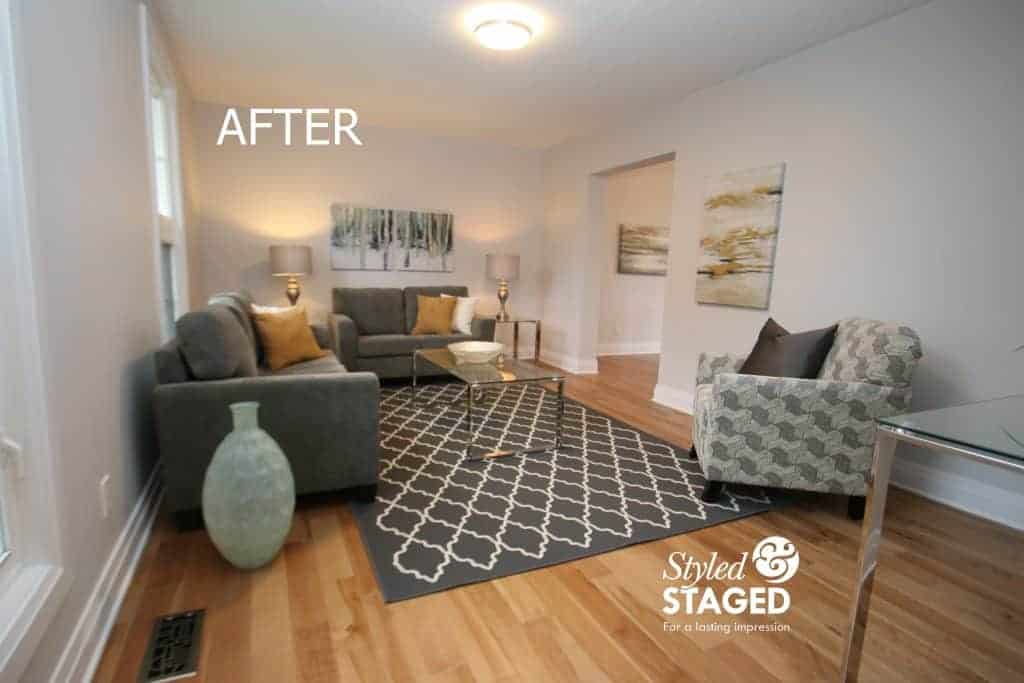 Staging a long narrow rooms can be challenging, so I tried to make it look as wide as possible with the furniture placement and make the far wall the focal point balanced with the lamps. The large area rug also helps to define the space.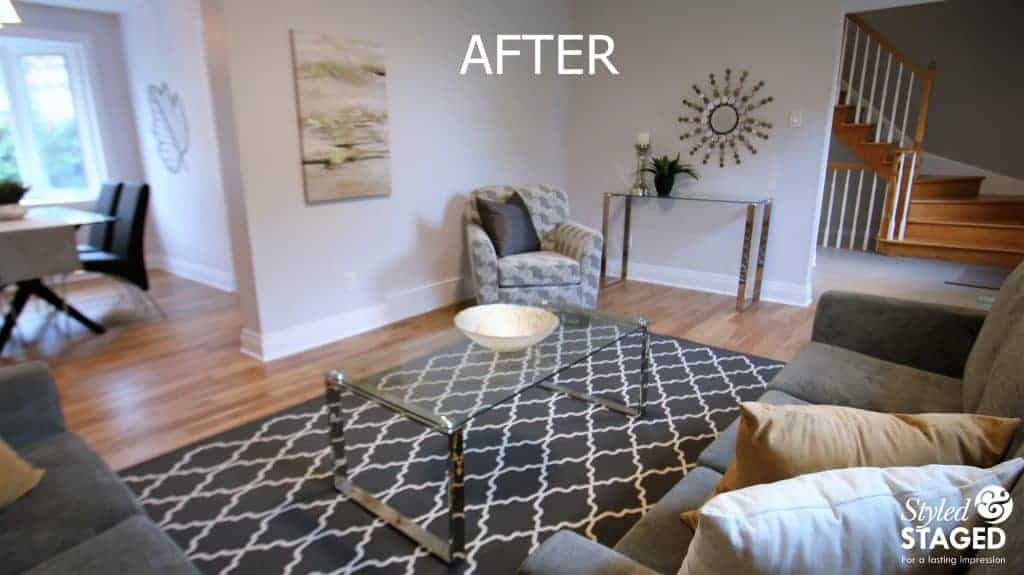 Part of the feedback from the previous listing was that although there is a HUGE finished basement, there was no main floor family room.  Buyers always ask where can they place their TV on the main floor.  I took care of that by placing the sofa table and mirror where you could easily put a TV and still have lots of seating for the whole family.  This also makes the room feel more square.
Furniture To Scale: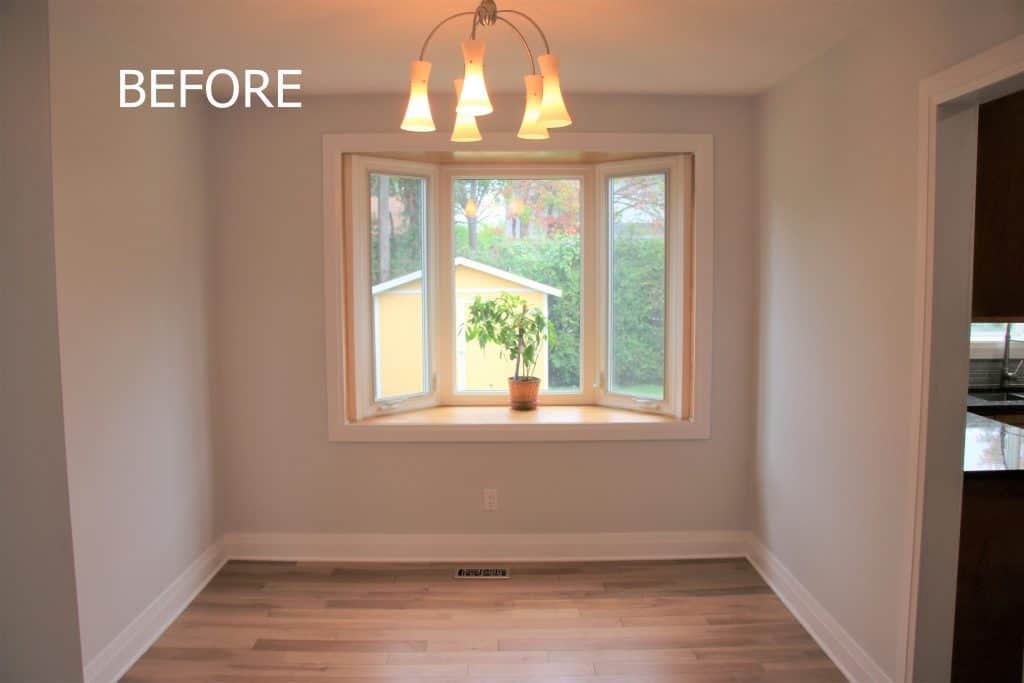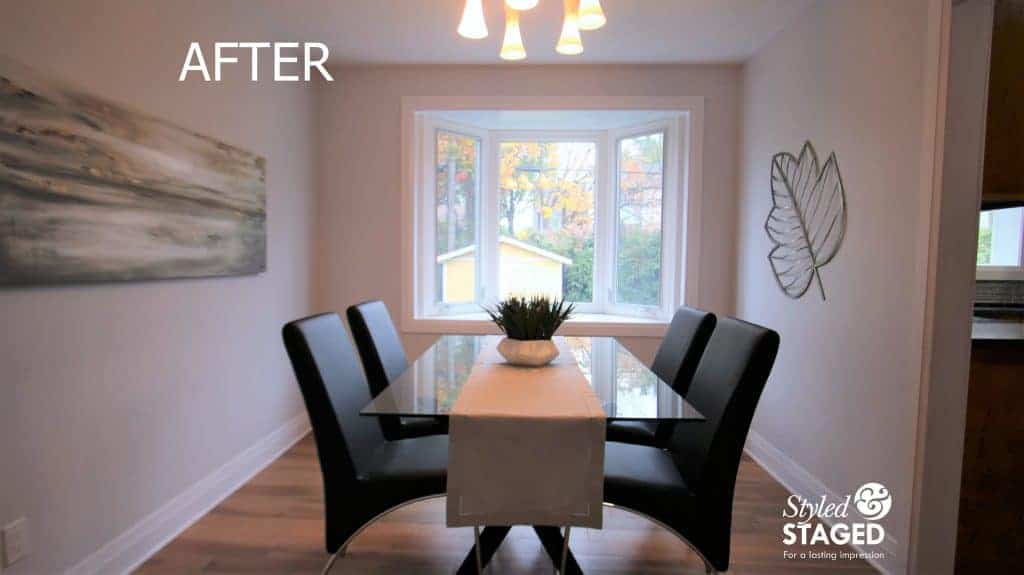 Potential buyers also said that they thought the dining room was too small.  Rooms always look smaller without furniture in them.  I was pleased that the homeowners agree to paint the bay window white.  It made it look fresher and larger.  I purposely ordered a glass table to keep the room light.  We had to wait a couple days longer to get it.  That is why I wanted the homeowner with me at the furniture store so he understood that it is better to wait a couple extra days for the perfect furniture.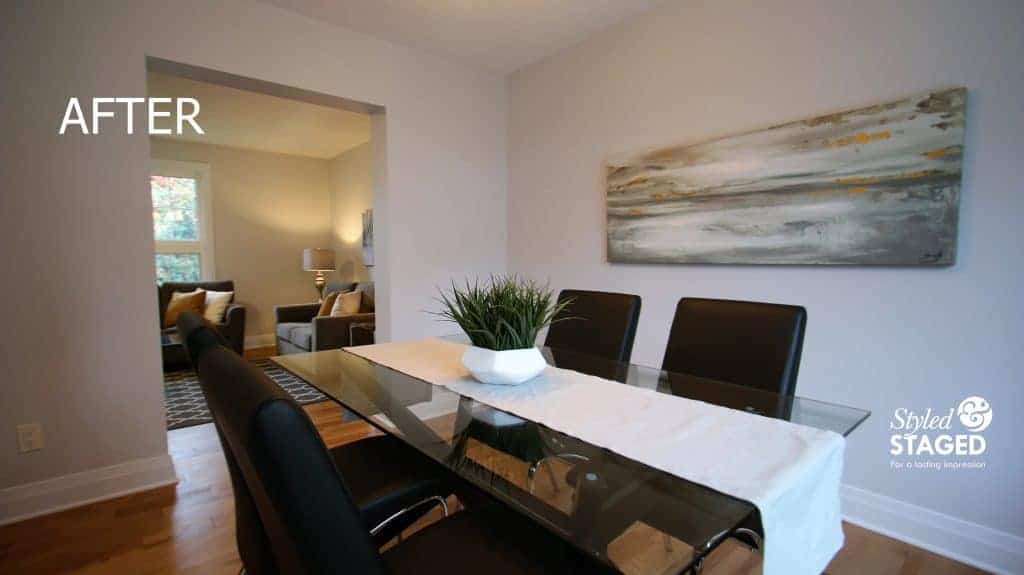 The same colour scheme was carried in from the living room and the accessories were kept to a minimum so the room doesn't look cluttered.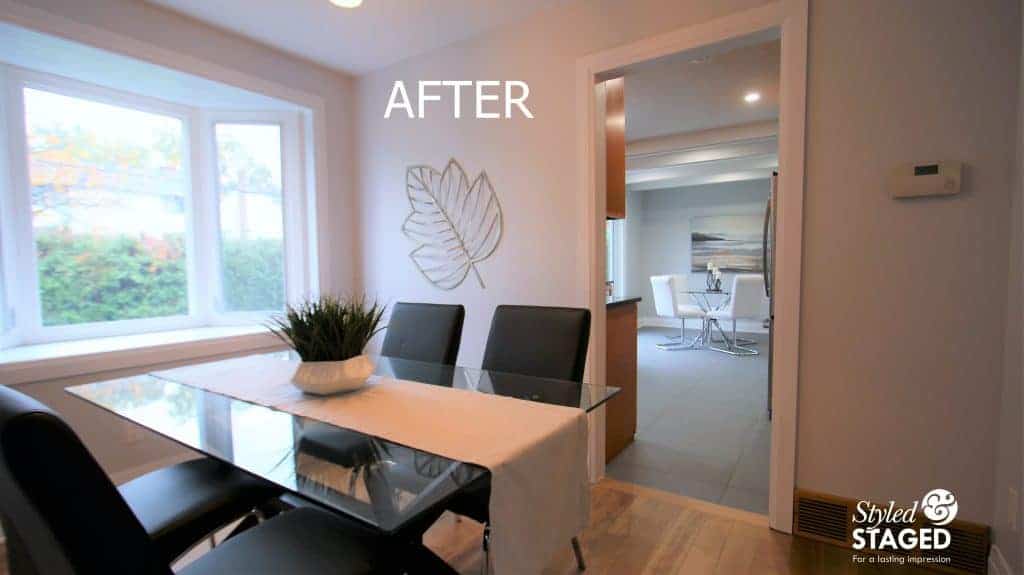 It's important to have decorations on the wall to show depth.  I liked this metal leaf since it was interesting but not overpowering.
Colour Inspiration: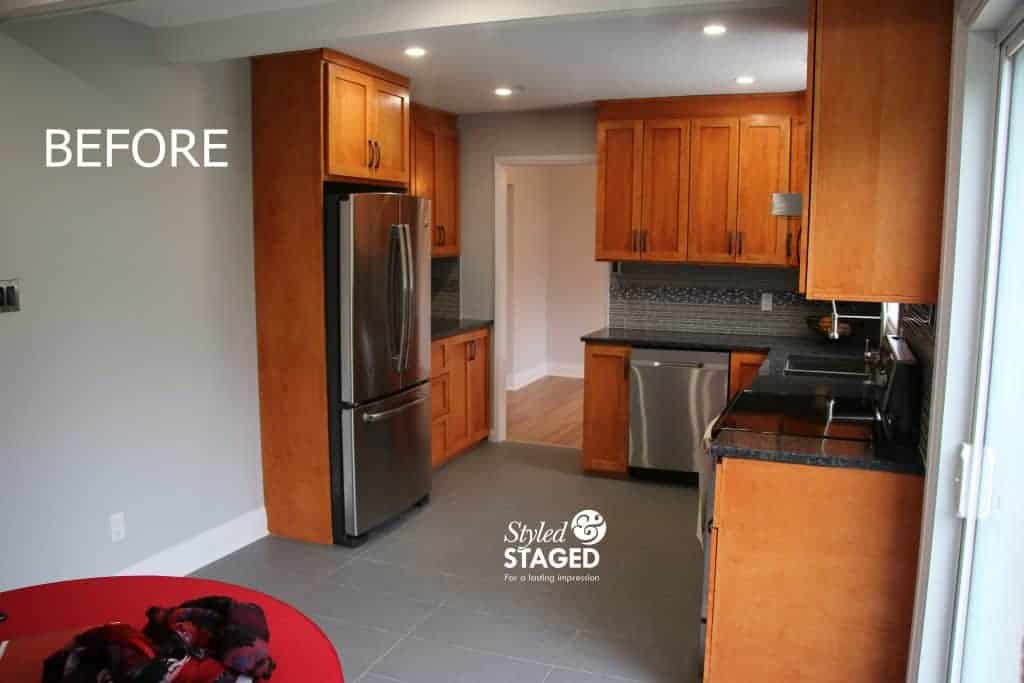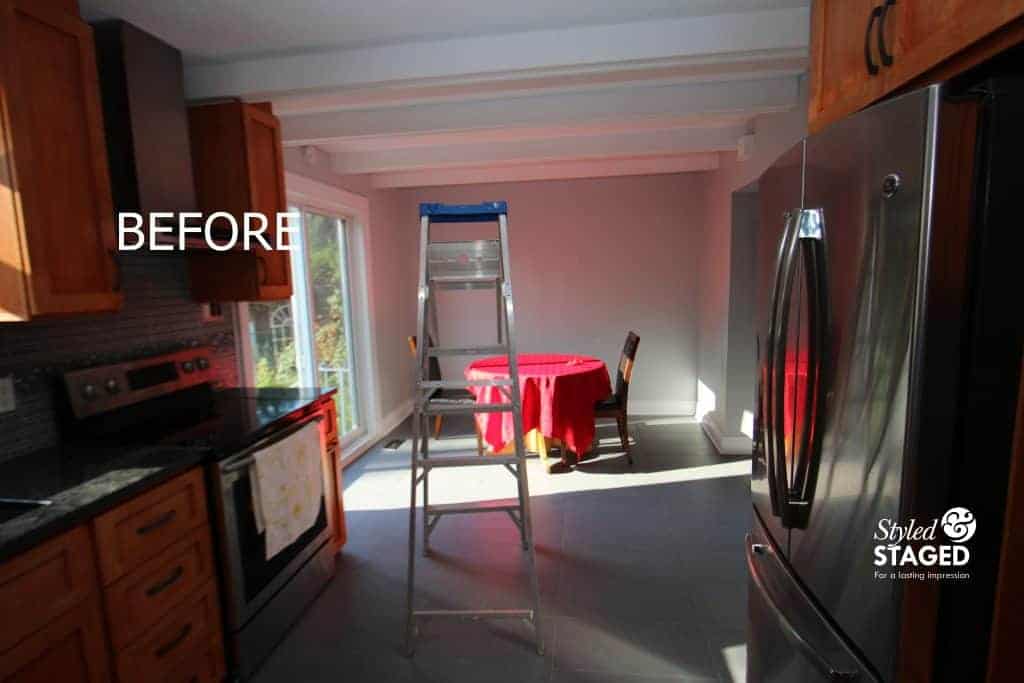 Typically I look in the kitchen first for my colour inspiration.  You always want to make the fixed surfaces (floors, counters, cabinets, tiles) work with your colour scheme.  There was a red table cloth on this round table and I immediately knew I had to avoid red since it made the cabinets look bright orange.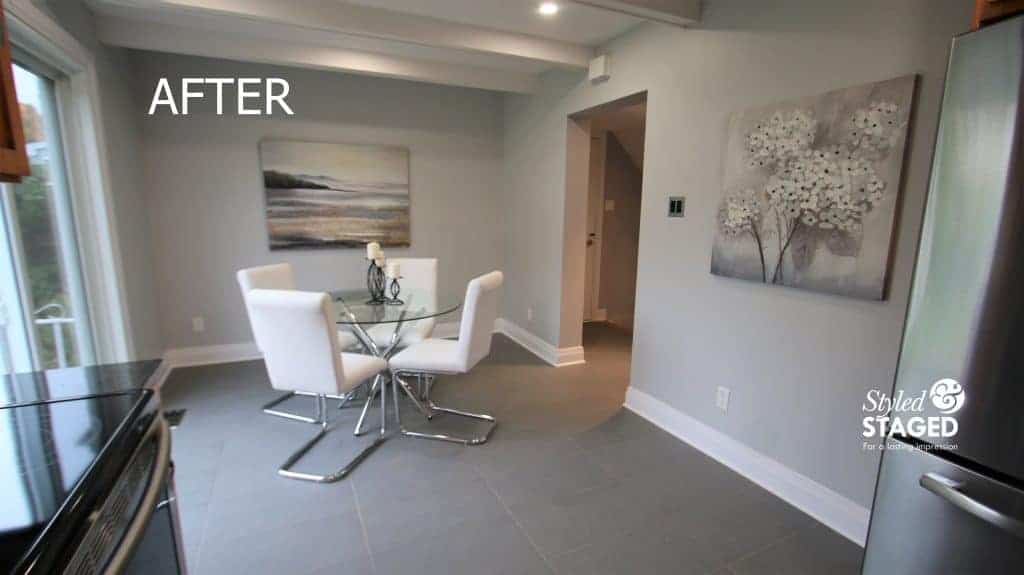 The rental table and chairs were perfect for the space.
I carried the same gray/blue/cream/green colours throughout the entire main floor, even into the hallway and powder room.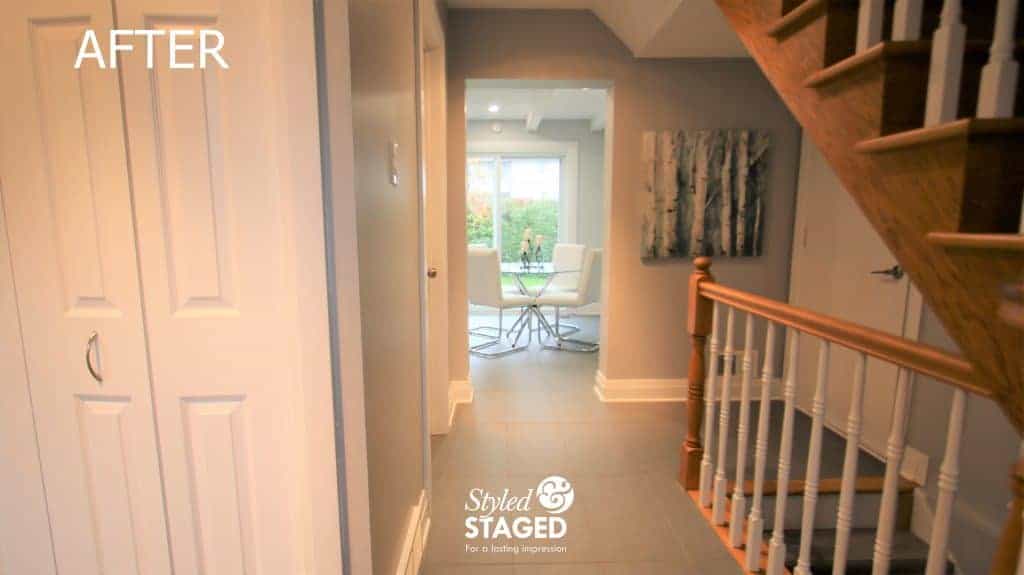 Make Rooms Look Different From Each Other:
Master: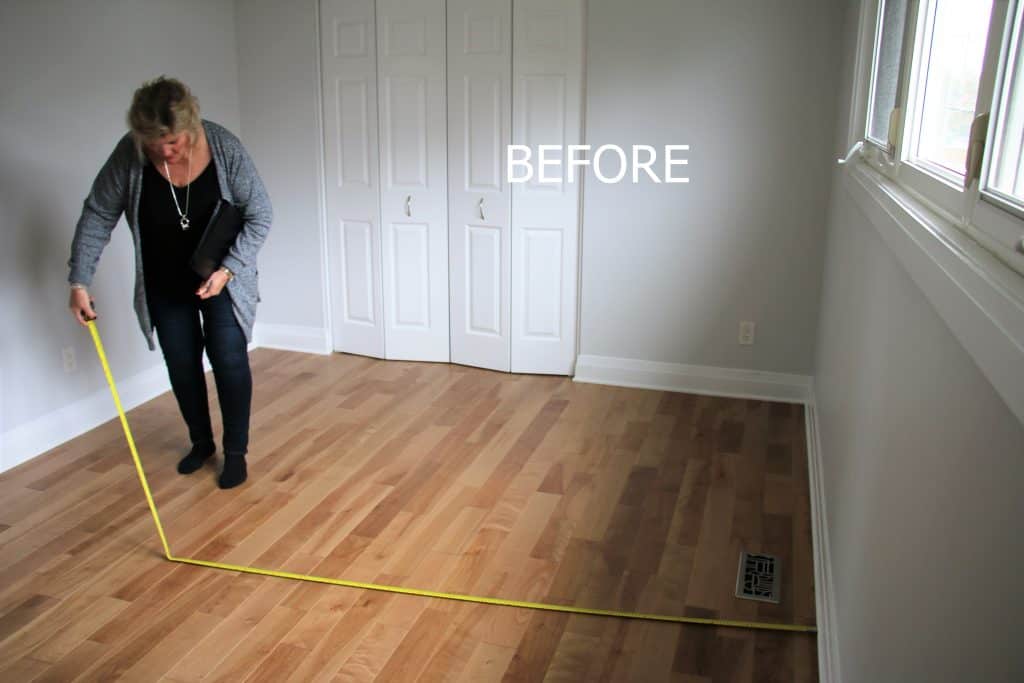 When all the bedrooms are painted in the same colour and all the flooring is the same, it's very hard for buyers to tell the difference between the rooms in the MLS photos.  Make each room unique and memorable.
We rented furniture for the master bedroom since it's very hard for buyers to visualize if their furniture will fit.  I brought in my inventory to finish off the room.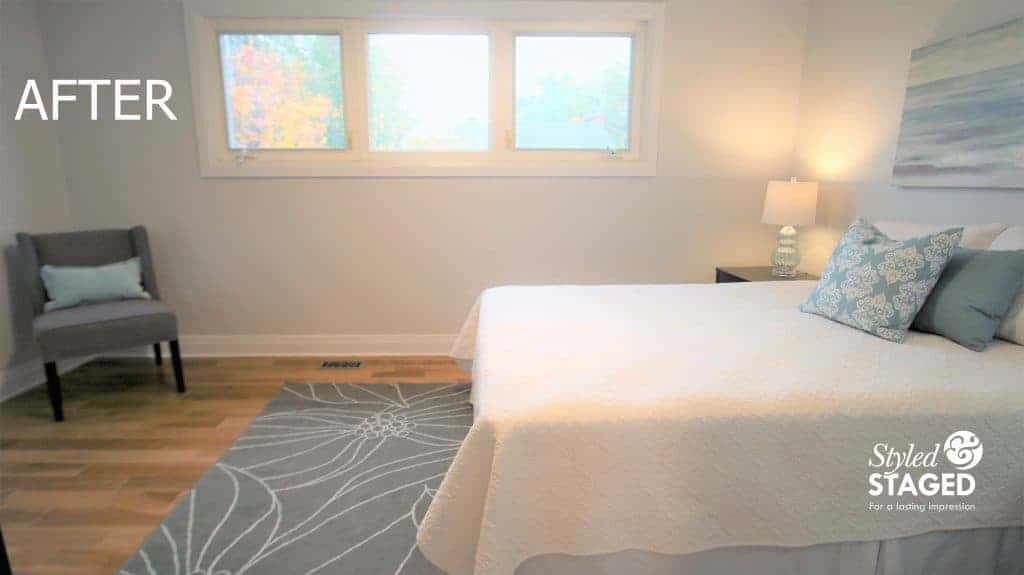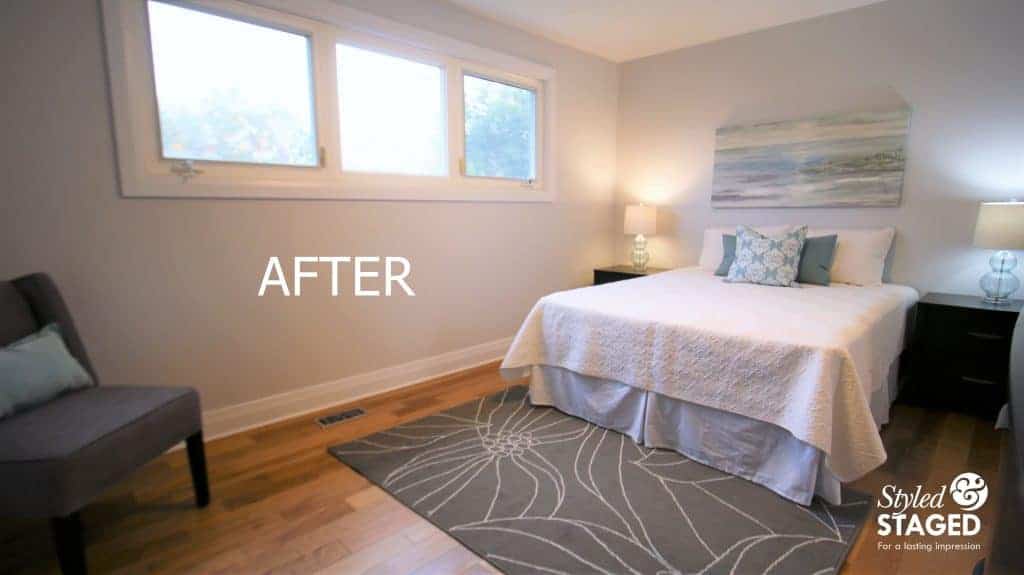 Putting an area rug at the end of the bed helped fill in the space and made it feel cozy.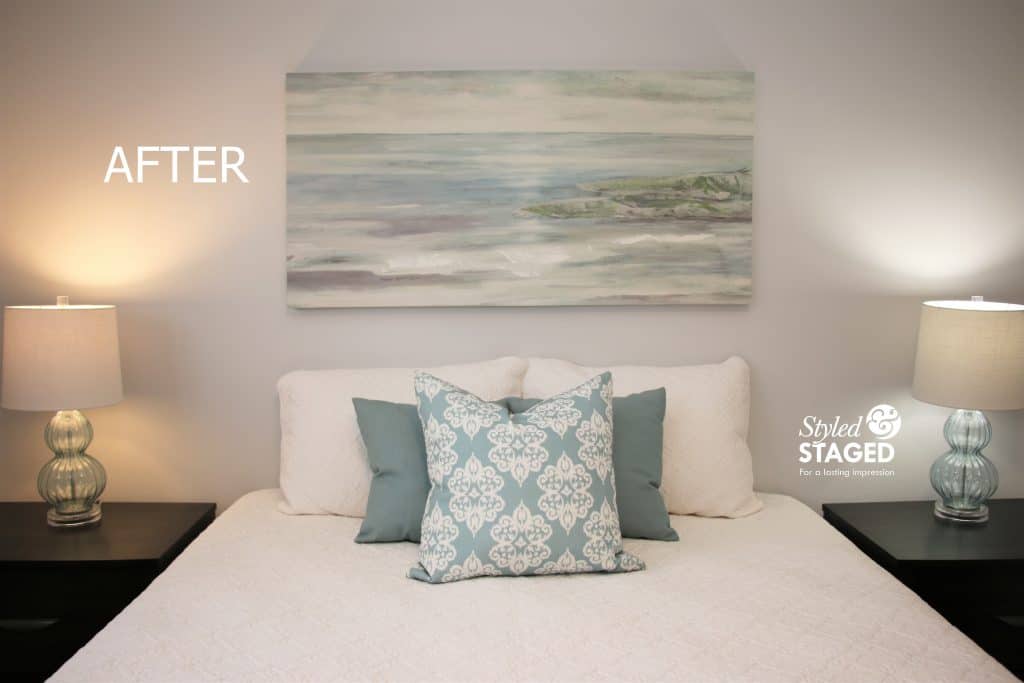 Nursery: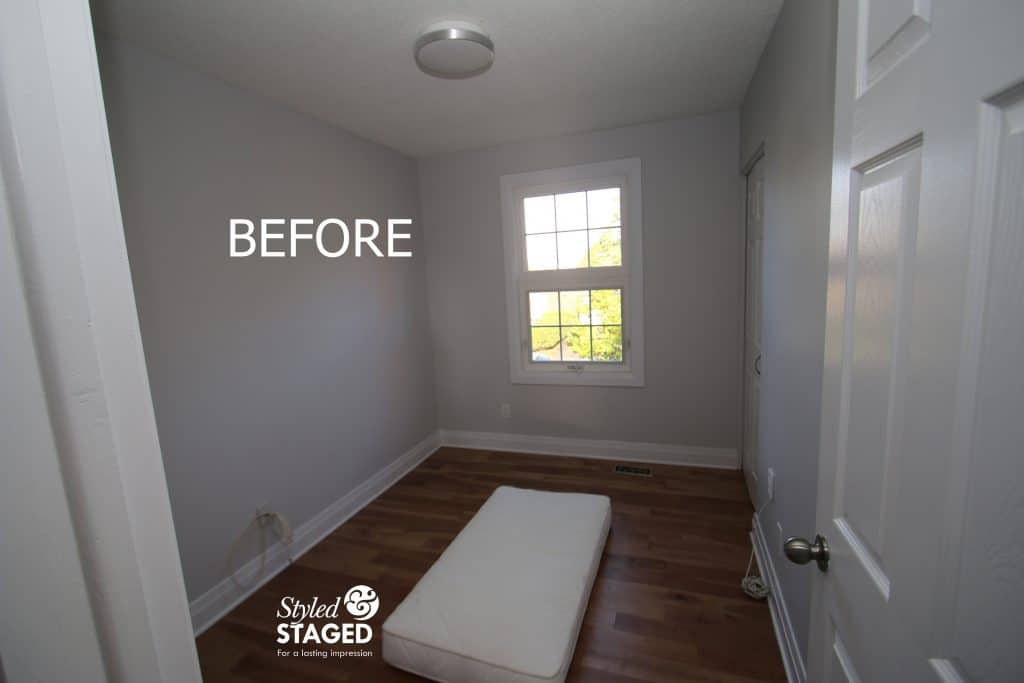 This room could have been an office but the Realtor had a crib that we could use, so we turned it into a nursery.  This also made the room look larger.  We wanted to show as many rooms with beds in them as possible.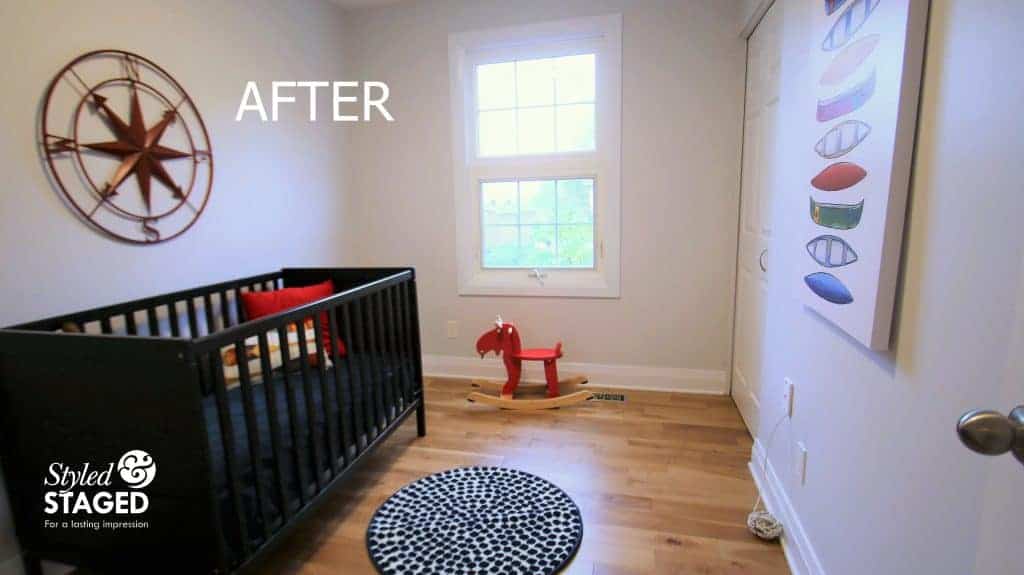 Adding just a few pops of colour from my inventory gave the room personality and charm.
Child's Room: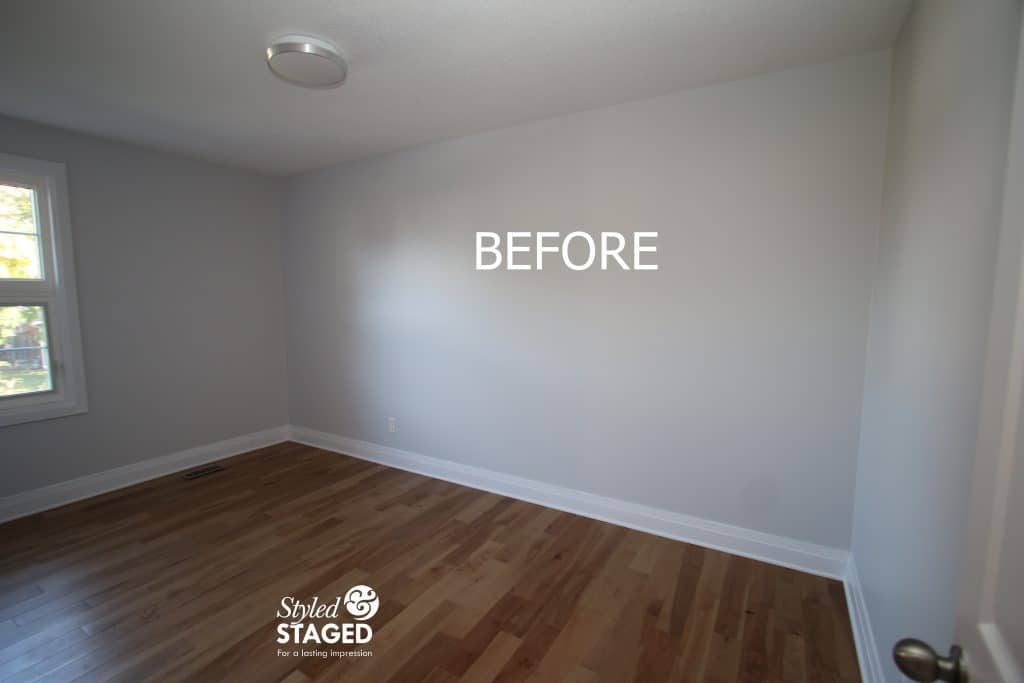 We rented a single bed and the Realtor brought in a desk.  My accessories completed the room.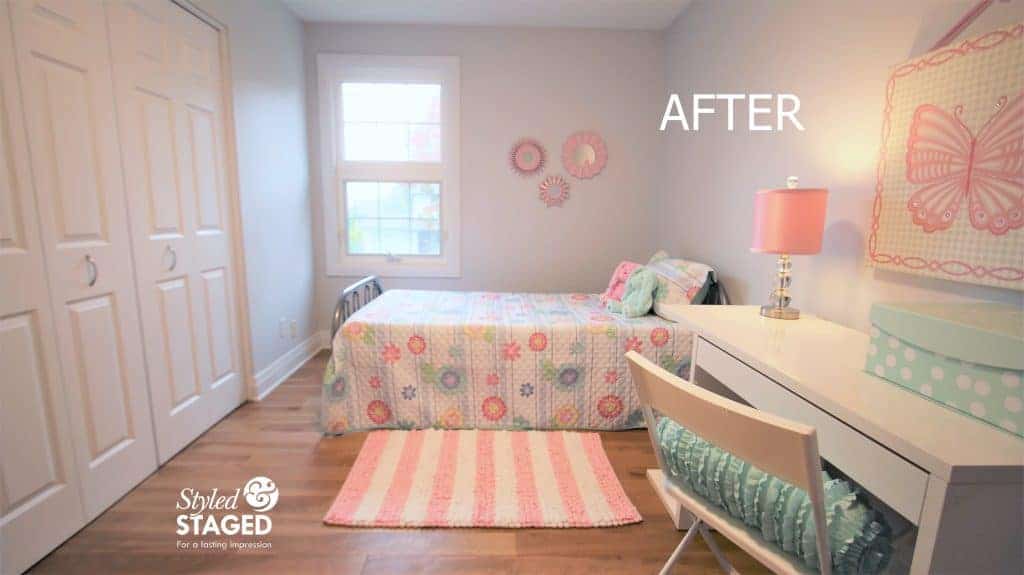 The light gray walls are a great colour for either gender or age.  At first, you might not think that a bed could fit this way.  That is why it's important to have furniture in the rooms.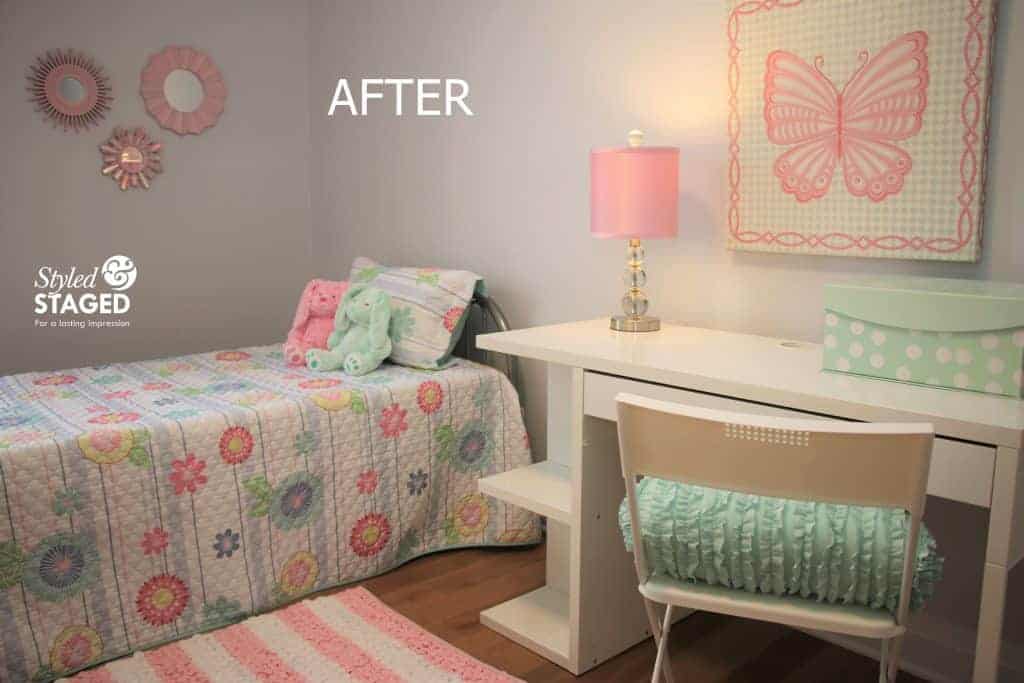 I bounced pink and mint green accessories all around the room so your eye captures the entire space.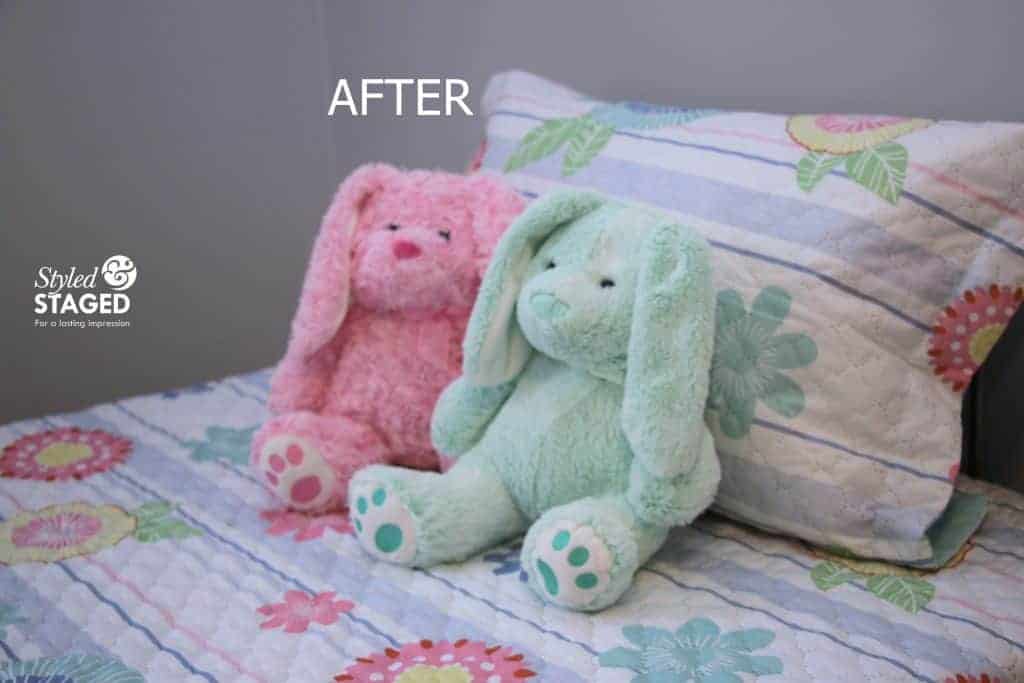 A few whimsical accessories makes a room memorable.
Once the house is Staged, the photographer comes the next day for the professional photos.  I am there on that day as well  since there are always last minute things to bring in.  I make sure linens are straight, lights are all one and everything is ready to go.
With a new team and the house properly Staged, I'm proud to say that this house sold in 2 days!