Quick Staging Transformation
I love Staging town homes since you can do so much in a short period of time.  It's so much fun seeing each room transform right in front of your eyes.
When I met with this couple, I knew they were willing to do just about anything I asked.  We worked well together and also had the help of their Realtor who supplied a few key pieces to finish some important rooms.
Create an Atmosphere
They were the first to admit that they had been living in the house but hadn't really made it into a home yet with their busy lifestyle.  Fortunately, they realized that the walls needed some paint and accessories needed to be brought in.  It is so important to have clients on-board with the Staging process or it's a waste of everyone's time.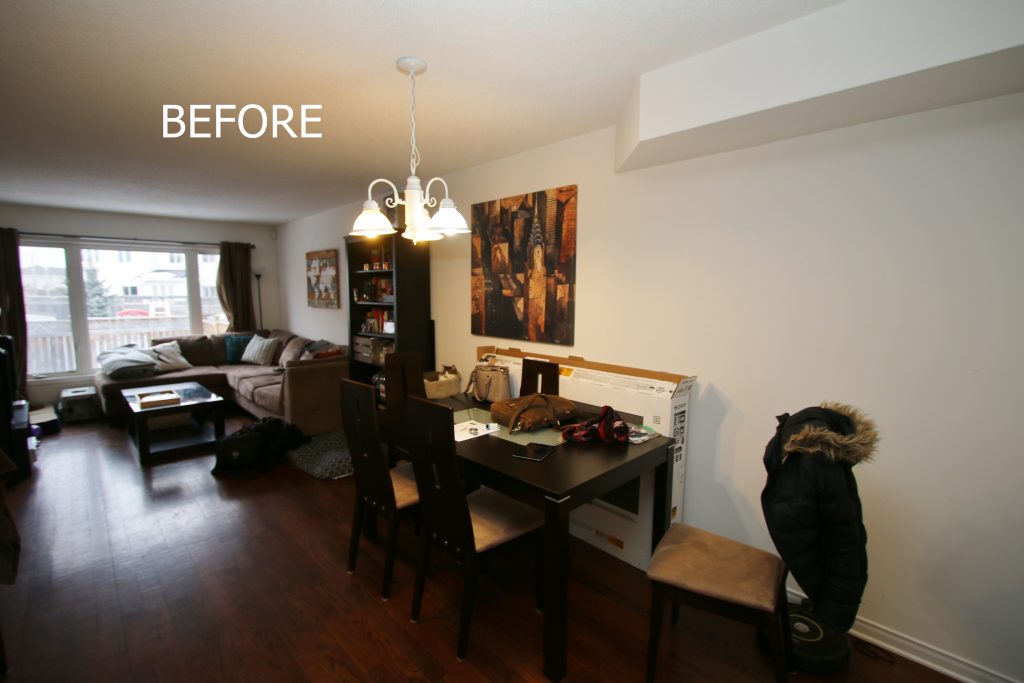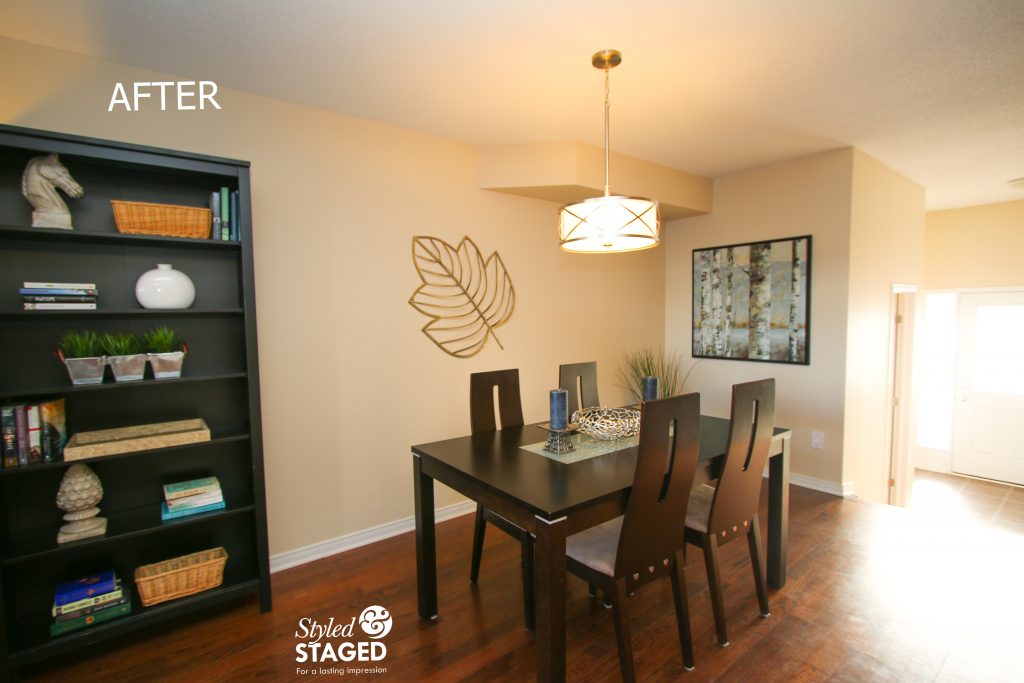 The whole main floor was given a fresh coat of paint. The dining room is the first room you see, so we needed it to look great.  Replacing the light fixture with a neutral more modern one really helped.
I brought in all the artwork and accessories for a cohesive look. Their bookcase was a great room divider in the long space.  We just edited it so it was more of a focal point.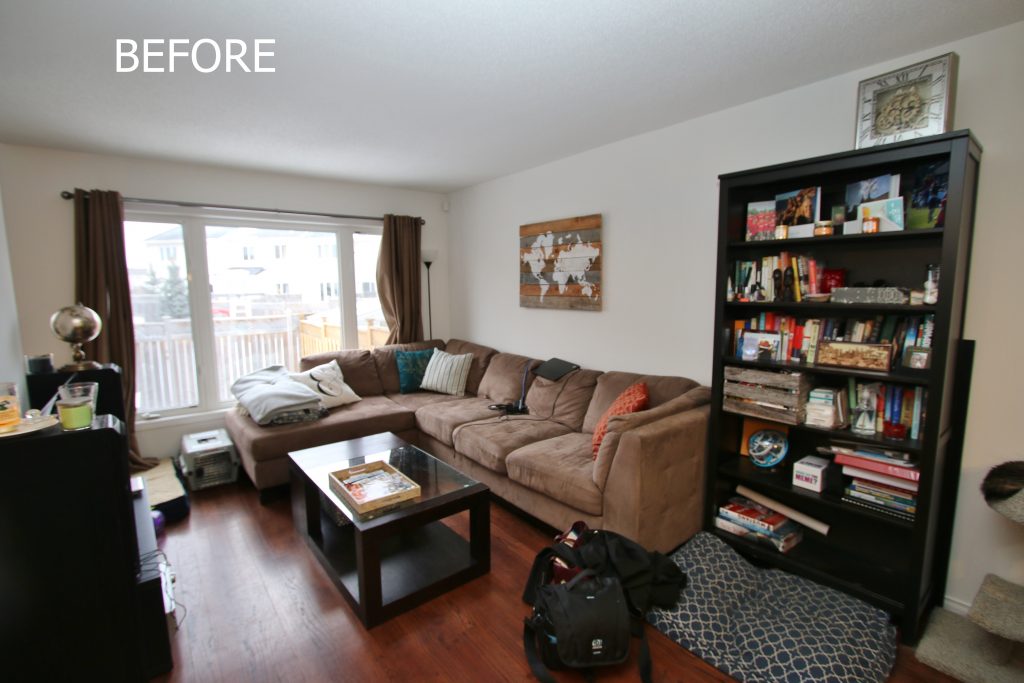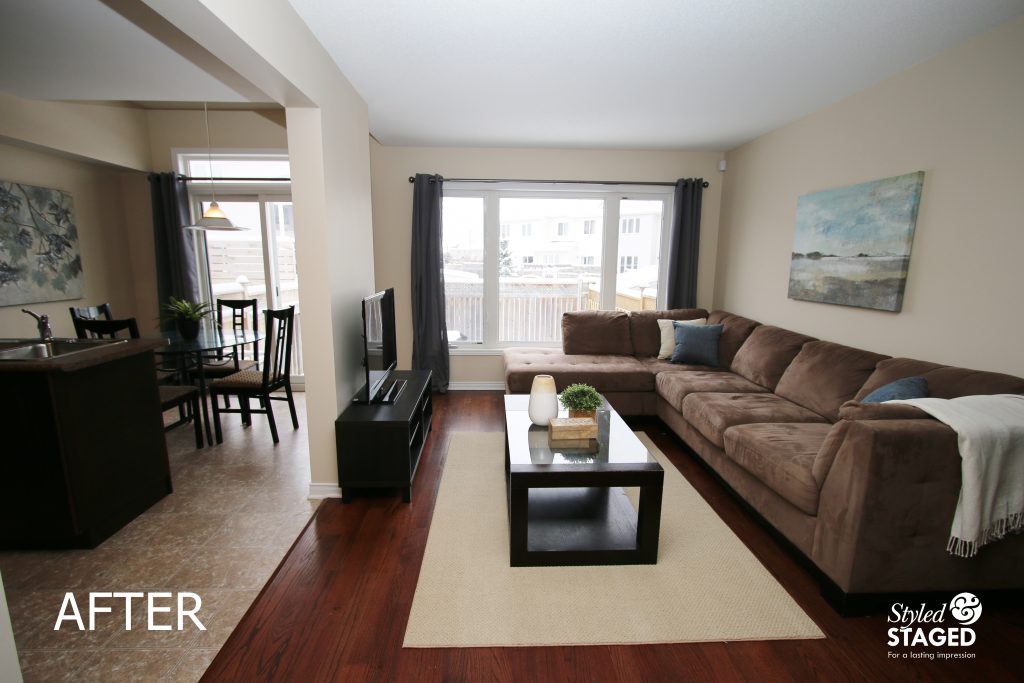 We were able to use their artwork in their upstairs office.  Notice how the new colour palette flows from room to room.  This also makes the house feel wider.  The ivory rug brightened up the space and created visual zones. Different shades of blue were scattered in all the spaces.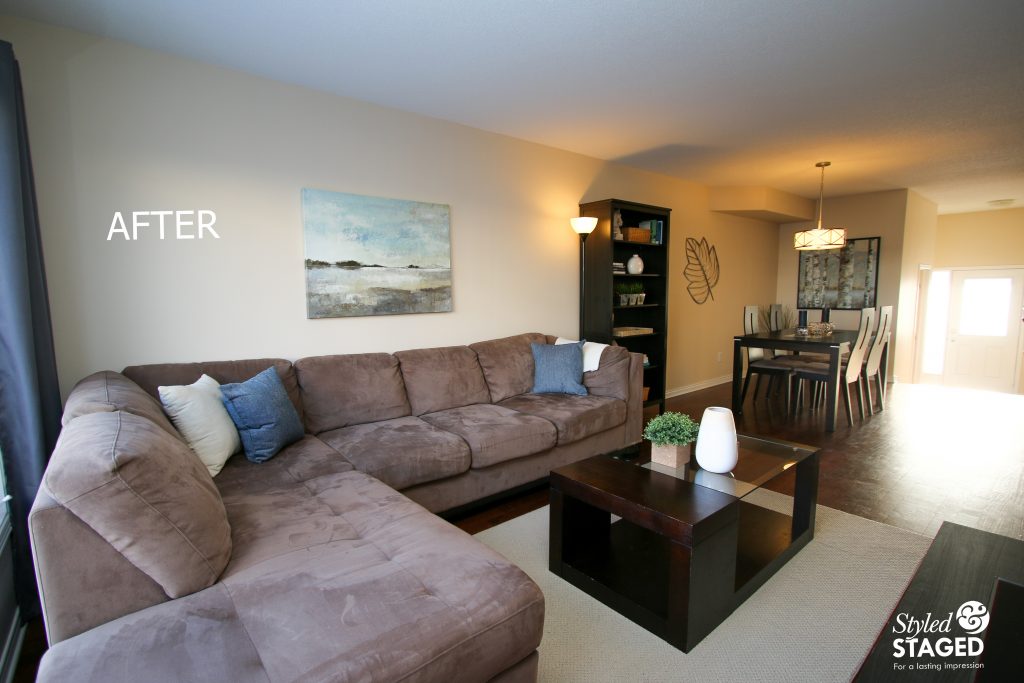 The room now feels very calm and serene no matter where you are.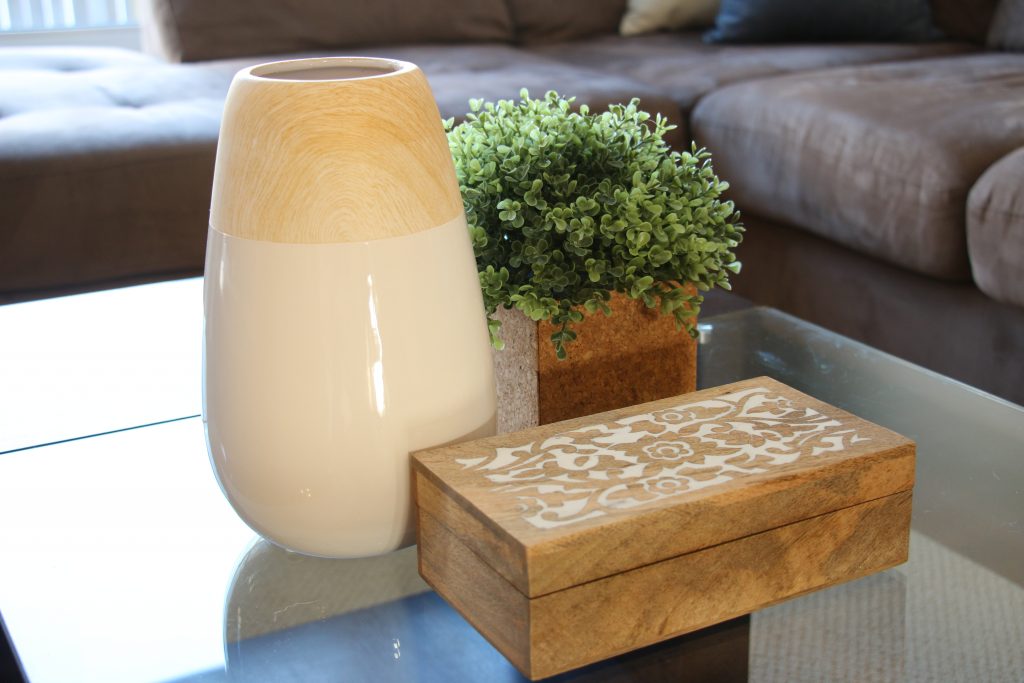 Interesting little groupings of accessories makes it feel more like a home.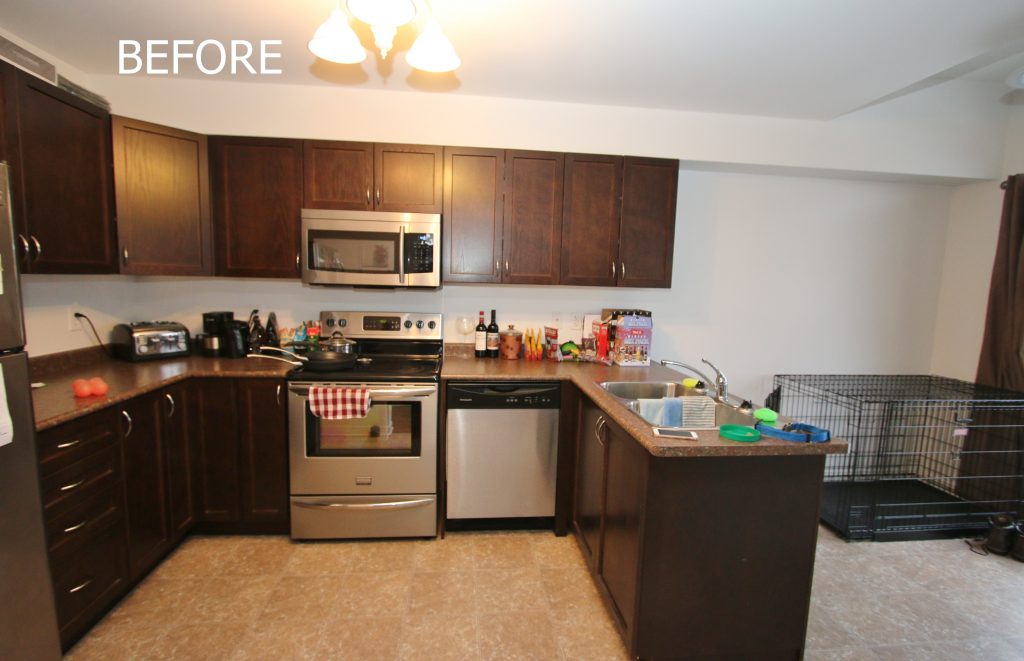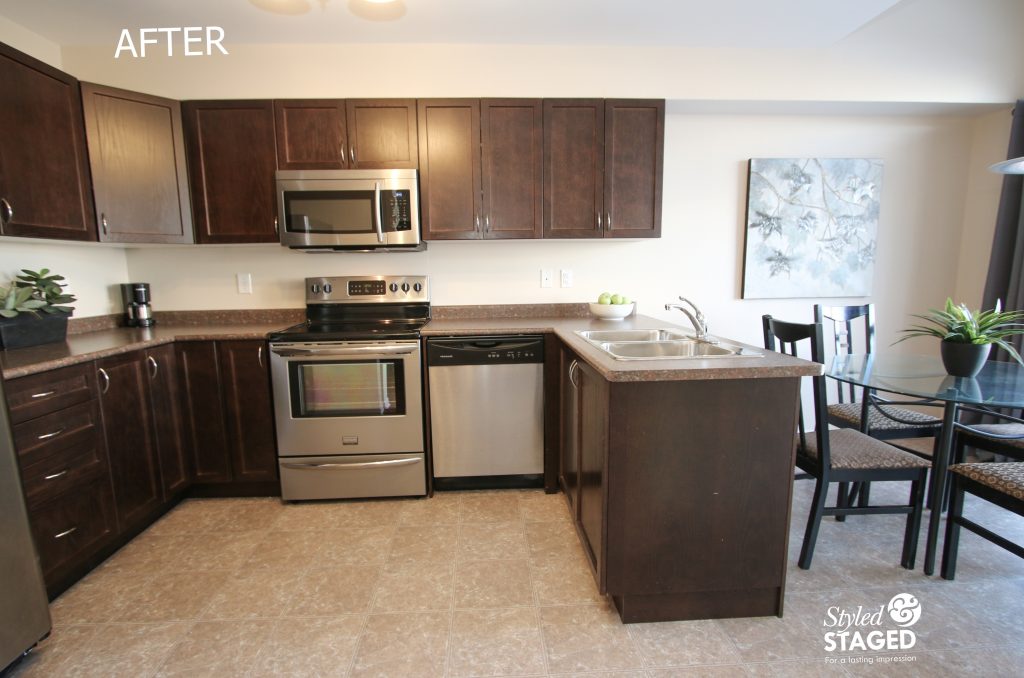 Staging a house with pets is a very touchy and sensitive subject for many homeowners.  I was happy when they told me that their pets were going to stay with grandma and grandpa while the house is on the market.  It's hard enough to keep a house clean without pets, but it's even harder when you have to always have your house spotless for last minute showings.  You also have to constantly make arrangements for them during showings etc.  When the house looks great, it will sell quicker and then everyone can resume their lifestyle.
We were lucky that a family member lent them this perfect kitchen table.  Eat-in kitchens are appealing, especially to buyers with younger kids.
Make Every Room Count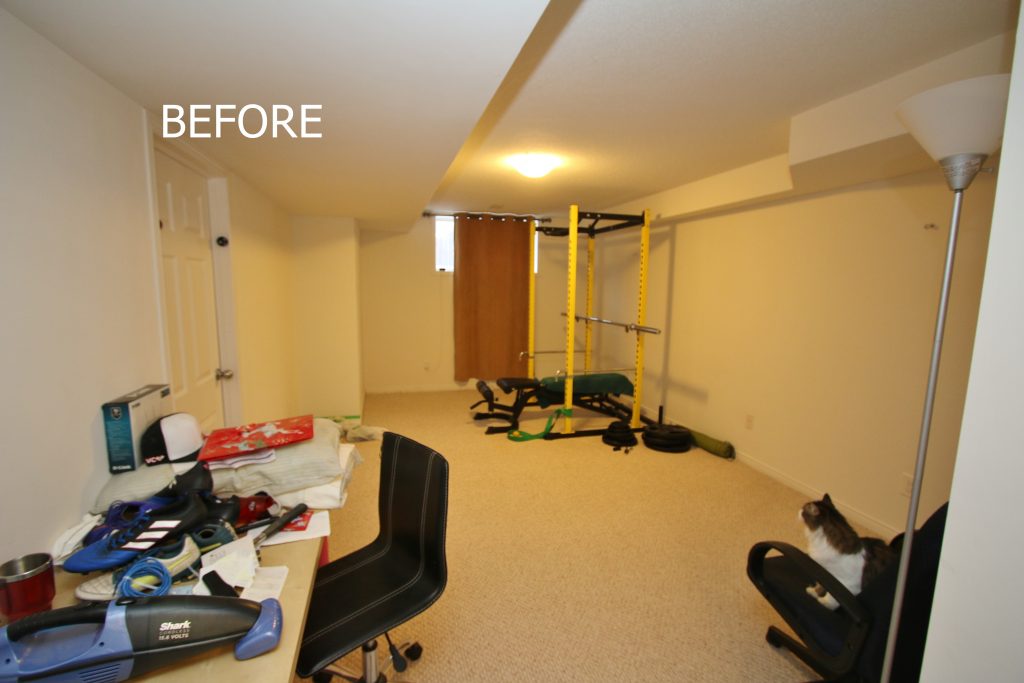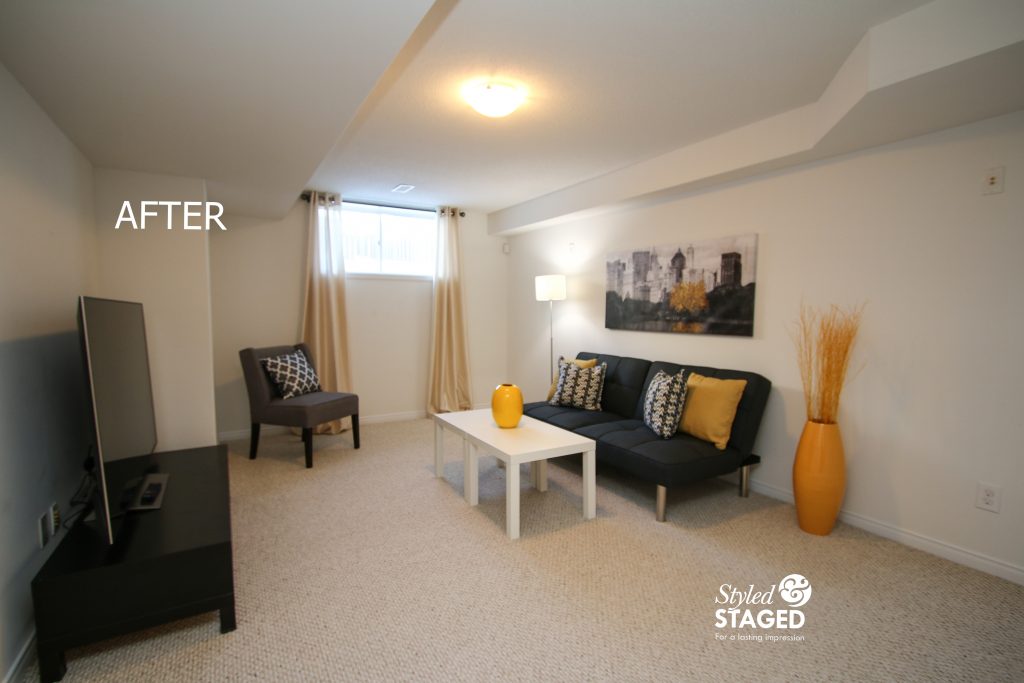 Since the main floor isn't overly huge, I felt it was important to showcase this nicely finished basement as a family room instead of a home gym.  The large window allows in so much light.  They already had the huge TV for their new house.  Their Realtor lent them the TV stand, the chair and the coffee tables. This is when it's fun to work together as team and create great results.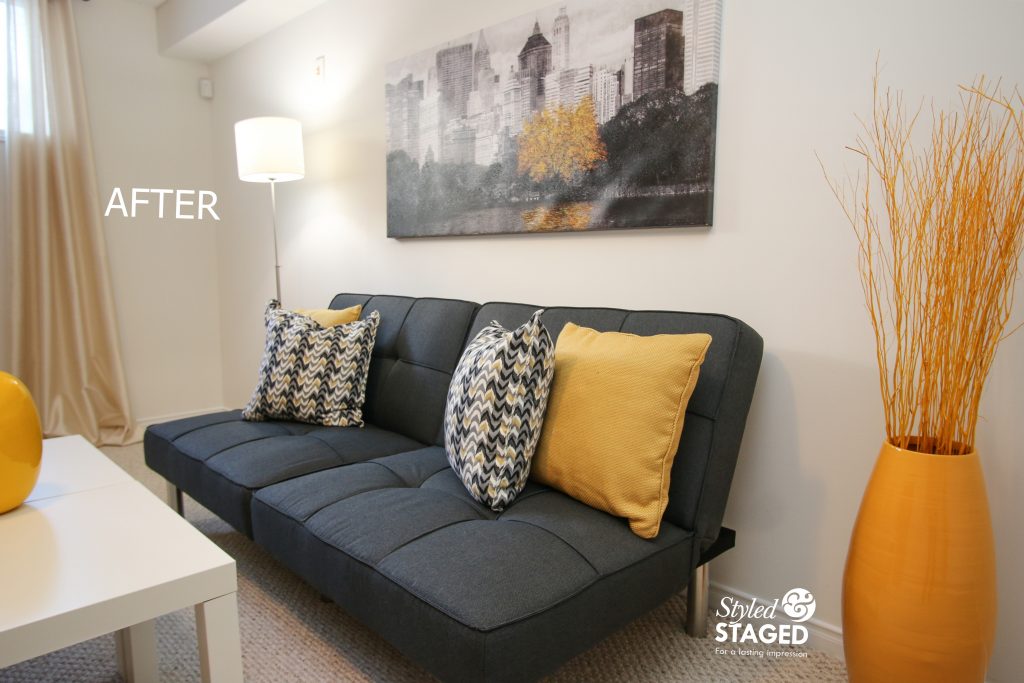 They bought the futon and it's perfect for this space as well as their new home.  I brought in cheery accessories to keep the room fresh and inviting.  I always have to remind homeowner's that we are not decorating a whole room – we are just creating a stage so buyers can fill in the pieces with their own imagination.
Master Retreat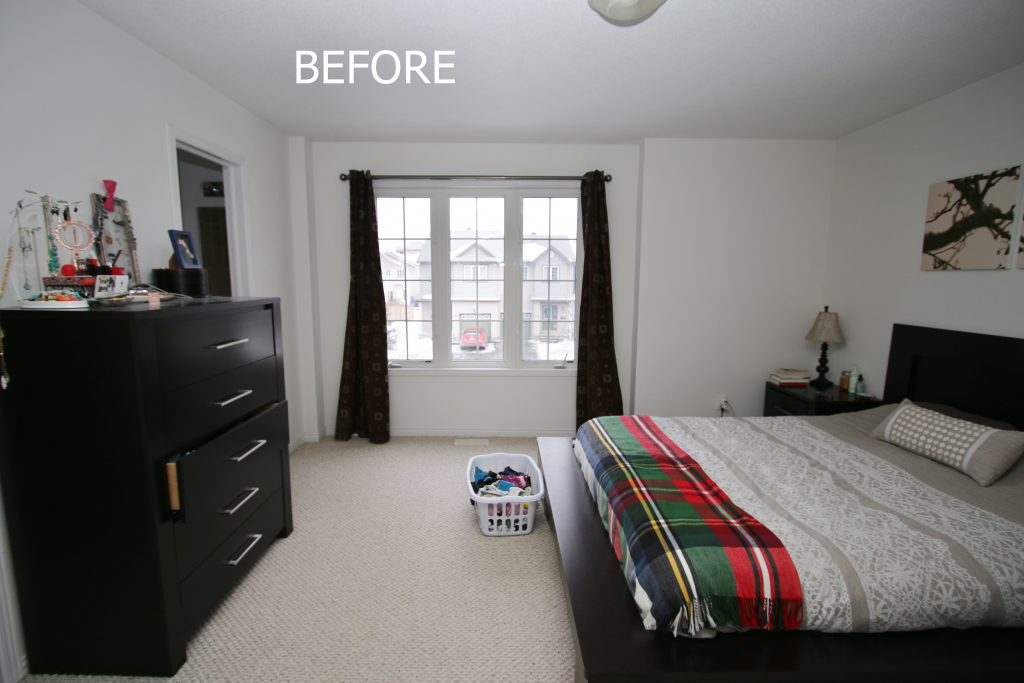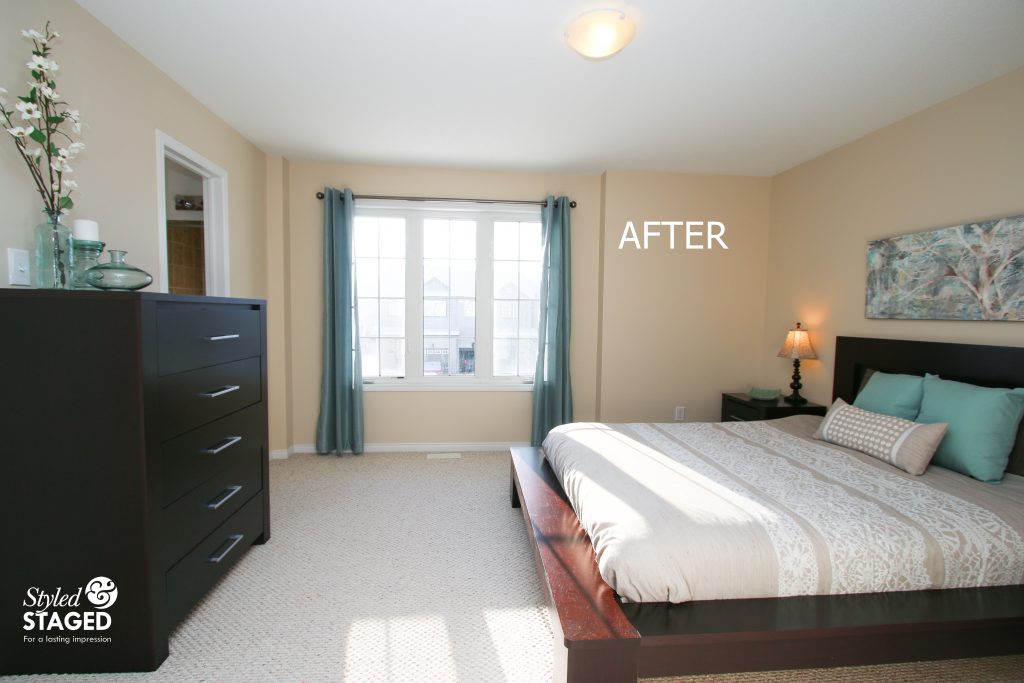 They painted this room as well to create a romantic retreat.  We were able to use all their furniture and linens.  I just brought in artwork, and complementary accessories for interest.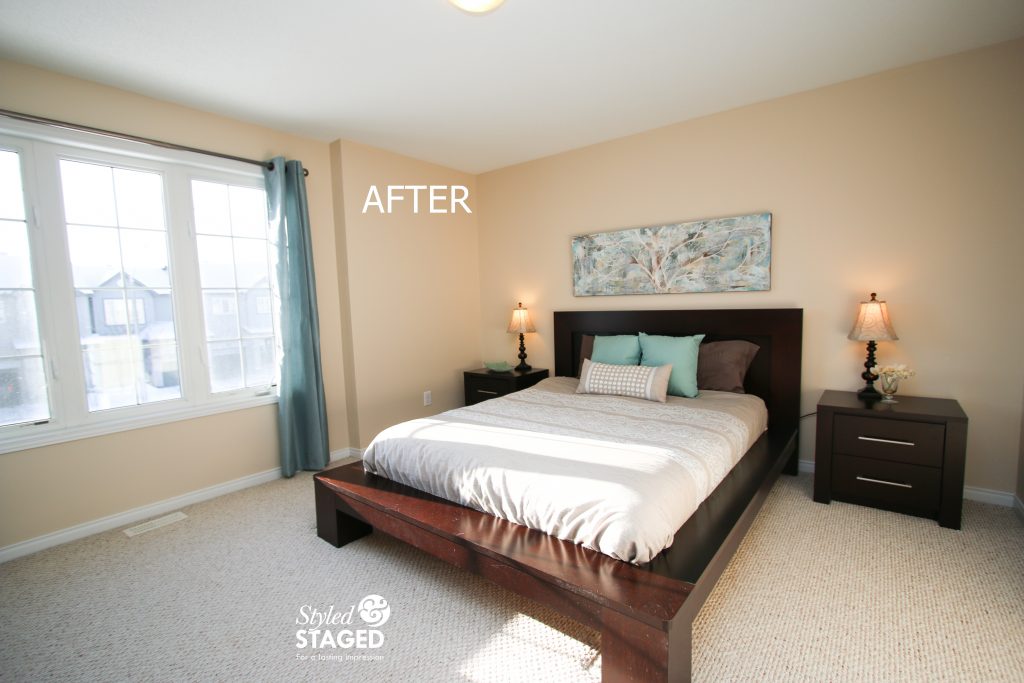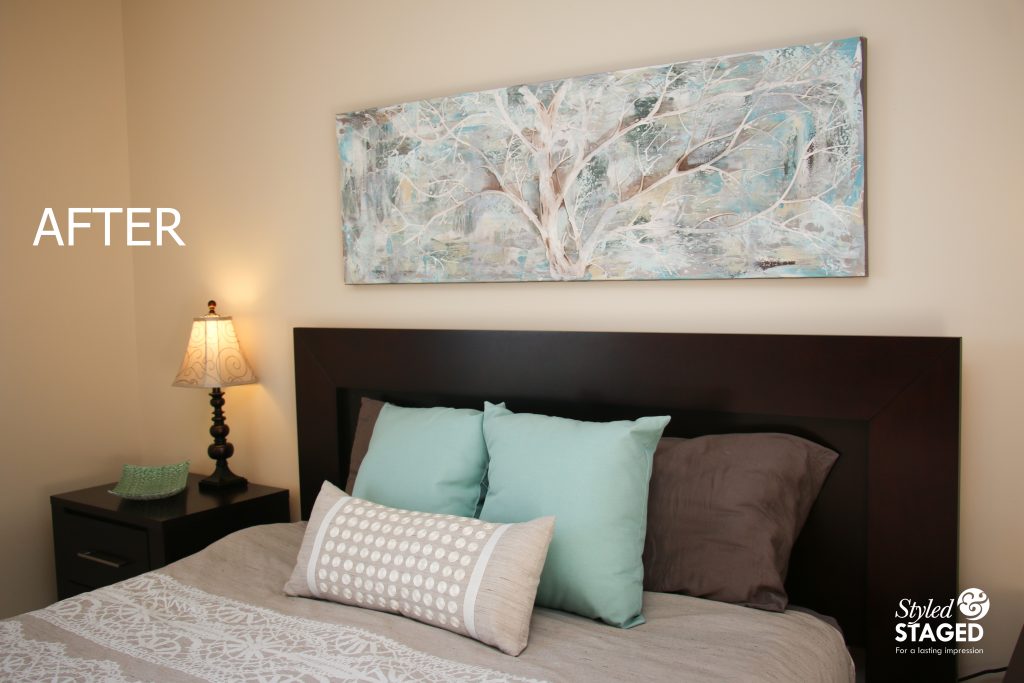 Use your artwork as the colour inspiration for accent cushions, drapes and accessories.
Appeal to the Buyers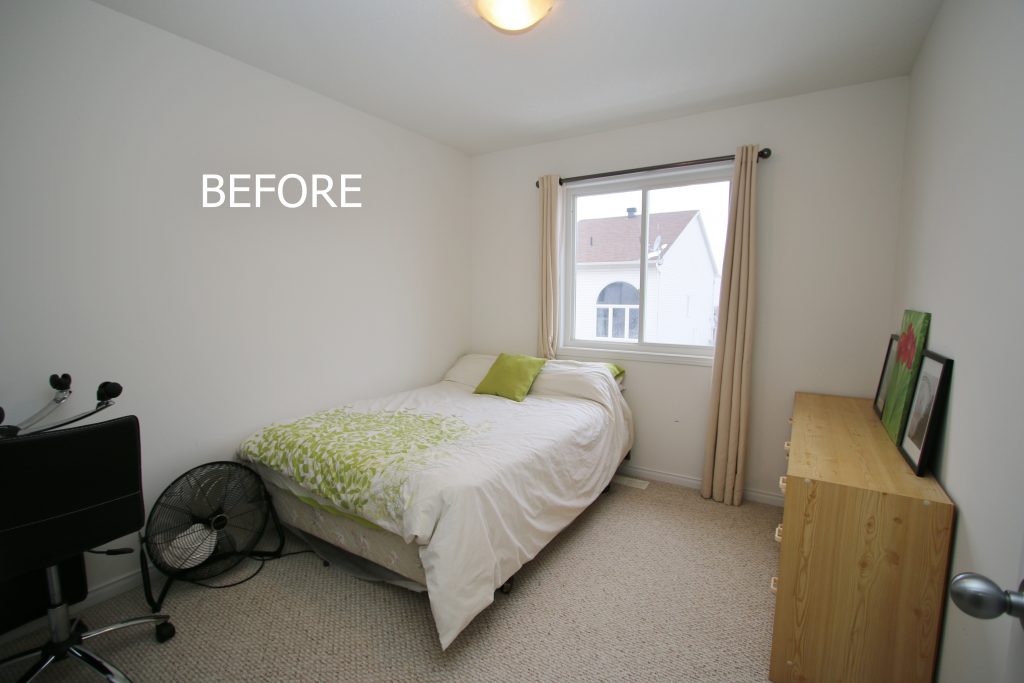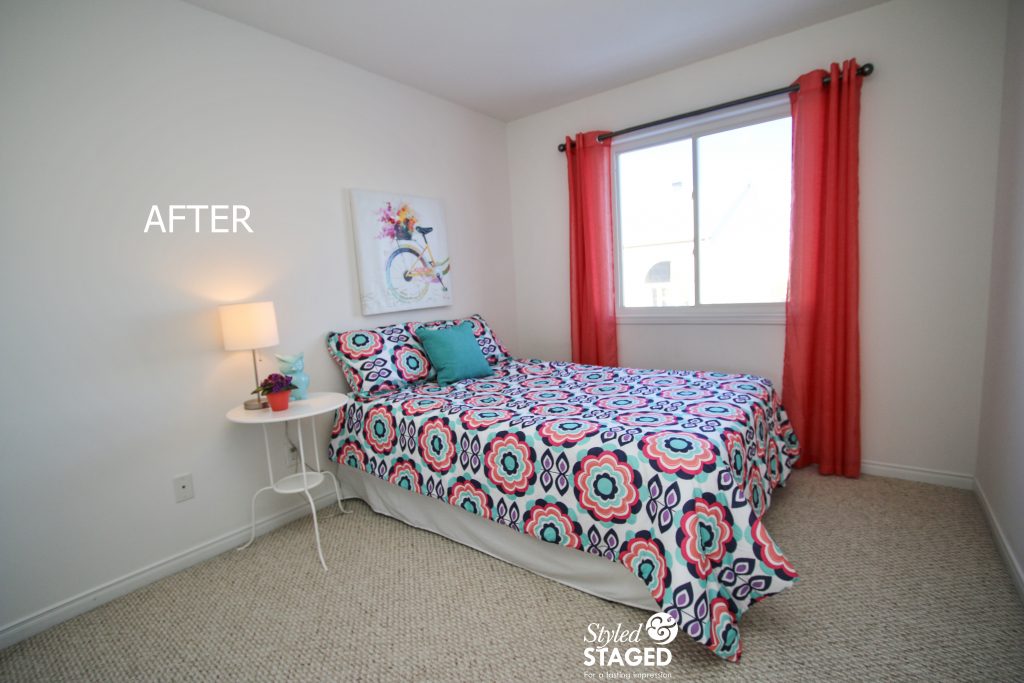 Chances are, the buyers will have young children so I wanted to make this room appeal to them.  Since it's a queen size bed, I couldn't go too young but I was still able to make it feel youthful with the colourful accessories and linens.  They didn't need to paint this room.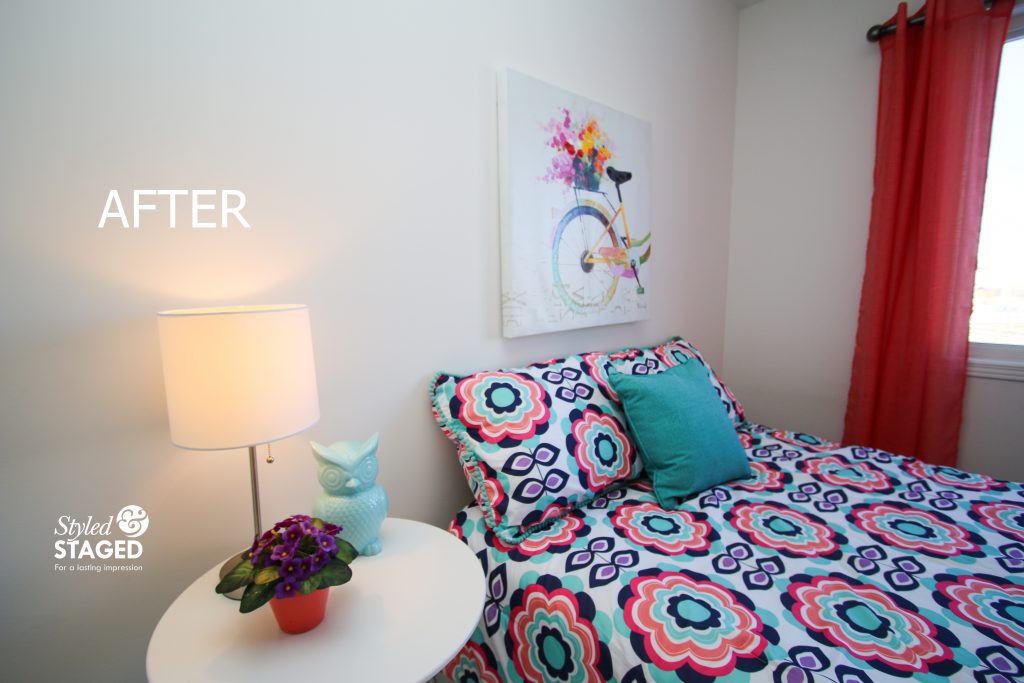 The linens were the colour inspiration for this room. Youthful accessories keep it fun for children.
Simplify a Bathroom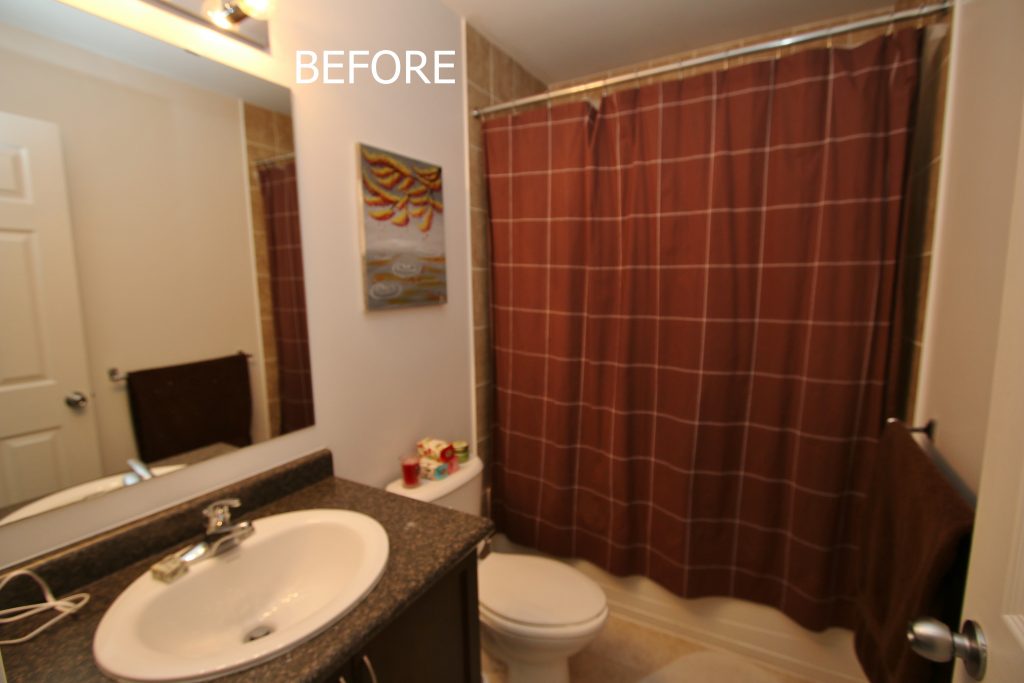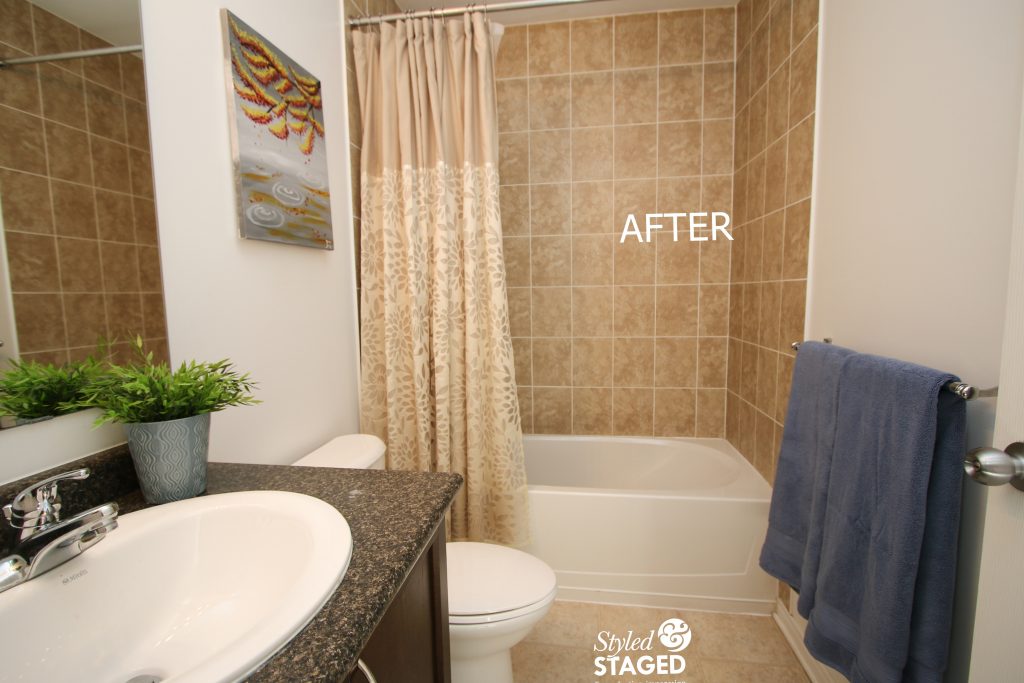 There was nothing wrong with this bathroom.  For the sake of photos, we brought this shower curtain in from another bathroom since it was lighter.  Shower curtains are always opened a bit for photos so buyers can see the tile.  The dark check shower curtain was too busy when you saw the square tiles. Blue accessories were added since we pulled the colour from their artwork.
This is the perfect house for someone wanting to get into the real estate market or someone who is 'right' sizing.  It's move-in-ready for someone to enjoy.  I doubt it will be on the market for long 🙂