Small Changes Can Make A Big Difference
DON'T OVERPOWER A ROOM WITH ONE COLOUR
Another house sold in the first week!  This house actually took very little to have a dramatic change.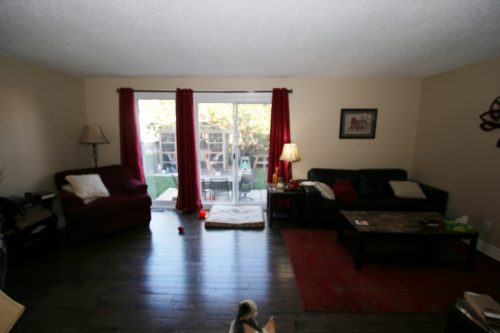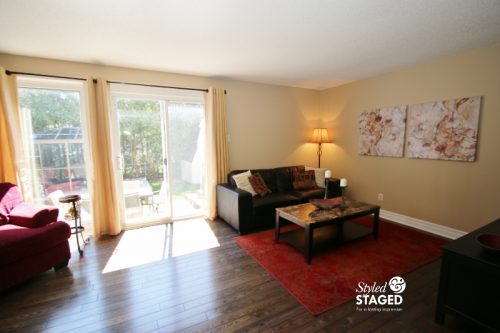 I found the red drapes too dark for this time of year. Bringing in new drapes the same colour of the walls not only made the room brighter, but it also felt larger.  I love using red in décor but you have to be careful not to use too much of it or it can overtake a room.  Bringing in lighter artwork also allowed other colours to be incorporated so it wasn't just a 'red room'.  Furniture placement is so important.  When the sofa was completely in the corner with the lamp on the left side if felt cramped.  I pulled the sofa away a bit and put a floor lamp in the corner since it doesn't take up as much space as an end table. Ideally it would have been nice to have a smaller sectional in this corner.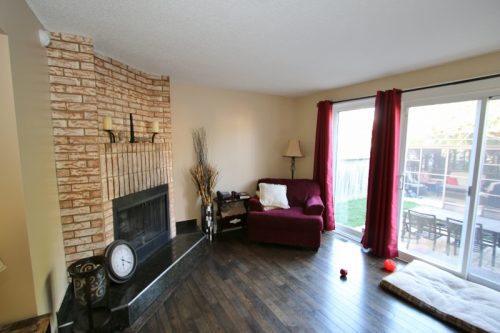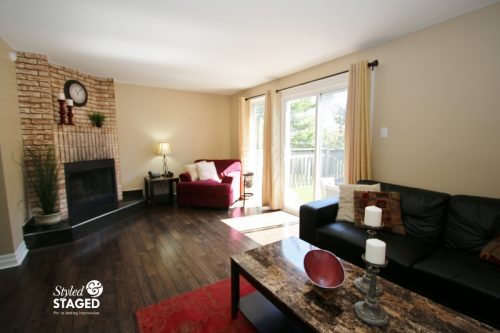 This room is challenging for furniture placement so we kept it having two zones (the TV zone and the reading zone).  I wanted the fireplace to be a focal point by adding a few large statement pieces.  Decluttering around the chair also made you notice the fireplace more.
BUY NOW WHAT YOU NEED FOR LATER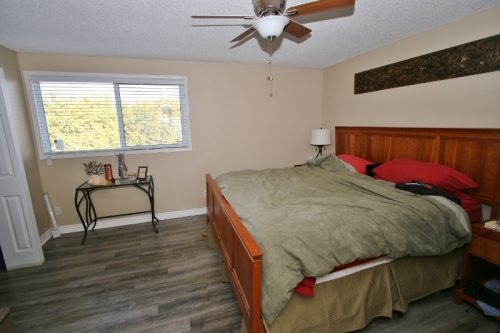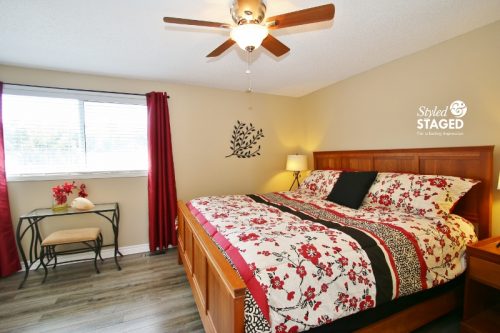 I hate asking homeowners to buy things, but if they know they want new linens for their new house, I suggest they buy them now so this house looks good for resale.  It's amazing how new linens completely changed this room. We removed the wood carving above the bed since you couldn't see it's beauty or details in photos.  When you have a patterned bedspread you can often get away with no artwork or just something simple like this metal leaf piece.  It really complemented the linens. and black metal dressing table.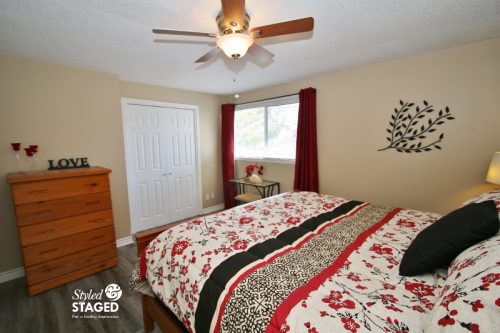 We were able to repurpose their red drapes from the living room up here in the bedroom.  The red drapes actually balance the strength of the bold pattern in the linens.  The room didn't look right without them.
BUYERS WANT TO SEE WHAT THEIR KID'S ROOM COULD LOOK LIKE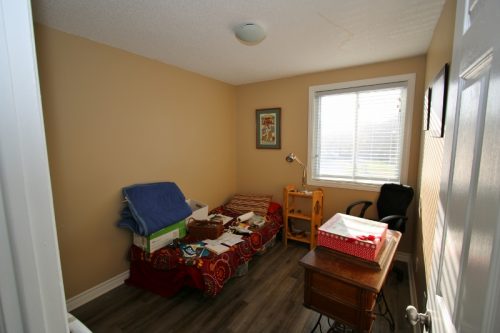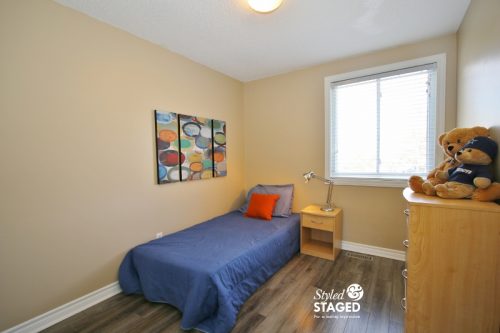 It's very important to show rooms the way the buyers would use them.  I felt it was important to show this room as a child's room since it was the smallest of the bedrooms and they already had the single bed.  They had the linens and they bought a dresser and end table on kijiji that they can sell when they move. I just had to bring in artwork 🙂  It's amazing how adding a few teddy bears instantly 'sets the stage'.