Staging a House with an Income Property
Selling a house that has a separate rental unit (especially downtown) is very appealing for buyers. The rental suite can produce a nice monthly income.
The main house was very elegant and just needed some tweaking but its amazing how small changes can make a huge difference.
Main Living Space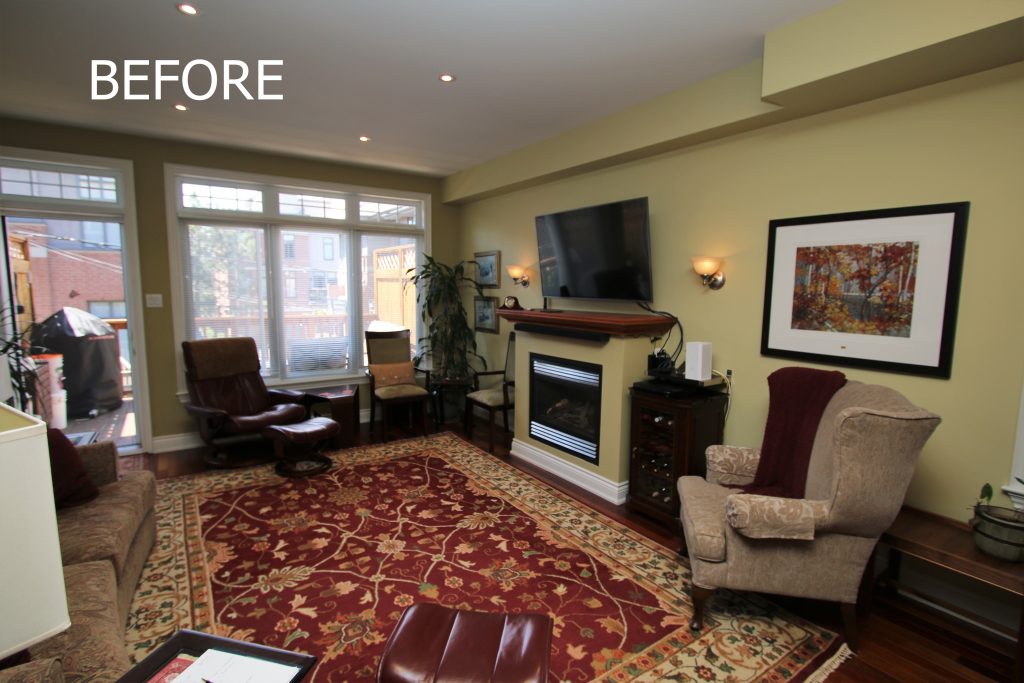 This room was intended to be a dining and a living room. Since the homeowner used their dining room table in the kitchen, they spread out their furniture creating one large living room.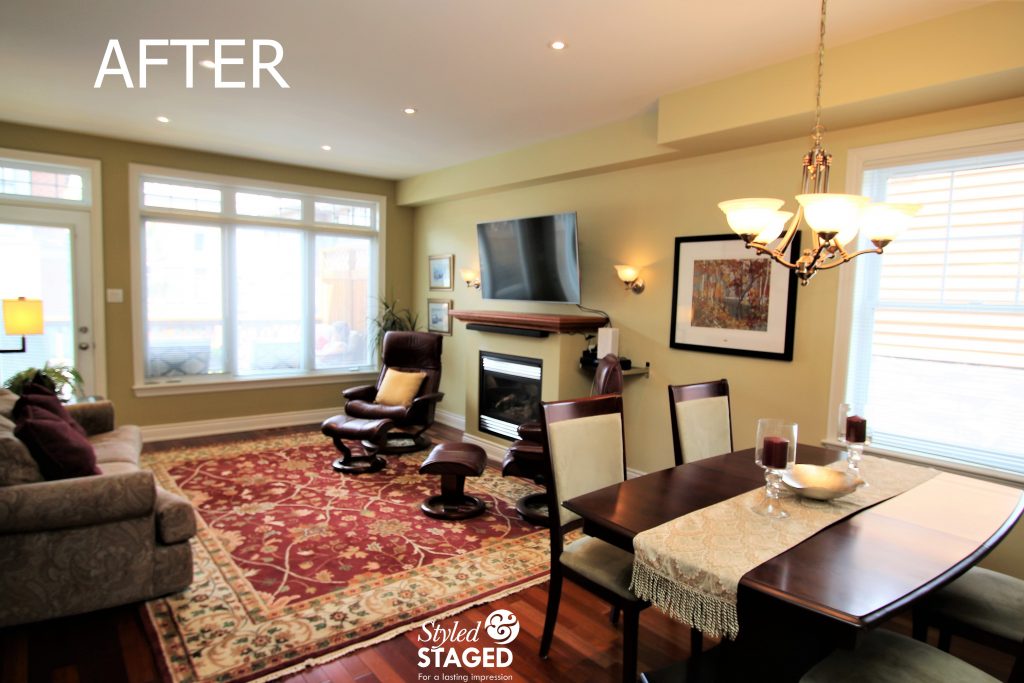 Since I needed a lot of their furniture to stage the rental unit after the tenant moved out, I reverted this room back to the formal dining/living space.  We removed three chairs and two little tables in the living room to create room for the dining table.  Every piece of furniture was used (just in different rooms).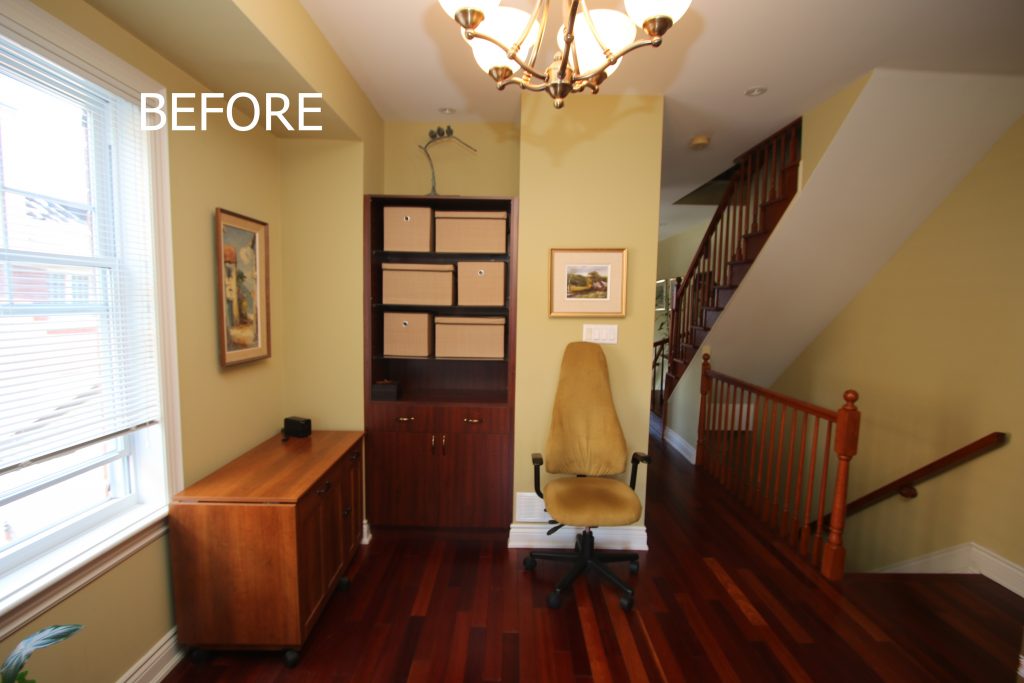 This end of the room was used as a sewing area.  The chandelier was already there, it just needed to be lowered.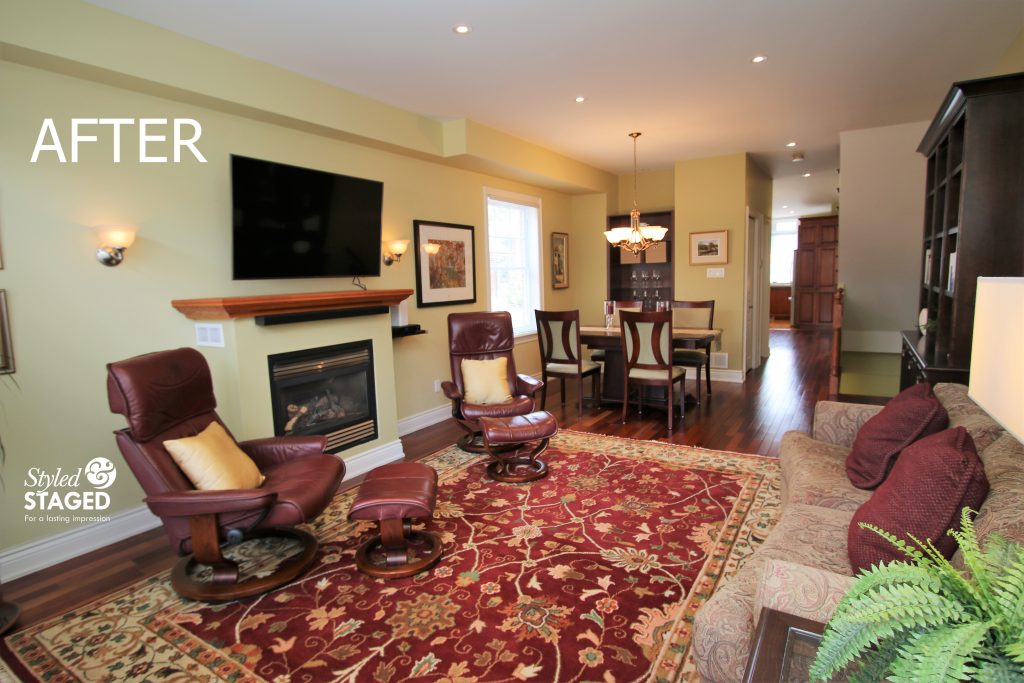 There is a nice flow from one of the room to the other and it was all their furniture.  I just brought in a few accessories.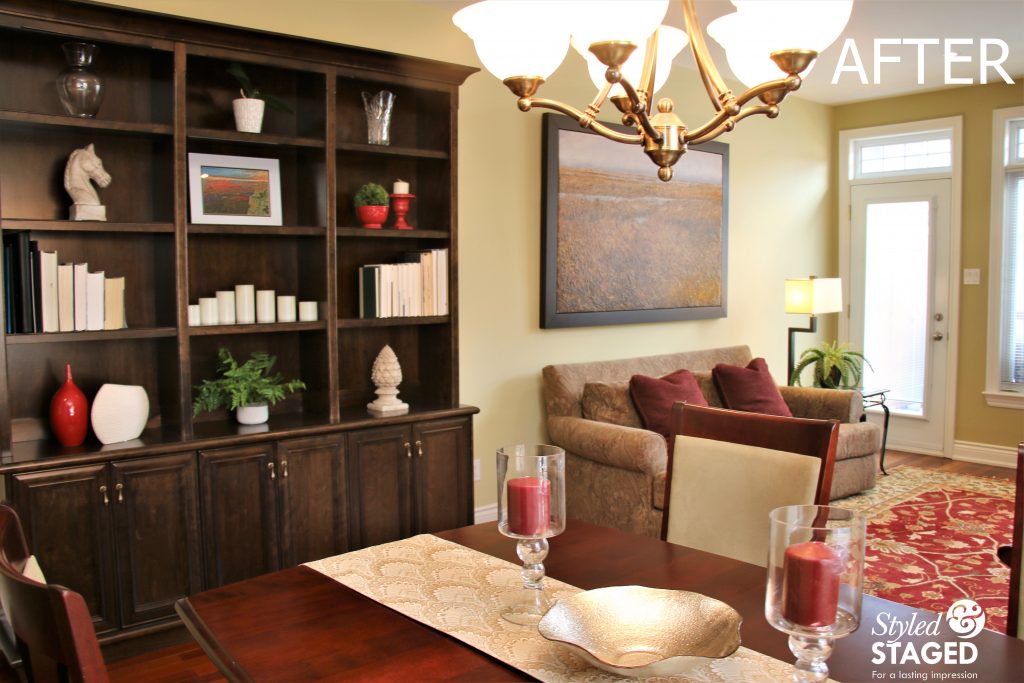 It's so important to showcase elements that are permanent fixtures to the house.  This built-in wall unit was nicely accessorized with a few pops of colour and different textures for interest.  Buyers will appreciate how much storage is in the lower cupboards as well.
Kitchen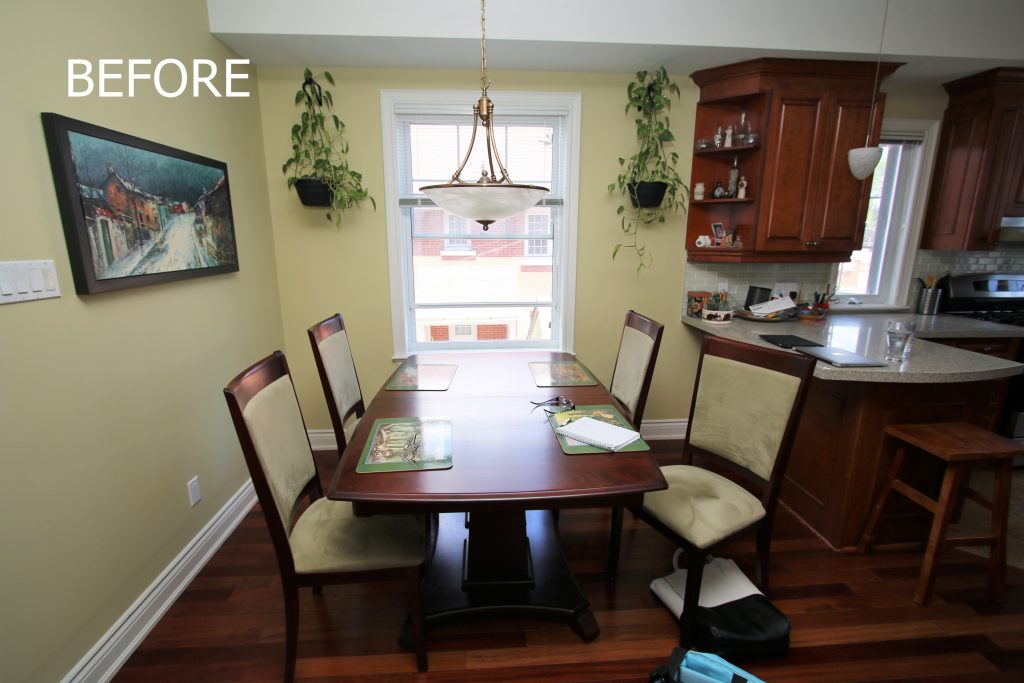 The newly renovated ktichen didn't need any work but I wanted to use this table in the 'formal' dining room.
They also removed the hanging plants on the wall and we edited the corner shelves.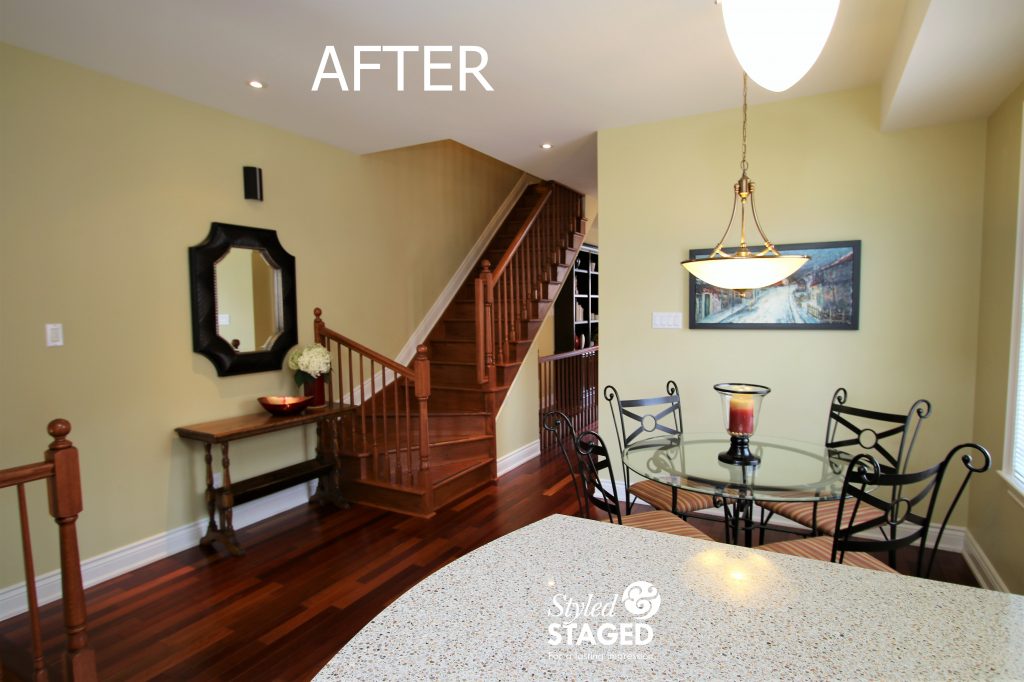 The homeowners were extremely accommodating and bought this round glass and black iron dinette set second hand for the kitchen.  The client even recovered the cushions.  It's amazing what deals you can buy gently used.  I wanted a glass table since I didn't want to worry about incorporating another type of wood in the space and the black anchored the room.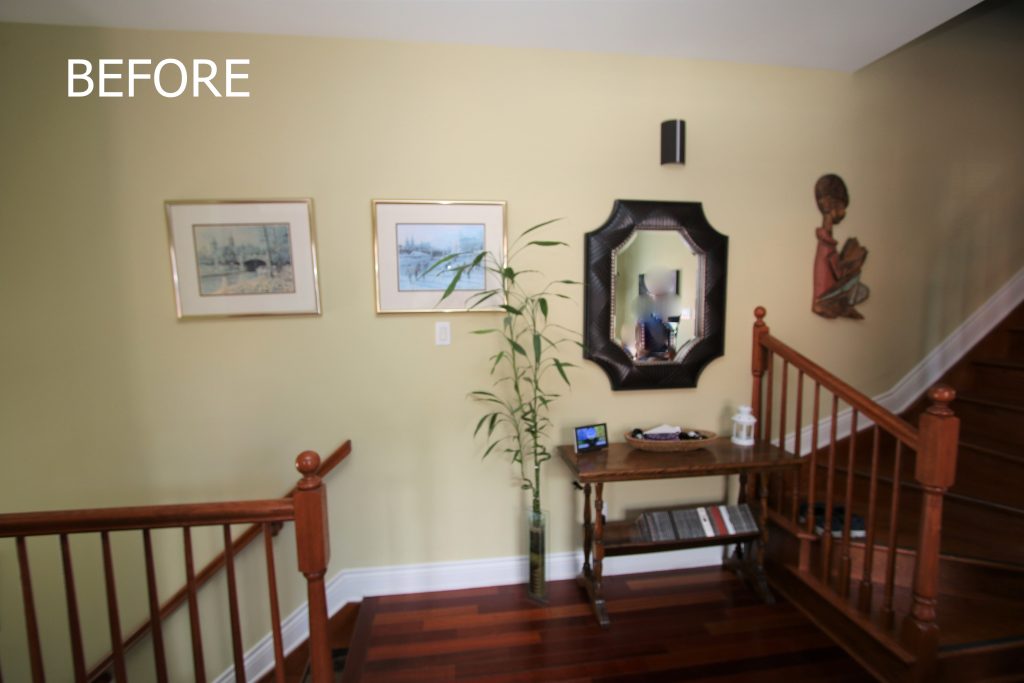 It's so important to simplify areas when staging.  You want to draw buyers into the space and not have visual barriers.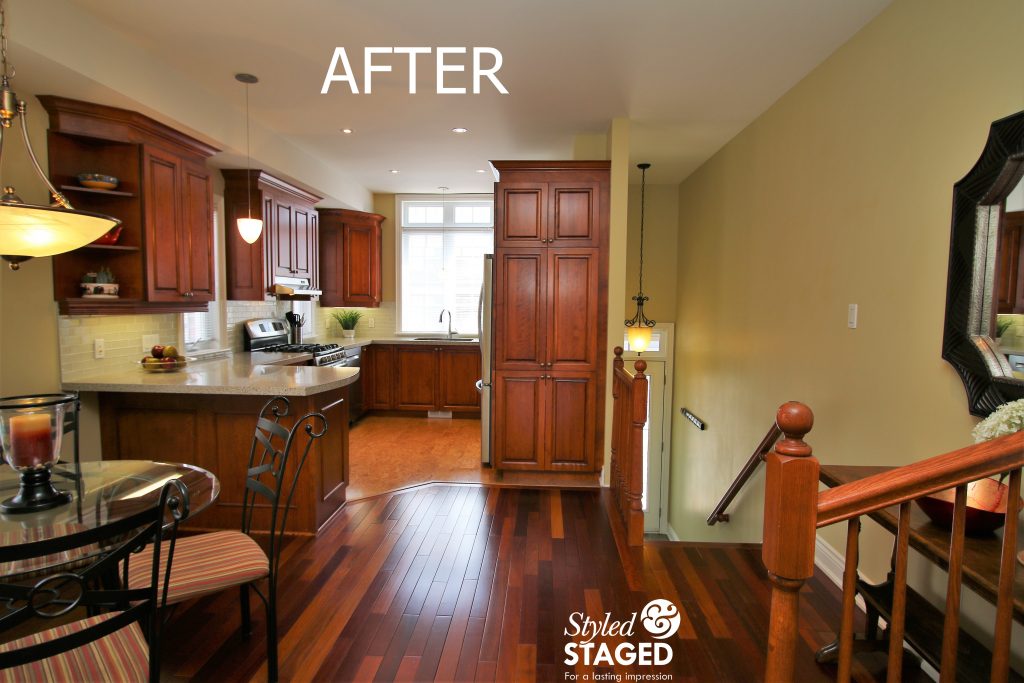 There is a nice cohesive look with lots of space for traffic flow.
Master Bedroom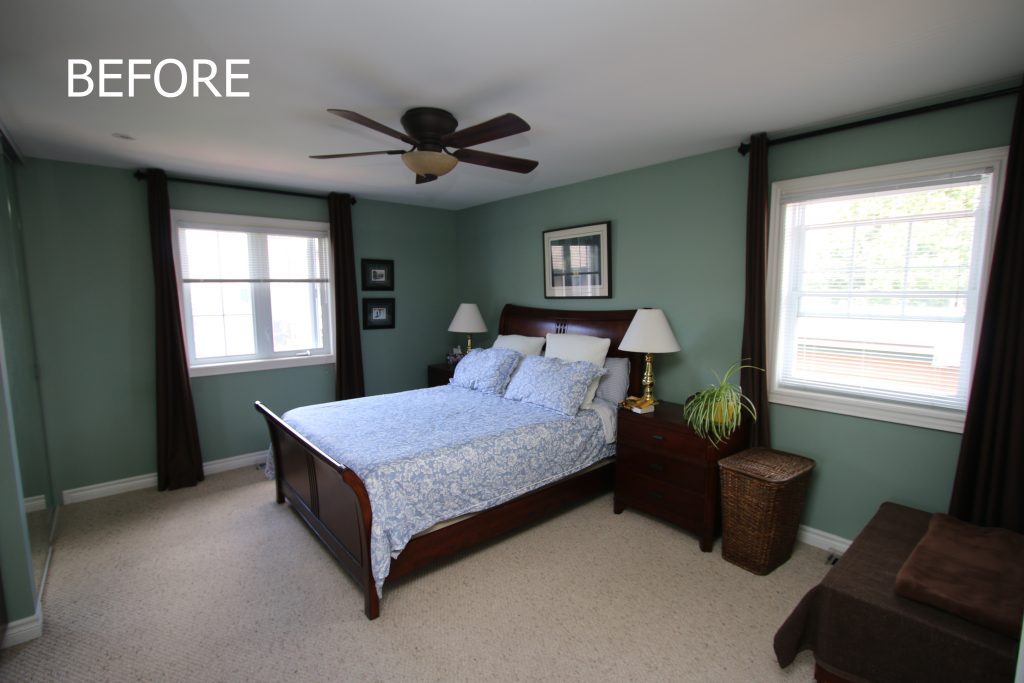 When it's not necessary to paint, it's always fun to look at what is in the room already.  I ask myself "what can stay?" and "what needs to be replaced?".  The walls were a lovely colour and they wanted to keep their black out dark brown drapes but somehow I wanted to tied all the colours together.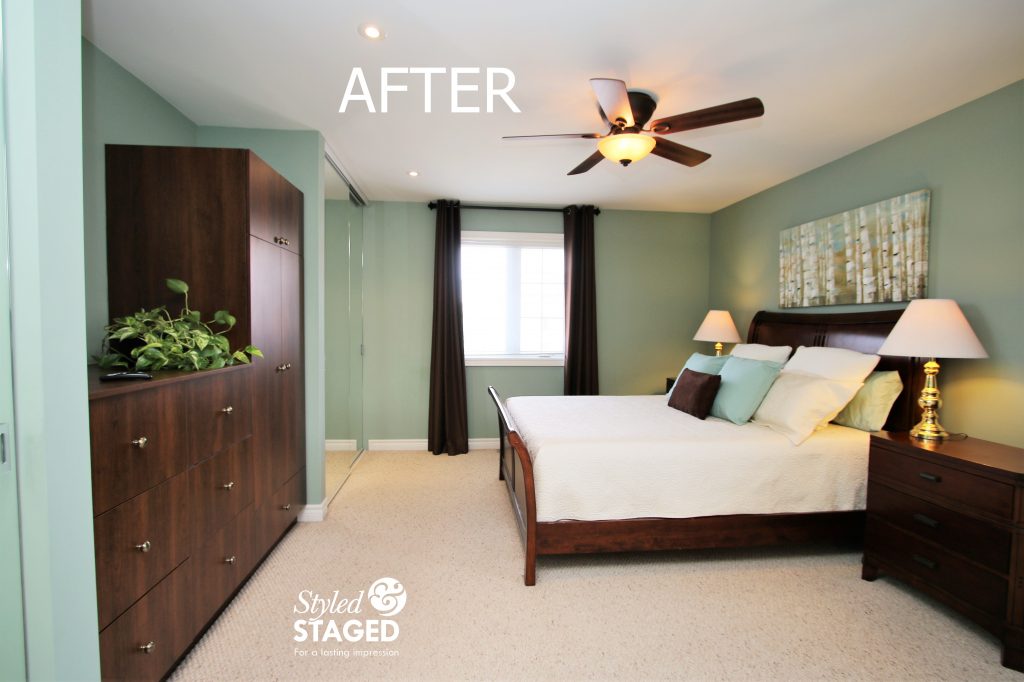 Now that we are in the summer months, I felt it was necessary to lighten the room so I suggested they buy new ivory linens.  They can use these in their new house as well.  It's amazing how just changing the linens changed the rooms.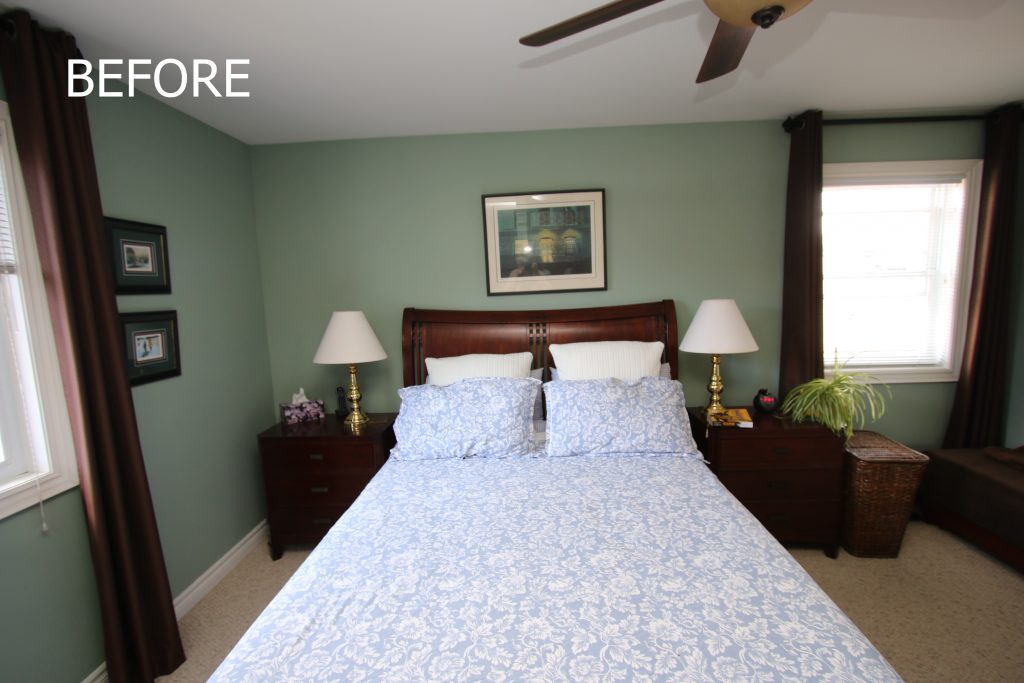 I always try to use canvas artwork so you see the colour more and you don't get the glare of the glass.  It can be tricky sometimes asking homeowners to remove their expensive artwork but they eventually see 'why' I'm asking them to do it.  Staging is very different than decorating.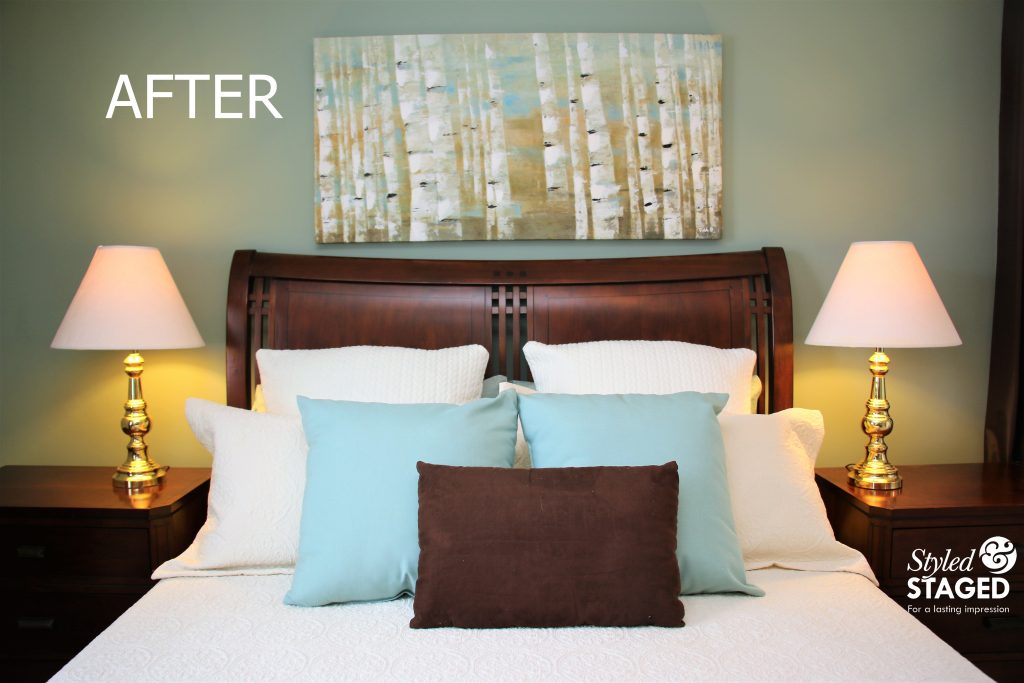 I brought in artwork that was larger in scale and it pulled the wall colour, their brown drapes and new ivory linens.  The accent cushions also helped tie everything together.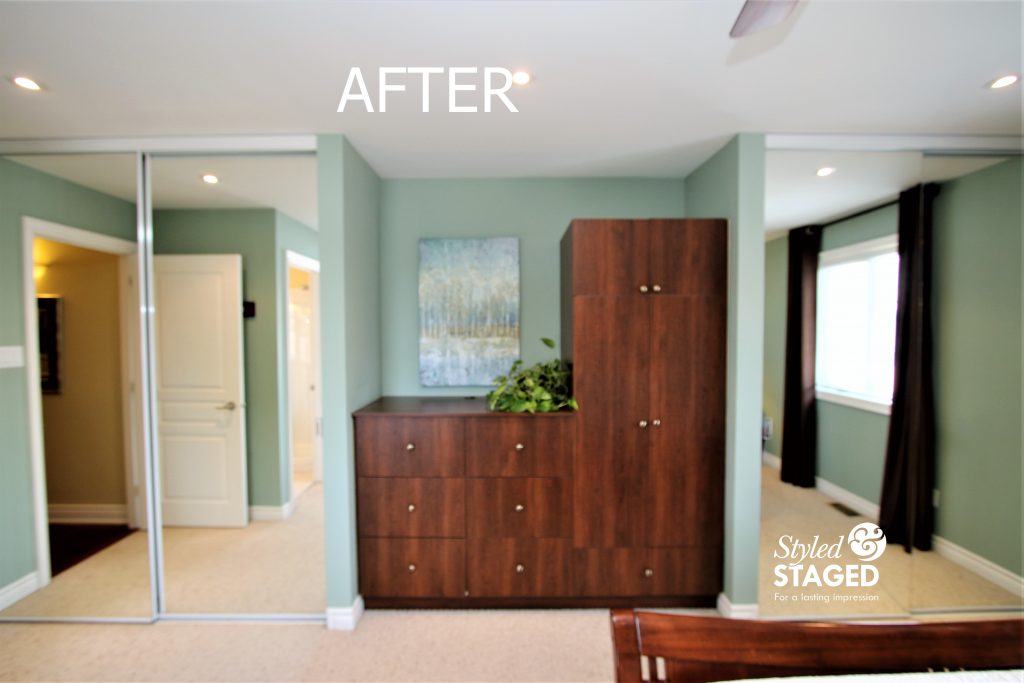 Highlighting all areas of the room is so important.  The artwork continued with the colour scheme.
Create a New Room
This is a family home, so I felt it was important to showcase at least one of the other bedrooms as a child's room.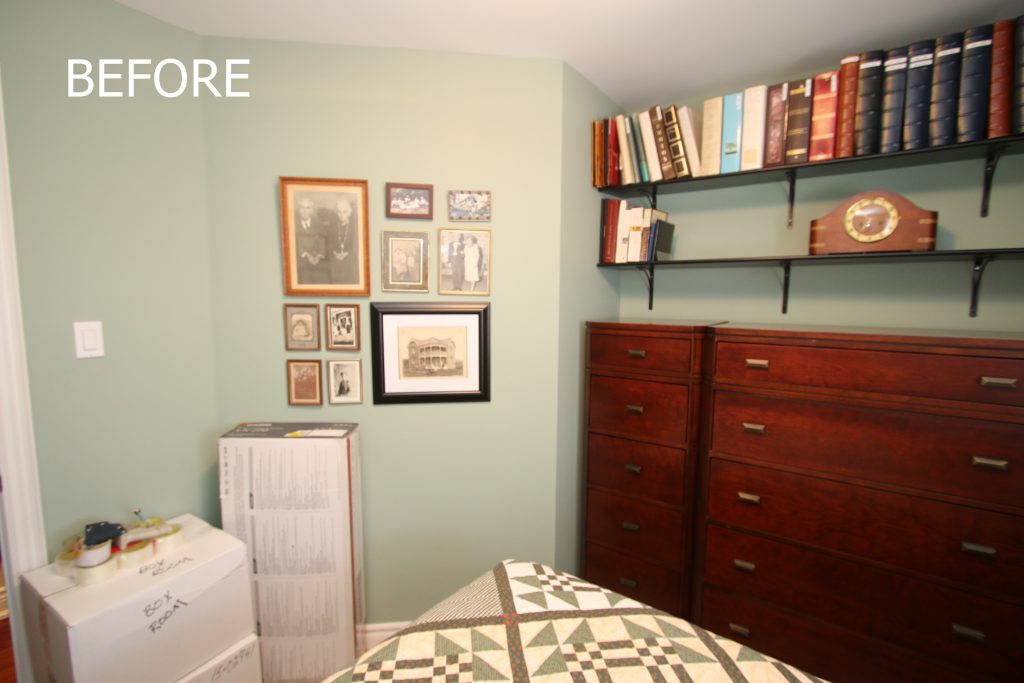 This bedroom was being used as guest room with a large bed, lots of extra dressers and a wall full of shelves.  We needed this furniture for the basement rental apartment so we had a blank canvas for this room.
I felt it was important to paint the room since I knew the walls would have lots of holes after the shelving unit was removed.  I also didn't want it to be the same colour as the master bedroom since that can be confusing on the MLS photos.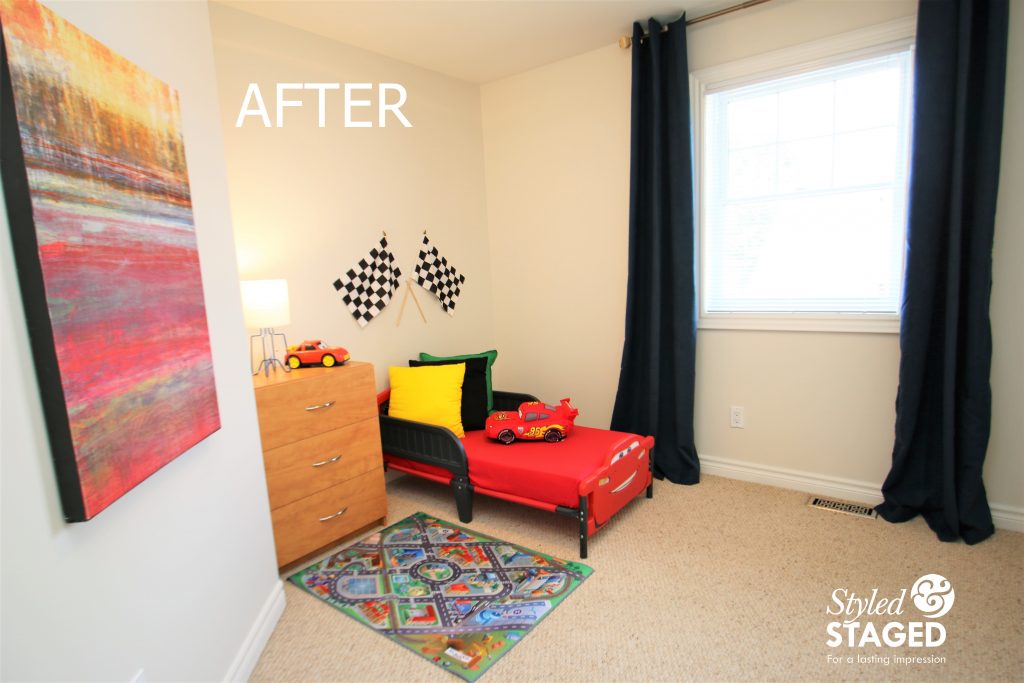 They didn't have a single bed, but one of their friends lent them this child's car bed. We brought this wooden filing cabinet in from the office and it looks like a little dresser.  Again, think outside the box.
I brought in all the accessories to finish this room.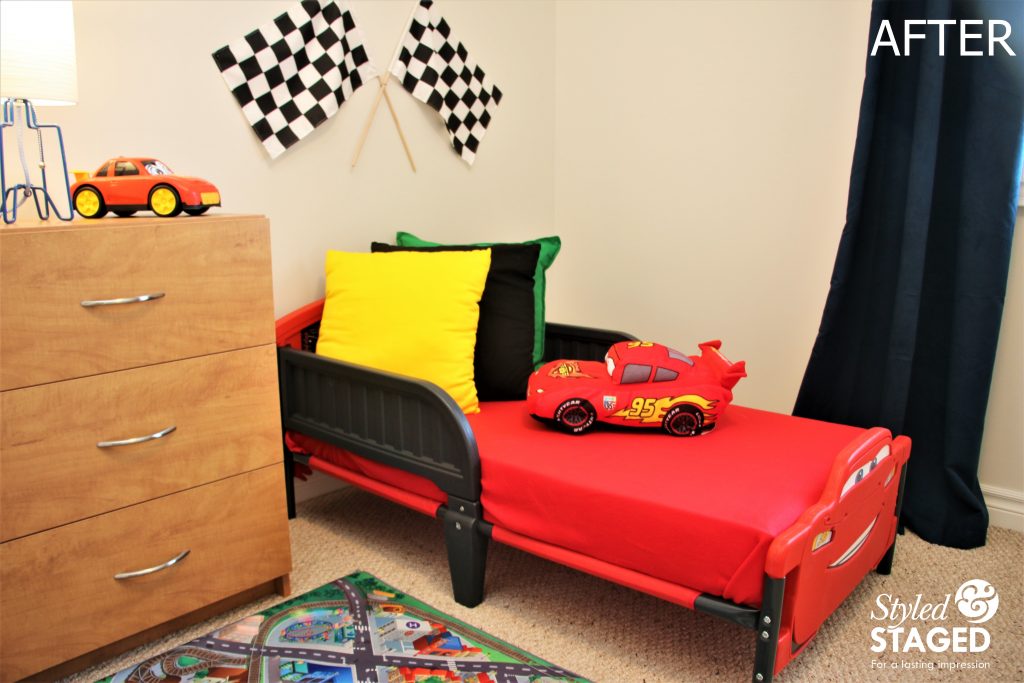 I have so much artwork for pink rooms but it's very hard to find large artwork with car themes.  I bought these checkered flags at a map store to keep in the theme.  Adding a road map area rug and a few cars were all that was needed.
It's hard to believe this is the same room.
Office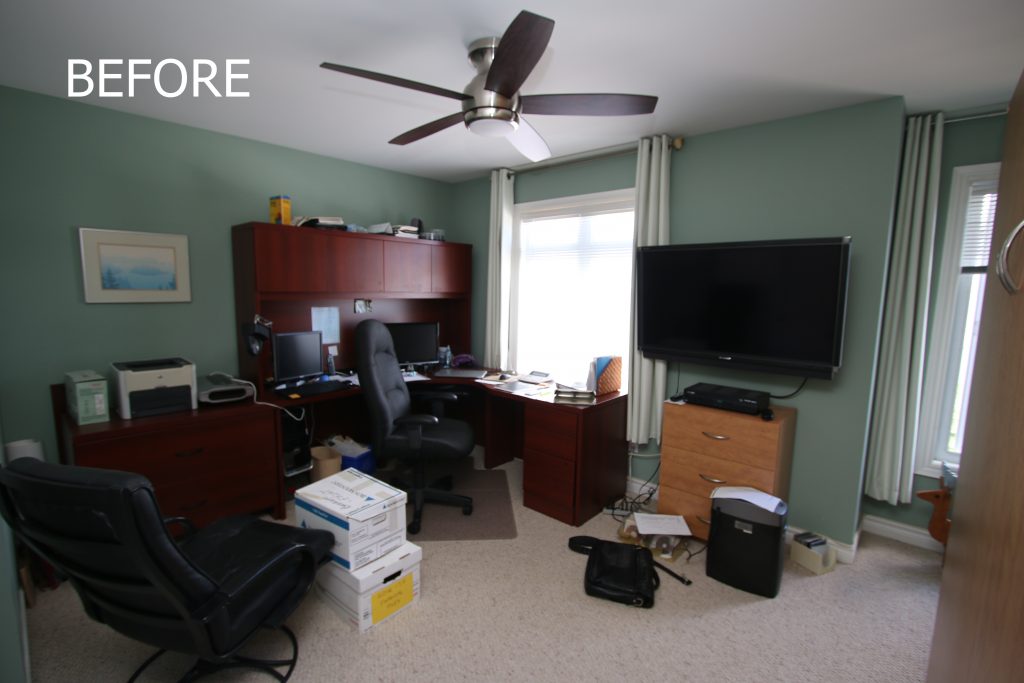 Home offices are used a lot so there is always way more things in them than we want for staging purposes.  It can be hard to work in a staged office since so much needs to be removed.
The first thing that we did was remove the TV since they wanted to take it with them.  The cabinet under the TV is what we used in the child's room.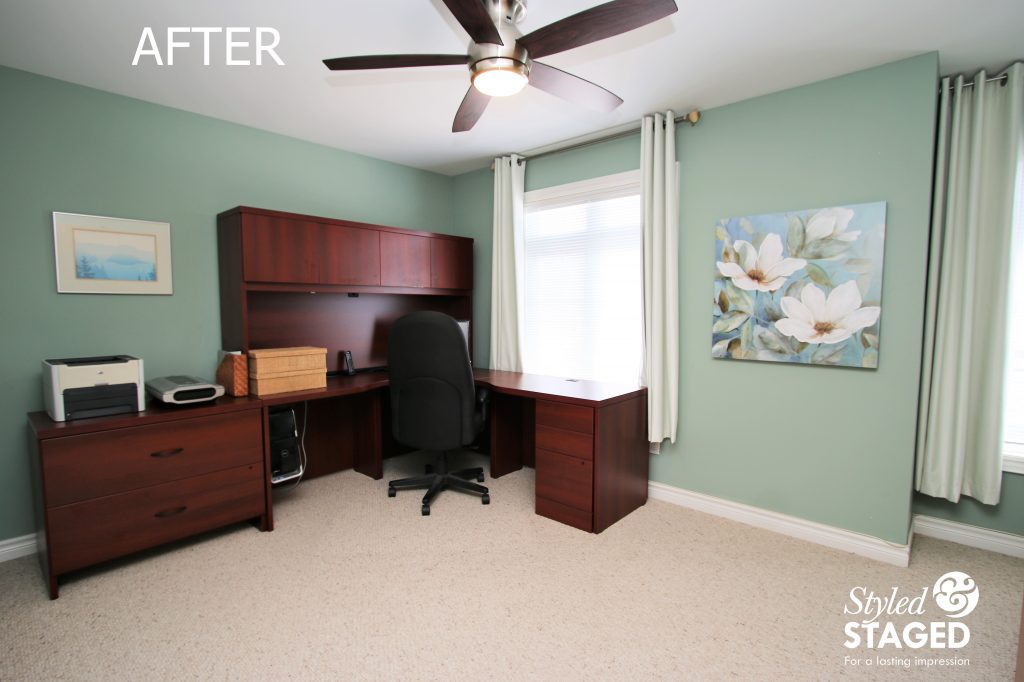 Adding the large artwork tied in with the client's artwork for a cohesive look. Adding the wicker baskets on the desk help break up all the dark wood and gives more dimension.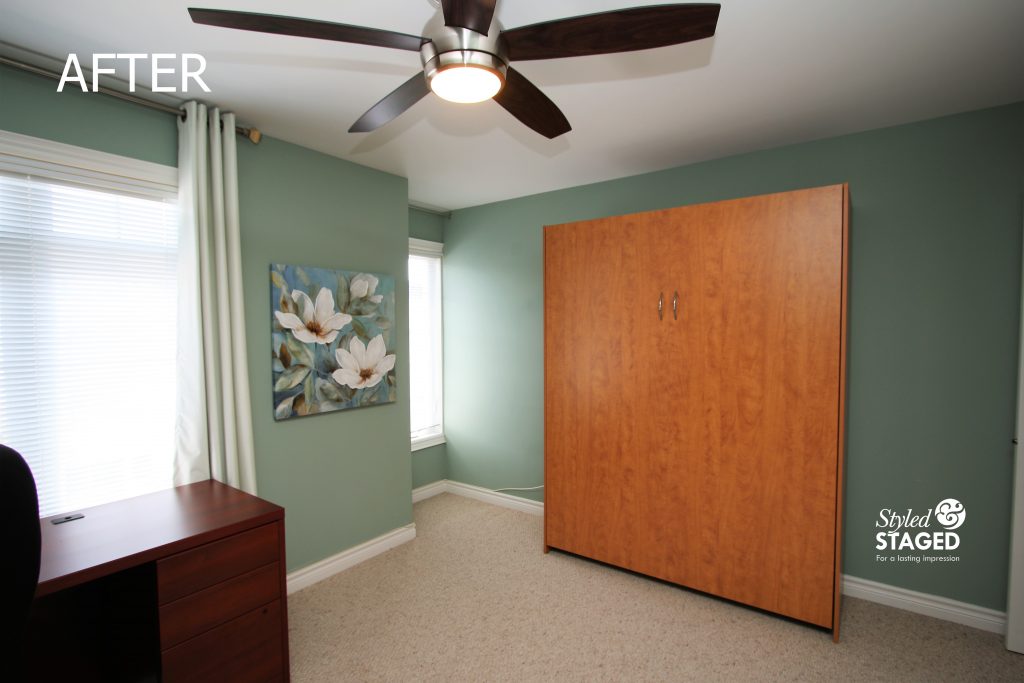 This room is so large, it even has a murphy bed in it.  Always speak to your Realtor about the best way to negotiate if you want to sell some large furniture pieces.  Is it better to include them in the price?  Is it better to negotiate that separately?  Is it better to use them as a bargaining tool?
To get a true appreciation of this lovely home which also has completely separate rental suite, click to see it's full value.