It's a fact that houses look larger with furniture in them.  Unfortunately, it's not always possible if homeowners have already moved out or if it was an income property.  Sometimes there isn't the budget to rent/buy furniture either. Soooo……how do you stage a house without any furniture????
ART-DRAPES-PROPS-AREA RUGS
One of the most important things to remember when selling a vacant property is that, there are no distractions.  Buyers see every flaw so it has to be spotless and in great shape.  Fortunately this house was just painted and had new carpet and new flooring throughout.
On my initial consultation it was decided that all the furniture was going to be removed.  The walls had already been painted in a very soft pale blue/gray before I met with them so I needed to somehow incorporate that colour. On my second visit, all the furniture was removed and I took photos of each room.  Afterwards, when I looked at the photos I couldn't tell the difference between the rooms or how many bedrooms there were since they all looked the same.  If I couldn't tell, how could a buyer who is looking at the MLS photos tell one room from the other?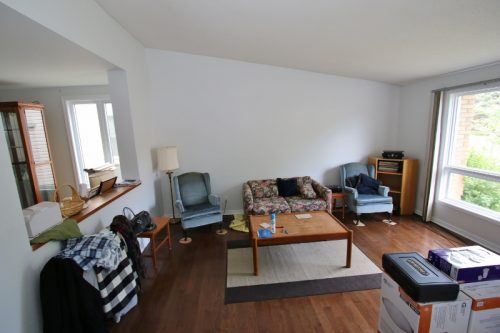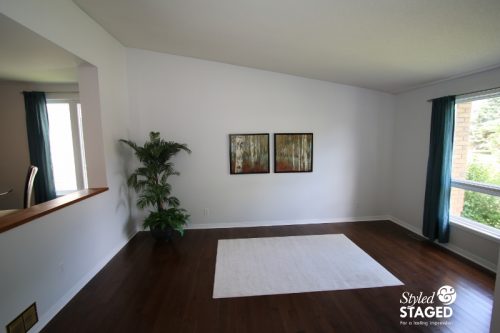 To enhance the soft blue walls, I brought in blue drapes and artwork.  The drapes accentuate the large picture window which is a selling feature.  The large artwork and area rug create an illusion of where a sofa would fit.  You can still enough of the new hardwood floors.  The tall tree highlights the cathedral ceiling.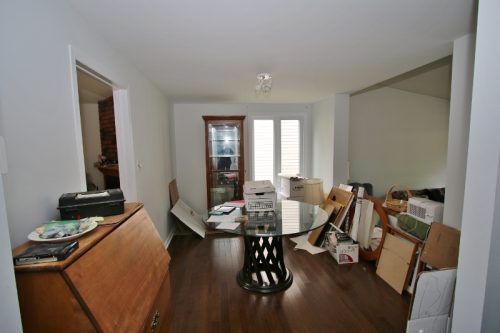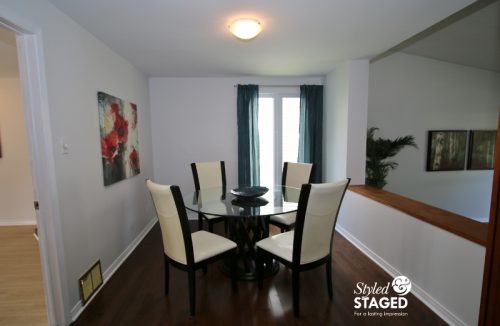 I was lucky that they wanted to leave the dining room table behind.  It's a nice piece of furniture so that is always helpful. I continued with the same drapes in this room and coordinating artwork.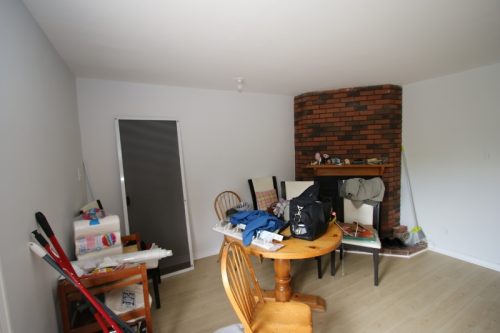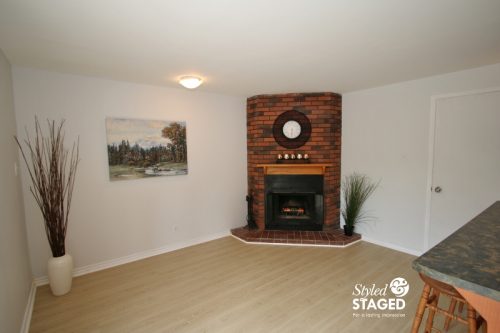 Since there are bar stools at the counter, I didn't want to limit this room with another table.  Leaving it open like this shows buyers that it could also be a TV room.  The main thing I wanted to accomplish here was to showcase the fireplace, since that is what is staying.  By placing items in corners, it forces your eyes to take in the whole room.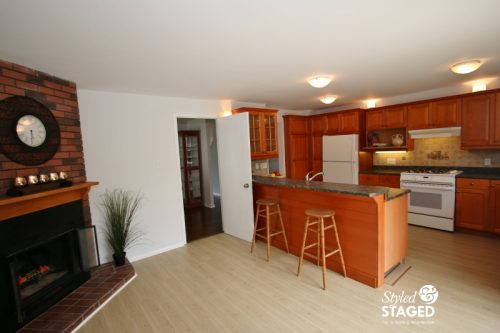 MAKE EACH BEDROOM MEMORABLE
Since all the bedrooms were empty, they all looked very similar.  I wanted buyers to remember each room by adding a different colour drape, artwork and accessory.  When rooms are empty, you really notice any marks on the walls, floors, baseboards and lighting.  Make sure everything is pristine.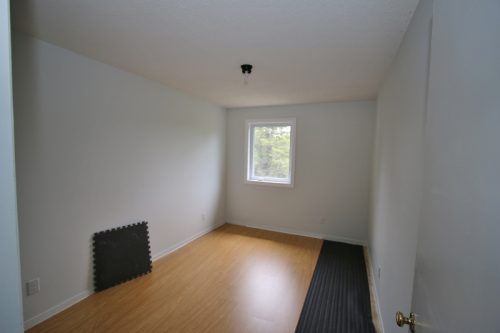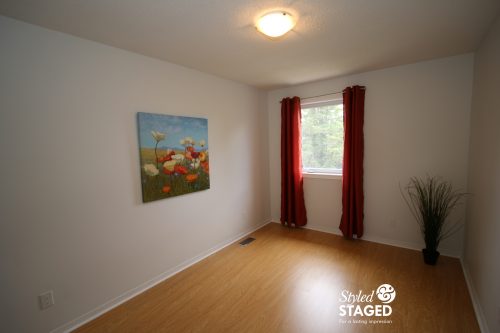 Placing something in the corner widened the room. Adding drapes also makes the windows look larger and wider.  The key is to hang the side panels on the walls, more than the glass window.  The artwork is the width of a single bed.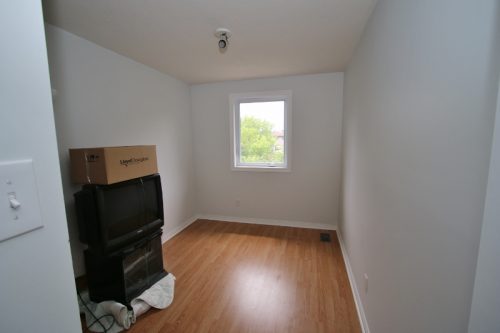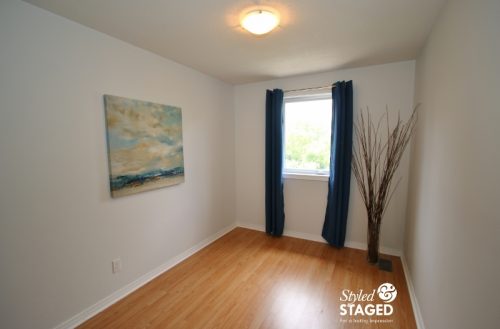 Notice how all the light fixtures were replaced as well.  It's those little details that make a difference.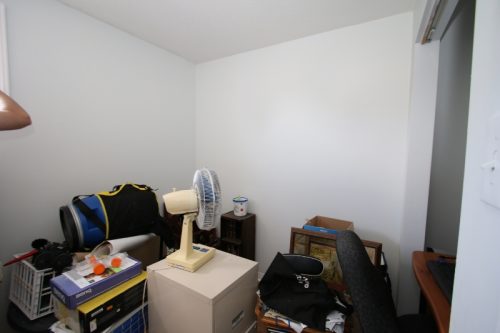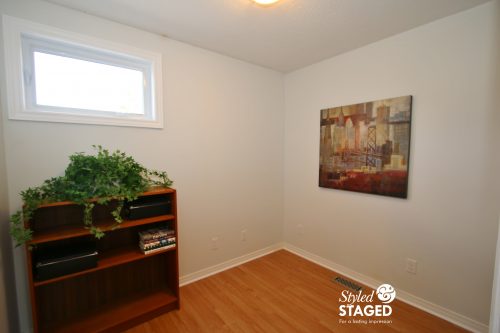 Putting a bookcase under this window made the window look better.  Adding this artwork made it feel like a home office. Since this is the smallest of 5 bedrooms, it made sense.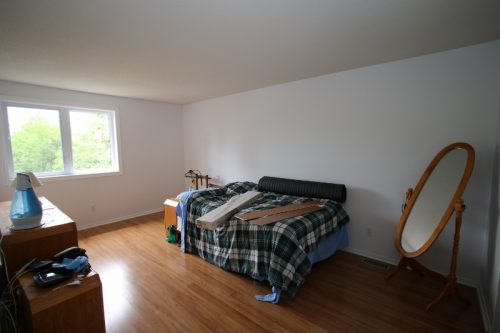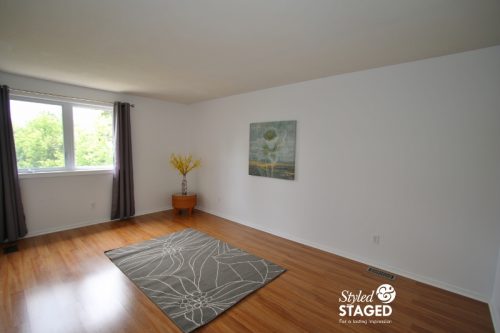 This very large master bedroom needed an area rug to help define the space. If I had  only hung artwork in all the rooms, it would have felt like an art gallery.  You need to add the softer elements of drapes, area rugs and a few hits of colours to make each room feel unique and memorable.