The Right Accessories Go a Long Way in Staging
Here is a perfect example of how adding a few colourful accessories in the proper places can completely transform a house.  This new townhome has all the current features that buyers are looking for – neutral walls, wood floors and open concept living. The homeowner had all the perfect furniture but it just lacked the finishing touches.
When I walked into the house I immediately wanted to add layers of texture and colour.  I knew the bold contrast between the floors and ivory walls and ivory furniture wouldn't look good in photos.  Everything was wood, glass or leather.
LIVING ROOM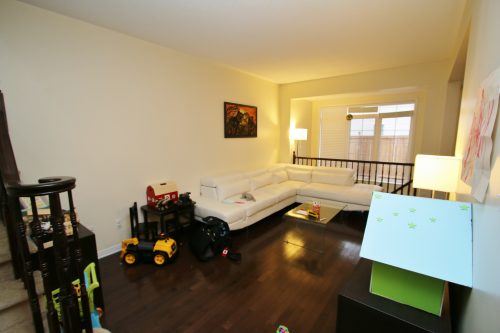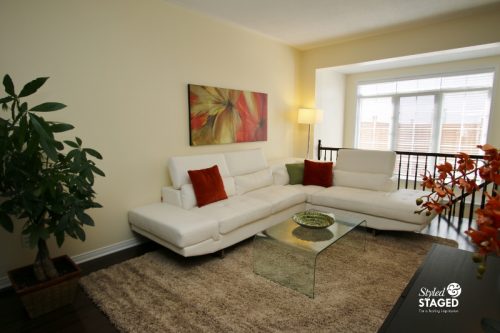 Bringing in an 8 X 10 shag taupe area rug made a huge difference!  The bigger the better when buying area rugs. I started with the artwork to get my colour palette. The homeowners said that green was their favourite colour so I tried to please them as well 🙂  Putting something on the coffee table made the glass visible since it just disappeared before.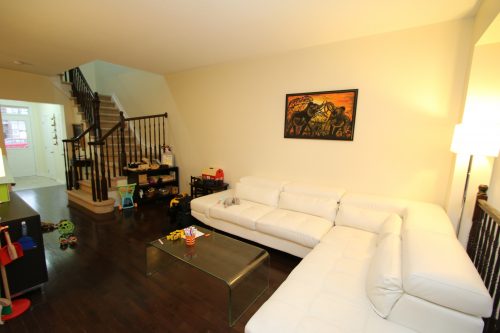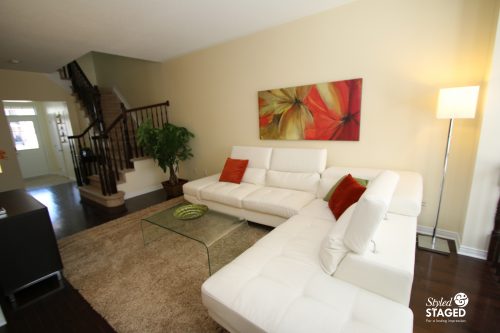 Replaceing the toys and storage unit with a large real plant added life to the room.  The greenery softened all the wood spinals of the staircase.  I also moved the sectional away from the railing so it felt like it was more centered into the room. The room actually felt larger when the furniture wasn't all tucked into the corner. The accent cushions were the final touches of colour.
DINING ROOM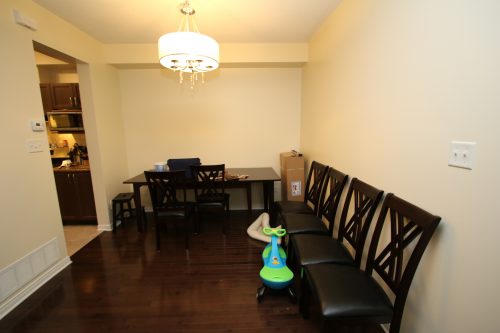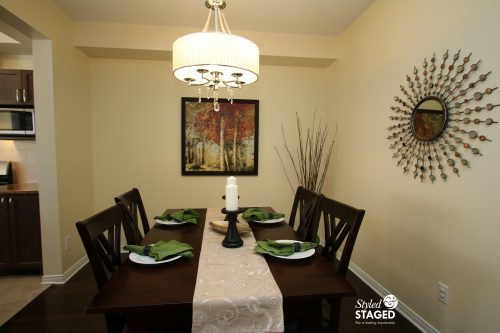 This room definitely needed colour and the easiest way is through more artwork.  The walls are so big i also had to hang this huge starburst metal mirror.  It can be tricky finding so many pictures that complement each other in open-concept houses, so mirrors or oversized clocks are another solution.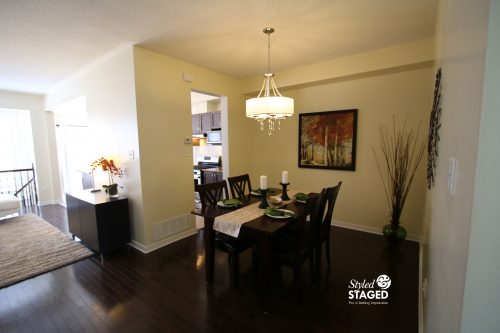 Photographing white rooms can be tricky to capture the depth so it's good to put large items in the corners.
OPEN CONCEPT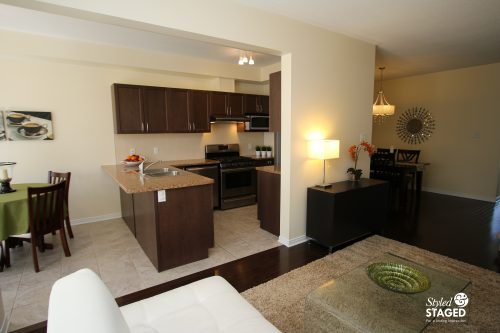 The kitchen, living and dining room flowed well with the same hits of the apple green and orange pops of colour.  Notice how nicely the area rug blends with the tile in the kitchen and it brightens up the dark wood floors.